In addition to the 'big furniture', the bathroom environment includes a series of useful accessories to enrich and complete the room. Functional and indispensable objects that really make the space usable, such as shelves, mirrors, bathroom furniture, shower columns and much more. Acquabella has thought of all those small accessories and elements that serve to make everyday actions in the bathroom even easier.
Starting with mirrors, which have always found their place above the washbasin. Acquabella, in fact, offers Moon, Urban and Show, three surfaces to choose from according to one's taste. The first two, circular in shape, differ in the presence of the frame around the perimeter of the element. If Urban presents itself in its purest form – a timeless and essential 'reflecting' circle – Moon decorates its figure with a frame made of Akron®. The result is a 'full moon' with a diameter of 80 cm that gives personality to the room, thanks to the possibility of choosing the internal frame in many different textures and colours.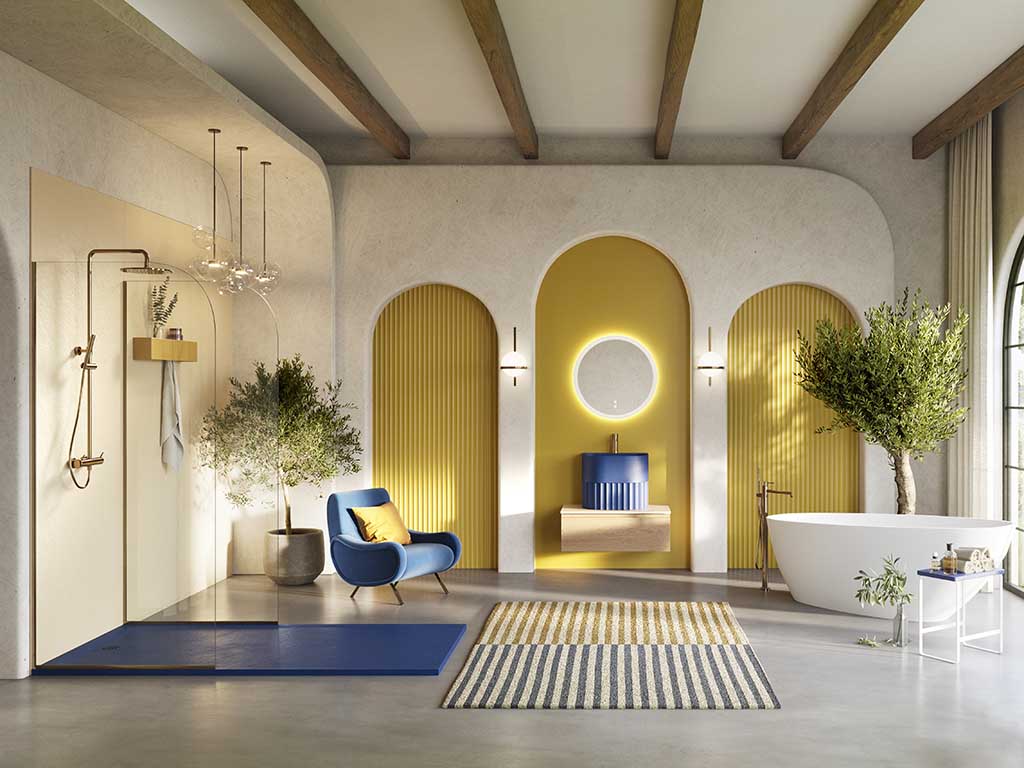 If shape is not the common thread between Moon and Show, Akron® is, which returns in this rectangular model as the mirror's decorative 'stripe'. Depending on the installation, the Akron® element enriches the lower or side part of the object, the latter also enhanced by a thin aluminium frame that further defines the design of the mirror. From the washbasin area, inside the shower enclosure, the Kendo TS hydromassage column, made of aluminium and Akron®, takes its place. Kendo TS is perfect to match any Acquabella shower tray – all designed in Akron® – thanks to the material coherence that unites the two complements. The column – 135 cm high – consists of a cascade shower head, hand shower and shower knobs for hot/cold water regulation. Also for this area, Acquabella has designed a panel with a slate-effect Slate finish to create a comfortable "drying area" to be positioned on one or both sides of the shower tray. A small space designed to shelter and dry flasks, bottles, sponges, etc.
To be mounted anywhere in the room, Show shelves are multi-purpose elements. They can be used as decoration to place small plants or various objects, or to keep bathroom products within reach. The structure of the shelves can be ordered in a stainless steel, white or black finish, while the shelf is made of Akron® and available in a variety of textures and colours. Finally, bathroom furniture such as Artic completes the environment: a piece of furniture designed to be combined with a built-in worktop, or with a top from the One collection. Made of melamine, Artic can be requested in the natural elm wood finish or white lacquer, and can be wall-mounted, becoming a practical wall-mounted unit with a large, fully exploitable storage compartment without handles, useful for storing objects and bathroom accessories.

What is Akron®
Compared to more traditional materials, the composite of polyurethane and mineral fillers in Akron® allows this material patented by Acquabella to be easily cut, so that the product can adapt to any space or corner, and in total safety, thanks to the absence of silica. The material is surface-treated with an acrylic polyurethane coating, which ensures total integration with the substrate and extraordinary resistance over time, to shocks and the possibility of thermal shock. Akron® is recognised for its antibacterial properties and ultra-high-definition textures, which stand out on the market for their distinctive feel and perfectly defined aesthetics. Akron® is mass-compacted to obtain a solid, reinforced finish. This polyurethane matrix is obtained from polyether polyols that guarantee incredible hydrolysis resistance properties. Finally, this material produces no emissions of volatile organic compounds.
With a history that began almost 30 years ago in La Vall d'Uixó (Valencia), and still continues today with a presence in more than 40 countries around the world, Acquabella is a Spanish brand, leader in the design of bathroom products. Shower trays, bathtubs, vanity tops, free-standing and countertop washbasins, panels, storage units and hydro-massage columns are made only from innovative and extremely resistant materials. Inaddition to high-definition textures, attention to detail, and a focus on design and contemporary trends , Acquabella is constantly striving for customised solutions .The custom-made approach, oriented towards realising the desires of an increasingly demanding clientele, makes Acquabella a flexible and versatile company, able to adapt to any type of request, even the most ambitious . acquabella.com