Hotel su Gologone, found in the heart of Sardinia, in the countryside of Supramonte, among vineyards and ancient olive trees, where the air smells of myrtle and rosemary. Su Gologone is one of the legends of Sardinian hospitality. The beautiful hotel represents an example of the best Sardinian architectural tradition. A true temple of taste for decades, the Su Gologone restaurant is a heritage of gastronomic culture, thanks to the excellent products of the Oliena area.
Art collector and painter at the same time, the owner Giovanna Palimodde, is the soul of Su Gologone, which offers artistic, gastronomic, naturalistic experiences, discovering the Supramonte. Loved by Madonna, who spent a month there during the filming of the remake of "Travolti da un insolito destino nell'azzurro mare d'agosto", Su Gologone is a secret address, only few know of.
Su Gologone is a unique, magical place in the heart of Barbagia: an icon in the world of hospitality with the combination of the vegetation of the Oliena area and the art collections that are scattered in every corner of the hotel.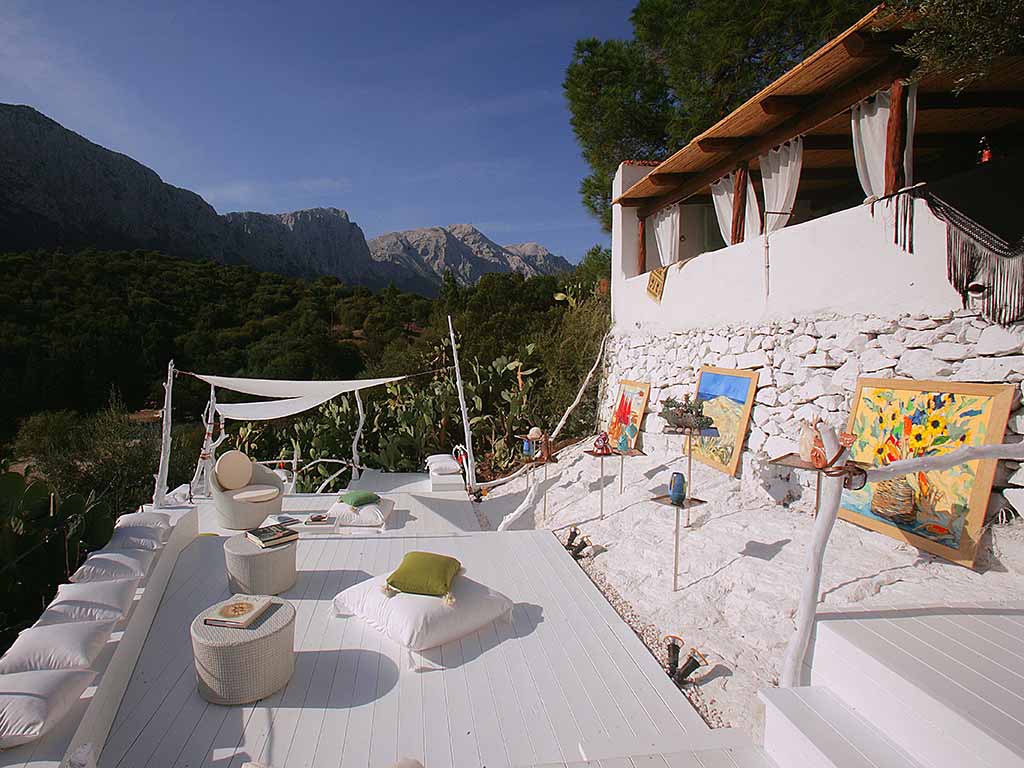 Every detail is an expression of the sensations that Su Gologone offers its guests: from the Nest of Bread to the Terrace of Dreams, from the Tablao Bar to the Court of Su Re.
Art collector and painter at the same time, Giovanna Palimodde proposes artistic, gastronomic and naturalistic experiences to discover the most authentic Sardinia. 
Su Gologone is a hotel that allows you to live an experience of continuous discovery between nature and art: lunches or dinners in the garden, yoga classes on the Terrace of Desires overlooking the Supramonte, creative pottery classes, embroidery classes to learn the Sardinian tradition, trekking along the paths of the most authentic Sardinia, up the Cedrino river in a kayak or a sunset from the top of Monte Corrasi.
Every room, every suite, every terrace, every corner of Su Gologone is a stage in a precious journey of discovery of the collection of modern and contemporary Sardinian art: cushions, tapestries, paintings, sculptures of the greatest Sardinian artists guide guests through the rooms and along the corridors of the hotel. 
The fulcrum of Su Gologone is its Botteghe: a wonderful corner with a terrace, which is a triumph of colors, fabrics, ceramics. The pillows, runners, plates, glasses and tablecloths are true works of art, handmade by Sardinian artisans, guided by the creative flair of Giovanna Palimodde, who designs and signs all the collections.
For the 2021 season, Giovanna Palimodde has set up of real creative classrooms inside the Botteghe Su Gologone, with work tables. In the classrooms, creative courses of ceramics are organised with the use ofmosaic, raku, loom, embroidery, held by master potters and specialists in the art of mosaic.
The Su Cologne Opens Its Door May 20th
By Oliena (Nu) 
Gallery