The spring 2023 edition of Venice Fashion Week, which will take place from 30 March to 2 April in Venice, has been announced. A Research edition of encounters between fashion, craftsmanship and design and two important conferences that will deepen the debate on sustainable fashion. On Thursday 30 March at 6 pm Venice Fashion Week starts with the presentation of the collaboration between the fashion brand Liviana Conti and the historical excellence of Murano glass, Seguso Vetri d'Arte. On 31 March at 10 a.m. with Venezia Turismo Sostenibile tourism stakeholders meet to plan together the transition of Venice to a sustainable destination and make tourism a resource for wellbeing and life in Venice. On 31 March from 4 p.m. the splendid spaces of Palazzo Sagredo will host Ornamenti Atelier , an event combining fashion, tailoring, art and performance.
It will also be the moment for Seguso Vetri d'Arte and Venezia da Vivere to present The Blue Artisan award, the recognition for sustainable craftsmanship excellence to Venetian milliner Giuliana Longo, during a conversation with Alessandra de Nitto of Fondazione Cologni. 1 April is dedicated to Sustainable Fashion Day , a conference with journalists, activists, companies and designers on the value of work in fashion, between social change, greenwashing and conscious consumption. That evening Venice Fashion Week celebrates 10 years at the Oriental Bar of the Hotel Metropole, amidst fashion and cocktails. On 2 April , Venice Fashion Week offers an afternoon in the garden at the NH Collection Grand Hotel Palazzo dei Dogi with fashion presentations, workshops, interviews with designers and artisans, and the discovery of the hotel's botanical garden. Antonia Sautter Atelier is the event that closes the spring edition of Venice Fashion Week, transforming the spaces of the hotel into a meeting point between ancient savoir faire and young energies projected into the future.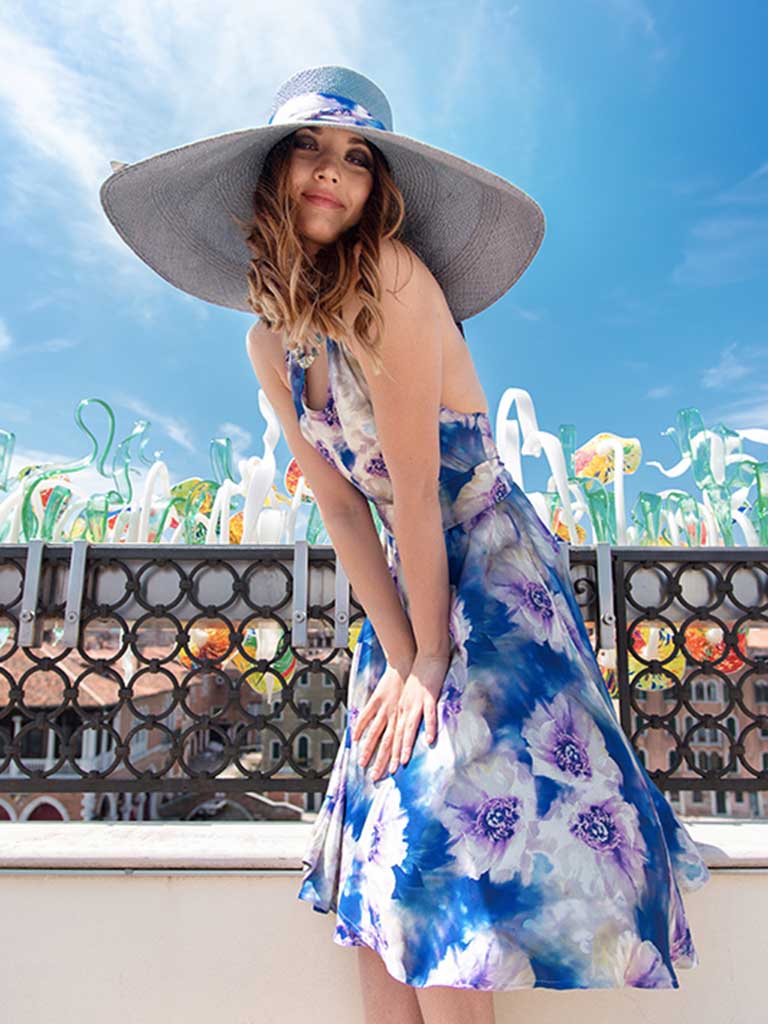 The programme:
Thursday 30 March 2023 at Venice Fashion Week
Atelier Aperti Digital 9 a.m. – 4 p.m
A live social digital day discovering high craftsmanship with Venice Fashion Week. A dialogue between high craftsmanship, sustainability and young designers in a voyage of discovery of the places of savoir-faire, in Venice and on the islands: Venice Fashion Week promotes the dissemination of the culture of artisan ateliers that transform tradition by interweaving it with contemporaneity.
Connections between fashion, craftsmanship and design 6 pm. Liviana Conti, Campo San Zulian, San Marco. The brand Liviana Conti hosts in its boutique an installation created and conceived in collaboration with Seguso Vetri d'Arte.
Friday 31 March 2023
VeniceSustainable Tourism HOURS 10 a .m.The House of The Human Safety Net, Procuratie Vecchie, Piazza San Marco 128 with the patronage of Ca' Foscari University Round table Venice's tourism stakeholders meet to share good practices and innovative paths to make tourism a resource for the well-being and life of the city.
Ornaments Atelier 5-8 pm
Palazzo Sagredo, Campo Santa Sofia 4198/99. Fashion artisans present sustainable collections and share their craftsmanship and experience of life and work: Ca' Beltà by women's fashion designers Lydia and Olena, upcycling by Demis Marin for Ramosalso, contemporary Murano glass jewellery by Simona Iacovazzi of Perlamadre , and tailor-made men's clothing by Maestro Franco Puppato. The Table of Stories at 6.30 p .m. will reveal the production processes, technical refinements, materials, sustainability and poetics of the work of seven women artisans: Stefania Giannici of Paperoowl, Nadia Syrkova of Syrk Design, Valeria Boncompagni, Shanti Ganesha of Meracu, Marisa Convento, Patrizia Donà and the recycling of Sabrina Pigozzo of Magoga Team Venezia.
The Blue Artisan 7 pm
Palazzo Sagredo, Campo Santa Sofia 4198/99. In collaboration with Seguso Vetri d'Arte and Venezia da Vivere, Venice Fashion Week celebrates Venetian milliner Giuliana Longowith The Blue Artisan award.

Saturday 1 April 2023
Sustainable Fashion Day 10 a.m. Live social. Palazzo Ca' Da Mosto, The Venice Venice Hotel, Cannaregio 5631. The True Colours of Fashion 4pm, Palazzo Sagredo, Campo Santa Sofia 4198/99. A day with the most important Italian experts on sustainability, environment and ethical work such as Marina Spadafora – Fashion Revolution, Sara Sozzani Maino – Creative Director of the Fondazione Sozzani, Giovanni Bon otto – Industrialist, Creative Director of Bonotto and founder of the "Fabbrica Lenta", Francesca Santoro – Specialist of the Unesco Intergovernmental Oceanographic Commission's Ocean Education Programme, Rodolfo Bevilacqua of the precious Luigi Bevilacqua weaving mill, Matteo Ward
– activist and expert on fashion sustainability, Stefano Micelli – lecturer, economist and expert on craftsmanship and innovation, and Arianna Safayi – a young Italian-Persian designer, will share Fashion Revolution's Good Clothes Fair Pay campaign with students, academics, creatives and fashion entrepreneurs. The press conference will also be an opportunity to launch Venezia da Vivere's important initiative A Dress for Venice, and Lorenzo Cinotti, President of Venezia da Vivere, Ettore Pellegrini, Marketing & Sales Manager of Asahi Kasei Fibers Italia, and Luca Olivini – C.L.A.S.S. Eco Hub Material manager, will talk about it.
10 YEARS OF VENICE FASHION WEEK 6 – 10 p.m. Oriental Bar of the Hotel Metropole, Riva degli Schiavoni, San Marco 4149 Venice Fashion Week celebrates ten years of fashion and cocktails with the young fashion designer Marina Amicucci and her sartorial brand Myss Duval, alongside the art of mixology by Lino Marchese with Altamura Distilleries.
Sunday 2 April 2023 at Venice Fashion Week
The Blue Garden 3pm. Palazzo Rizzo Patarol, home of the NH Collection Grand Hotel Palazzo dei Dogi, Fondamenta Madona de l'Orto, Cannaregio 3500. We discover the palace and the botanical garden with the architect and historian Raffaele Dessì.
4 PM
An afternoon with the fashion of the brands BVL Venezia by Giulia Bevilacqua and Gaiofatto by Michela Gaiofatto between upcycling, printing on fabric, tailoring and sharing artisan knowledge with the community of Venetian creatives, called upon to create scenarios for imagining the future. Upcycling workshop with the brands: Ramosalso by Demis Marin, Micolucci by Alessandra Micolucci, Made with Patience by Daniela Lombardo and the Maranteghe project.
5 – 6 PM
A tea with The Travel News and The Italy Insider and the Venice Fashion Week brands. Antonia Sautter Atelier 6 p.m. Antonia Sautter's haute couture dresses become sea animals and ocean dwellers: Venetian artist and designer Antonia Sautter presents her fashion creations made from natural fibre fabrics, dyed with vegetable or mineral pigments and printed by hand. Venice Fashion Week is part of Le Città in Festa of the City of Venice. It is a project of Venezia da Vivere with the patronage of the Venice City Council, Fondazione Cologni dei Mestieri d'Arte, Tavolo Veneto della Moda (Confindustria, CNA; Confartigianato, Confesercenti, Confcommercio). The conference Venice Sustainable Tourism has the patronage of Ca' Foscari University Venice.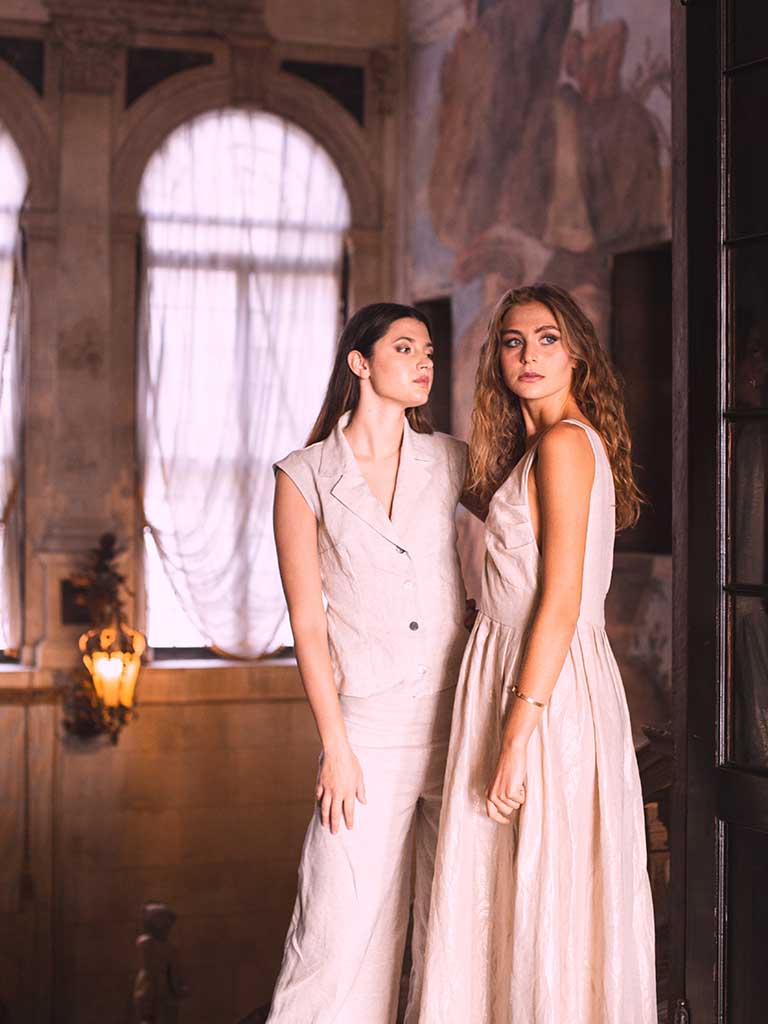 Partners: Vela – Venezia Unica, C.L.A.S.S. Creativity Lifestyle And Sustainable Synergy, Ca' Foscari Alumni, Piazza San Marco Association, How Do We Meet, Moodart School of Fashion Communication.
Media partners: The Travel News, The Italy Insider, Marketers Club, Illuminem, E'NordEst, The Italian Rêve, Germana Cabrelle Press Office.
Thanks to Venissa, Bellini by Canella, Caffè Al Todaro, Hotel Palazzo Sagredo, The Venice Venice Hotel, Hotel Metropole, NH Collection Grand Hotel Palazzo dei Dogi, Londra Palace Venezia. venicefashionweek.com