White and smiling, cheerful and curious, the Joy bunny is always an icon for Easter at THUN. White and tenderly playful, she is ready to brighten up the festivities together with her little chick friend Polly. This year, Bunny Joy is preparing a surprise: she is painting a fantastic world of magical flowers and imaginative animals. A work to be discovered, a play of colours and shapes to enrich her friends' party. Great Easter classics, Joy and her friend populate the collection, which stands out not only for its traditional ceramic characters but also for the rich assortment dedicated to the kitchen, designed to host delicious dishes and set the perfect Easter table. A complete assortment that also embraces the world of snacking and celebrates home decoration. Joy's friendshand-painted ceramic subjects reproducing all the characters of these festivities. You can have fun with them, collect them and decorate your home.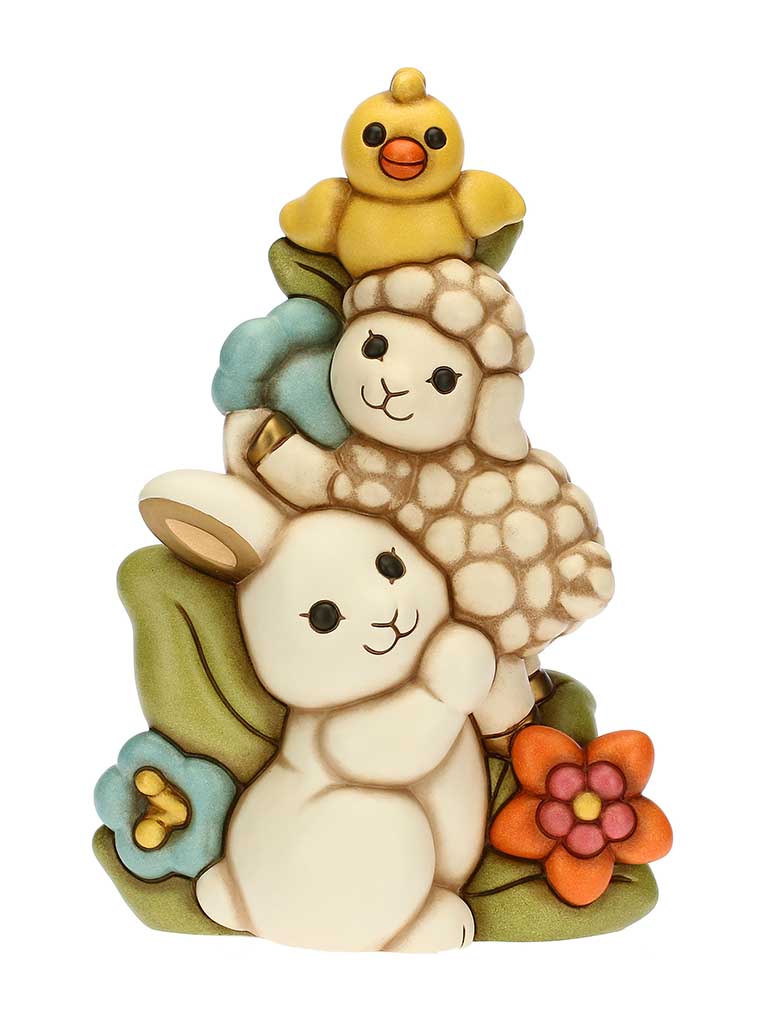 Easter Totem, the most important decoration in the collection featuring Joy together with her friends, all hugging together.
Joyand the Little Lamb, hugging a sweet flower.
Joyand the Bluebell, in the medium version.
Little Lamb with theFlower, in the medium version.
Polly chick with Flower, in the small version.
The Easter Bells, in the 2023 limited edition.
Perfect for creating with delicate peach branches a wonderful Easter Tree.
The Easter Decorations, all different and all fantastic: Campanula, Joy with Egg, Joy with Flower, Polly Chick with Egg, Little Lamb with Egg . The Easter tablethis year is enriched with new shapes and decorations, always as colourful and joyful as the festive air that pervades us these days. Always a new occasion to be together with those you love with the joyful creativity of THUN.
Fabulous Easter centrepiece with bunny.
Favolosa Easter chocolate box.
Easter bunnytea-light holder.
Easter Favolosa dove dish.
Easter Favolosatray, big.
Easter Favolosacake stand.
Favolosa Easterbaking tray and saucer.
Favolosa Easterbowl, medium.
Mug Pasqua Favolosa.
Dessert plate Limited Edition Pasqua 2023.
Spoon holder, ladle holder and 2 ladles set Pasqua Favolosa.
Easter Favolosajars with Flowers & Ladybird and Bunny & Butterfly.
Set2 Easter Glasses Favolosa.
Set2 Tea Towels, Set 2 Pot Holders and Set Apron with Favolosa Easter Ladles.
Set Easter Favolosabiscuit moulds.
In the garden with THUNa line of accessories that will accompany us as we decorate our terrace or garden with the design and joy of spring colours.
OutdoorRug, Table and Cushion: comfortable and chic even in the greenery of your garden in bloom.
Farfalle&Fiori orange or greenstoneware vase and Farfalle&Coccinelle: to present your flowers on the table or to plant your pot plants.
Grill and ApronAccessories Set: your barbeque will be even tastier and more fun.
GardeningTool Set, Watering Can and Gardening Gloves: no one will be able to stop your green thumb!
Centrepiece, beautiful and functional for any outdoor use.
Bugholder, very useful for managing insects and joyful for its decoration.
To give as a gift or to collect, to decorate the home for Easter and Spring, the THUN collection is the perfect symbol of tenderness and love; a delicate and joyful touch of serenity to celebrate your best moments with family and friends.
In shops from 1st March 2023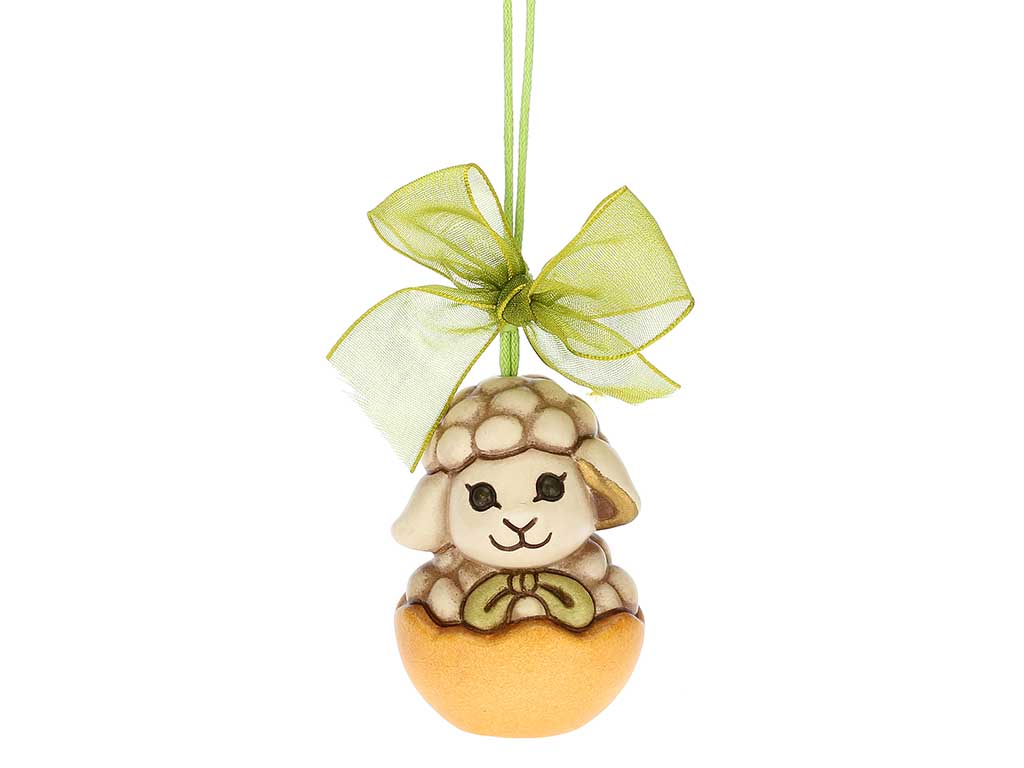 ABOUT LENET GROUP
Lenet Group is a family of integrated companies that evolved from Thun Spa, a company founded in Bolzano in 1950 by Lene and Otmar Thun and now in its third entrepreneurial generation. The Group nurtures the omnichannel potential of each brand and, thanks to its logistics and digital know-how, implements innovative strategies, creating a new business model, offering integrated omnichannel solutions, digital platforms and process optimisation and thus activating new synergies between production, logistics and customers. The group is active in the gift & home decor sectors (with the historic THUN brand of the same name, which is flanked by the Unitable brands – La Porcellana Bianca, Rose e Tulipani and Rituali Domestici), pets (Luxpets, the first onestop luxury pet store digital that offers sought-after products and services in the pet luxury sector), food (Thun Cafè), logistics and digital (overseen by Connecthub Digital & Logistics, with a platform of integrated logistics services, CRM, Customers Service and web design). Lenet Group is a guarantee of results, based on commitment and responsibility towards people and the planet.
ABOUT THUN
Founded in Bolzano in 1950 as a ceramics workshop, THUN is an international market leader in ceramic products and quality gifts. Every piece is conceived and designed in Italy, with artisan passion. Over the years, the assortment has expanded from ceramics to tableware, from home furnishings to women's and children's accessories. THUN, known to many for its historical ceramic figures, is now loved by many enthusiasts for its ever-new captivating collections and exclusive creations, true limited edition capsules. Alongside the great classics such as the famous angel are new icons such as the teddy bear, the panda and the koala. Great space is also given to porcelain, successfully declined for years in the coffee on the fly line, and to innovation with the inclusion of new natural and eco-sustainable materials such as glass and wood, excellent interpreters of a more contemporary style and a more functional and modern living proposal. thun.com