Daniela Gazzini and Cristina Cattaneo, founders of ViVi, Lifestyle & Food brand, and Iole Siena, president of the Arthemisia Group, announce the new opening in the heart of Rome. ViVi, Lifestyle & Food brand founded by Daniela Gazzini and Cristina Cattaneo, together with Arthemisia, a leading company for large art exhibitions, are proud to announce the opening of ViVi – Piazza Venezia on Wednesday 15 March 2023. The venue is located in the splendid and historic setting of Palazzo Bonaparte – the home of the French Emperor Napoleon Bonaparte's mother, who stayed there until 1836 – and the artistic context of the prestigious exhibitions produced by Arthemisia, a leading company in the production and organisation of art exhibitions at an international level.
The new 200-square-metre ViVi, located in the heart of the Eternal City and overlooking Piazza Venezia and the Altare della Patria, will be open every day from 8.00 a.m. to midnight, to welcome customers and visitors to the exhibitions and beyond. The synergy between ViVi and Arthemisia wants to represent the best of Italy enclosed in an enchanting place with quality cuisine, a warm welcome , art and beauty! Daniela Gazzini and Cristina Cattaneo state "Arthemisia represents an Italian excellence in the production of artexhibitions and is for us anhonour to have close partnership with Iole Siena, its its President and Director, a woman with a vision projected to the future and who shares with us thesamevalues.
Our wish is that this collaboration can enrich the offer of the wonderful city that hosts us!".
Iole Siena states "The magnificent offer gastronomic offer and aesthetics presented by ViVi è the right completion of the Palazzo Bonaparte, which has now become the capital's main cultural venue. For us at Arthemisia it is the first experience linked to food e i have chosen as partner of this adventure Daniela e Cristina because, in the years, have distinguished themselves in Rome for an unmistakable style, beautiful, quality, welcoming and perfectly in line with my vision of exhibitions."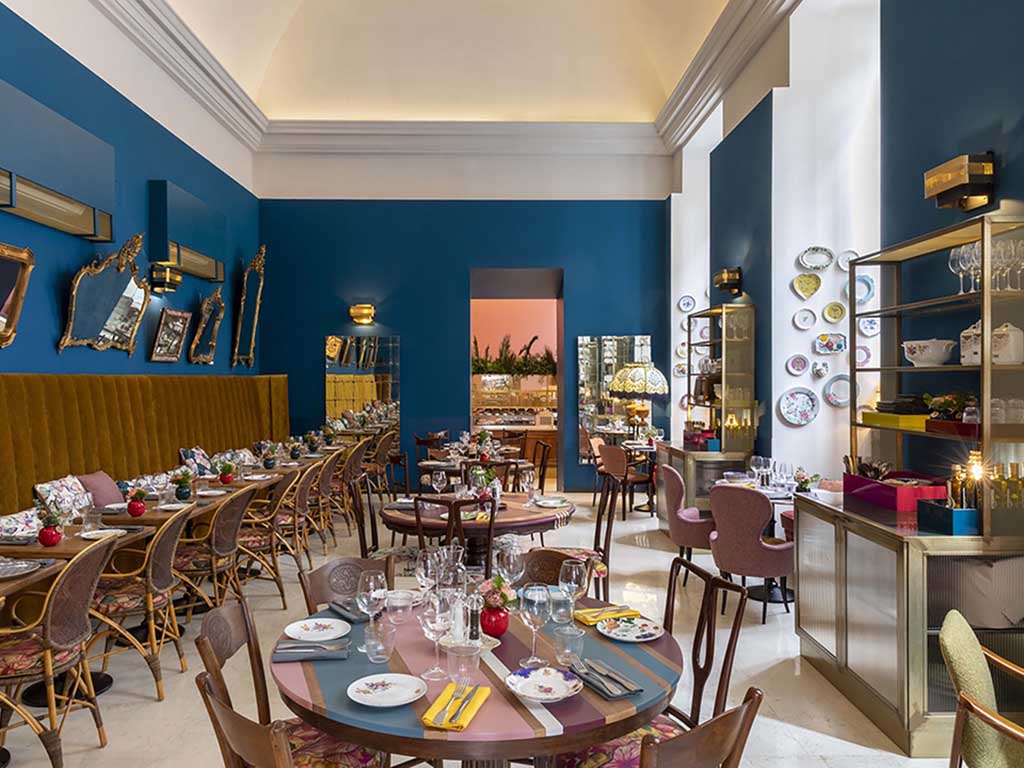 ViVi GOES GREEN
ABenefit Company since 2020, it is now part of the B Corp movement unique in the catering world, from Rome to down, to have this certification. ViVi is committed to offering and promoting a healthy and sustainable lifestyle, to constantly improving corporate sustainability for a positive and regenerative impact on the environment and society, to combating food waste, and is dedicated to initiatives supporting charities and non-profit associations.
THE PROJECT
ViVi 's design also conquers Piazza Venezia, inside the historic Palazzo Bonaparte, with a seductive andeclectic lookcharacterised byretro nuancesthat recall the literary cafés of the 1920s in Paris . The three large rooms of ViVi – Piazza Venezia, characterised by the Napoleonic blue of the walls, do not go unnoticed thanks to creative details such as rooms adorned with gilded mirrors, lampshades made of coloured Ikat, recycled counters and dishes and objects that are the result of research in the markets that are given new life. Architect Andrea Magnaghi signs this project so as for the other premises ViVi, collaborating with a team of creativewomen suchas interior decorator Anna Aliprandi the restorer Sabrina Oliva and the flowers designer Antonia Incalza founder of 'Antonia Flowers Roma'.
GOOD MOOD FOOD
Daniela Gazzini says: "The menu of ViVi – Piazza Venezia is focused on 'good mood food', with proposals that want to put you in a good mood right away! It is important for us to involve our customers inour world made of passion, enthusiasm and positive energy " . The menu features international dishes made with excellent Italian organic ingredients, and traditional Roman forays are not missing. The proposal of ViVi – Piazza Venezia is ideal for everymoment of the day: from breakfast to dinner, aswell as for a brunch or a lunch, for a tea, a aperitif in cheerfulness and xml The names of the dishes crack a smile, in line with the philosophy of 'good mood food', such as the Rise and Shine Avocado Toast, the Mango Tango, a poke of marinated salmon with avocado, mango, corn nachos and spicy mango dressing, and the Jamaican lollipop, succulent organic chicken marinated in cocoa, raw sugar, coconut and lime.
Honouring the Roman tradition are the Pinsa alla Gricia, the Roman with a Twist with organic poached egg, crispy bacon, raw spinach, beans all'uccelletto and multi-grain bread, the Gnocchi alla Romana covered with Parmesan fondue and black truffle shavings, and a wide selection of Taglieri with DOC products. The dessert showcase features classic ViVi desserts such as cakes, biscuits and macarons made in-house by ViVi Lab, the new laboratory of 700sqm equipped with machines of the latest generation and ofsolarpanels for the production of energy clean, which bakes delicious cakes always made with organic ingredients. The cosmopolitan cuisine also brings Portuguese flavours, in fact among the novelties are the Pasteis de Nata, a pastry made with puff pastry and cream cooked at high temperatures.
DRINKS
You can find soft drinks such as centrifuges and smoothies with all kinds of organic fruit and Mogi coffee, a brand of organic roasting and Benefit Society, present in all ViVi premises. Exclusively for ViVi – Piazza Venezia is offered 'Lady Blue', a very high quality filtered coffee from Samac (Guatemala) cultivated by a Q'eqchì all-female cooperative. Sara Paternesi, ViVi's Bar Manager, has curated the cocktail list with the evocative name Let's Twist Again, with revisited drinks with a 1920s flavour, such as Funky Fizz with Provençal herbs and chamomile soda or Stormy Night with spiced vanilla rum, coconut soda and lemon-grass. For lovers of tradition, a riot of great classics straight from the roaring twenties . Thewine list is extensive and consists of Italian wines from small, sought-after wineries scattered around the beautiful countryside of the Belpaese , such as the Tenuta Principe Alberico of the Antinori family, located along the magnificent Appia Antica.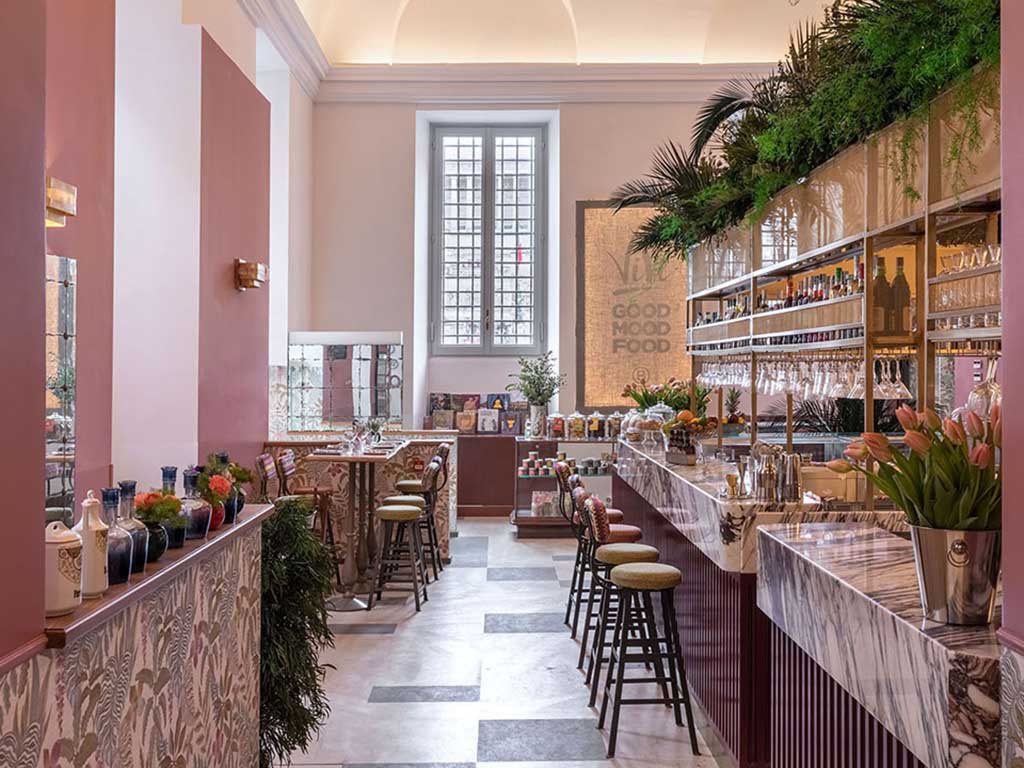 ViVi
ViVi, lifestyle & food brand, is the brainchild of two entrepreneurs, Daniela Gazzini and Cristina Cattaneo, who in 2008 decided to change their lives and work together to realise their healthy food project in charming settings in Rome. Parks, museums, theatres and palaces in the historic centre of Rome were chosen by Daniela and Cristina to open the ViVi premises. Located between nature and art, the venues, 'urban oases' with an informal, light and bucolic atmosphere, are: ViVi – Villa Pamphili in the park from which it takes its name, the first venue to be opened; ViVi – Le Serre, botanical garden restaurant, near Monte Mario; ViVi – Piazza Navona at the Museum of Rome at Palazzo Braschi; ViVi – Piazza Venezia at Palazzo Bonaparte. vivi.it
Since 2020 ViVi has been a Benefit Company and since 2022 has joined the global B Corp movement, having obtained the prestigious certification.
ViVi's is a true philosophy, based on six pillars, six founding values that define its world.
Organic, km 0 and Clean Food: ViVi has always used ingredients from organic farming and breeding, as much as possible at km 0. Organic crops produce quality food rich in nutrients and with an authentic taste, harvested following the rhythm of the seasons, respecting nature and without poisoning the soil. In 2022, the ViVi pastry laboratory also obtained organic certification with Bioagricert. ViVi continually explores the new frontiers of Clean Food

,

sustainable food that is good for people and the planet, such as plant-based alternatives to meat, served in all

ViVi

locations

,

vertical

farming

above

ground

and

much

more

.
Love for the food: for ViVi food is an opportunity to experiment with imagination and spread well-being. Its menus are based on healthy and tasty recipes, whose inspiration comes both from our land and from travel and curiosity about other cultures, to create surprising flavours with contemporary cooking techniques. "Bio", for ViVi, goes hand in hand with "vicious": hence "biovicious", which well

describes

their

dishes

and

their

identity

.

The

flavour

of

each

organic

ingredient

is

enhanced

by

culinary

creativity

.