In America they are called Tiny Houses and are real wooden houses, often positioned on two wheels. This allows them to be moved around while maintaining the comfort of a traditional home inside. Everything is calculated down to the smallest detail, no imperfections, no concession to disorder. Built in a sustainable way with a low environmental impact and optimised consumption, this new way of living has become a trend that fascinates even millennials.
Article summary
What are Tiny Houses
How Tiny Houses are born
Advantages and disadvantages of living in a Tiny House
Organisation of spaces
"Wonderland", the mobile home by Crippaconcept
Gallery
What are mini-houses or Tiny Houses?
Tiny Houses are real houses made entirely of wood, measuring no more than 30-50 square metres. They are perfectly equipped with all the comforts of a "normal" but "miniaturised" house. A new concept of home that has begun to spread more and more, inspired by a philosophy of living that respects the environment, that adopts an energy-saving approach because there are only objects and utensils inside that are really needed. In everyday life, the energy loss in the management of spaces that are not used is high.
Each Tiny House is unique and totally handcrafted, made exactly like a conventional home, but with customised fittings and furnishings. The cost of such a housing unit is variable. It starts at €4,000 and goes up to much higher figures, but generally within €100,000. It depends on the options and the type of furniture chosen, which inevitably affects the price. The possibilities for using mini-houses are very wide, ranging from real homes to shops, offices and second homes. This trend is becoming increasingly widespread thanks to the versatility and adaptability of tiny houses to any climate.
These micro houses are built with natural materials which are also weatherproof. Heating is provided by solar panels, to capture energy at zero cost in any season, or, going against the concept of low environmental impact, by propane gas cylinders.
How tiny houses are born
In America, Tiny Houses developed mainly after Hurricane Katrina hit the Bahamas, South Florida, Mississippi, Louisiana and Alabama in August 2005, devastating everything. One of the most violent hurricanes in history. Following this destruction, Marianne Cusato created the "Katrina Cottages". The aim was to create living spaces with the same comforts as a normal house, but concentrated in 28 square metres. Julie Martin, also following the loss of her own home in the disaster, designed a mobile home, made entirely of wood and transportable on a trailer. These are what have now become the modern Tiny Houses. This production, especially in areas subject to devastating weather events, has given rise to a movement to promote sustainable and freer living: the Small House Movement. Another example is the Tini Tack House
made on a caravan trailer with a surface area of 13 square metres.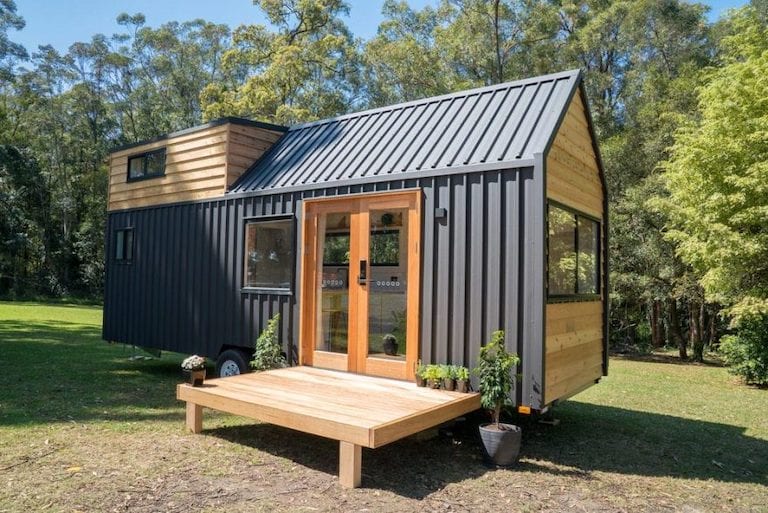 In Europe, this type of house has been developed in Sweden with the Smart Student Units. The project, in collaboration with Lund University and carried out by the Tengbom architecture studio, is based on 10 square metre mini-houses. A real challenge to save space while maintaining the same "comforts" of home
In Italy it was Renzo Piano who created the micro house with "Diogene". The name was not chosen by chance by the architect, in fact it refers to the philosopher who abandoned the superficiality of material life and decided to spend his life in a barrel. But Renzo Piano is not the only one who has produced mini-houses: in Arcade, in the province of Treviso, Simone Vecchiato is the most famous craftsman in the production of Italian Tini Houses. S.V. Mini House is the only Italian manufacturer of houses on two wheels, called the "Ferrari" of mini-houses because of the high level and quality of the constructions.
Advantages and disadvantages of living in a Tiny House
The choice of a house in such a small area can be for adventurous spirits, for those who need to move around often or simply to have an alternative space to the usual routine
This lifestyle frees you from the stress of making payments and helps you save money, as well as, last but not least, adopting a lifestyle that respects nature by immersing yourself in it. In fact, tiny houses only require a flat plot of land, they have no positioning constraints, you will need to read up on the building regulations of the area.
Life inside the micro house is reduced to a minimum, there are no large wardrobes, too many superfluous articles and items other than the basic necessities.
Among the main advantages of living in a tiny house are:
lower costs as they are the cheapest houses in the world
it can be built autonomously as no special connections are needed as they are prefabricated houses
versatility thanks to modular and foldable furniture
Reduced environmental impact as it is self-sufficient in terms of energy autonomy
Direct contact with nature thanks to its small size, which makes it possible to place it in exceptional places surrounded by nature such as woods, meadows and any location desired.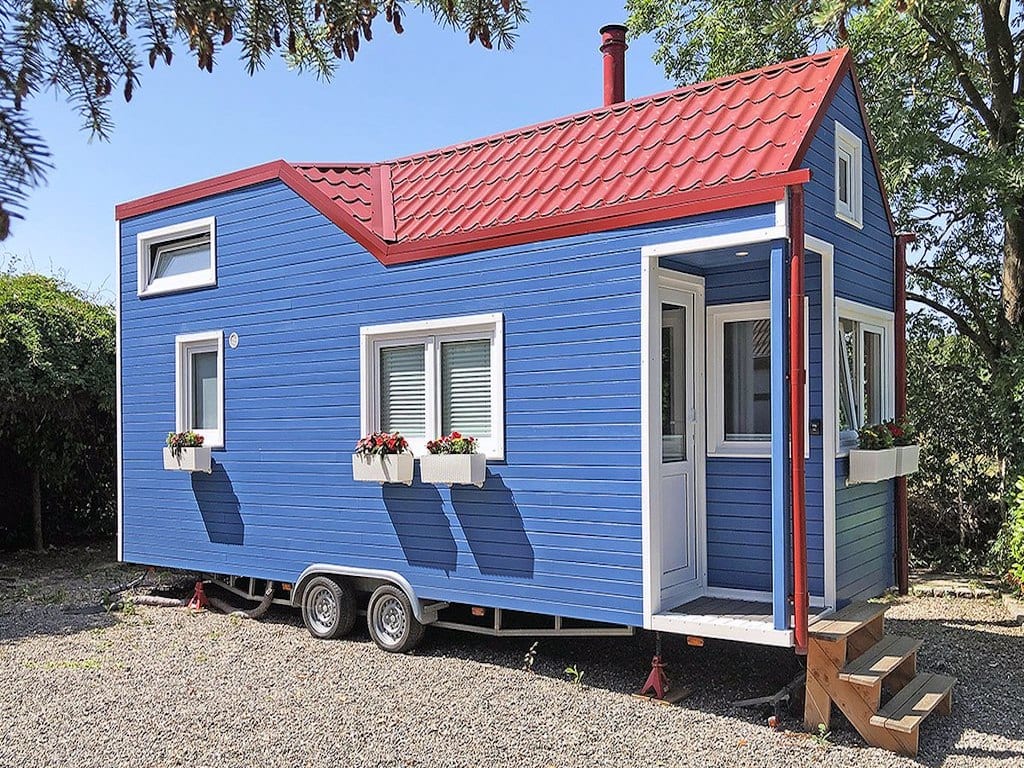 As in everything, there is the counterpart that presents problems in the face of many positive details. One of them is space. This type of house is not suitable for long periods because its small size allows weekends or short holidays, especially for couples. The lack of space could be difficult for a family with children to manage. From a practical point of view, it also presents the problem of having to deal with composting the bathroom drainage as well as maintenance work due to greater exposure to deterioration. Nevertheless, Tini Houses remain a minimalist utopia.
Organisation of spaces
The Tiny House, with its geometric and functional shapes and cleverly designed furniture, is a choice to experience essentiality as a new way not just a necessity: "less is more". Living in small spaces requires creativity and ingenuity. Even a small space can be just as cosy and comfortable as a normal house, you just have to know how to use each space in an intelligent and unusual way.
A few small tips that can be applied not only to Tiny Houses: choose only the essential, thinking not of the space occupied by the furniture but of how much living space is left; always leave light sources uncovered without hindering the lighting of the rooms; furnish every corner making the most of it, for example with corner drawers. Convertible furniture is recommended for optimum results. Beds with storage, stairs with integrated drawers and sliding doors to make the living space more comfortable and furnish it with some sofas or armchairs.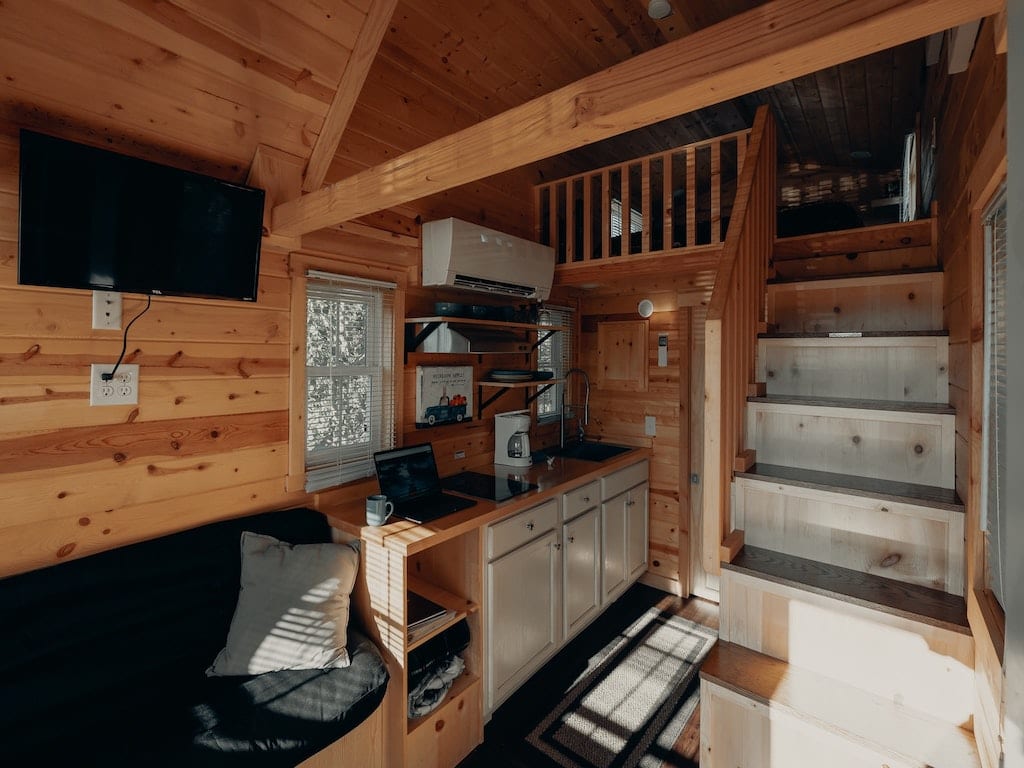 "Wonderland" by Crippaconcept
Innovative design that stimulates the imagination of children but also of adults who go back to being children again. This is the "Wonderland" project, the green mobile home by Crippaconcept, totally playful and natural. Designed for children for an open-air holiday with a low environmental impact, using recycled and recyclable materials to protect the health of those who stay there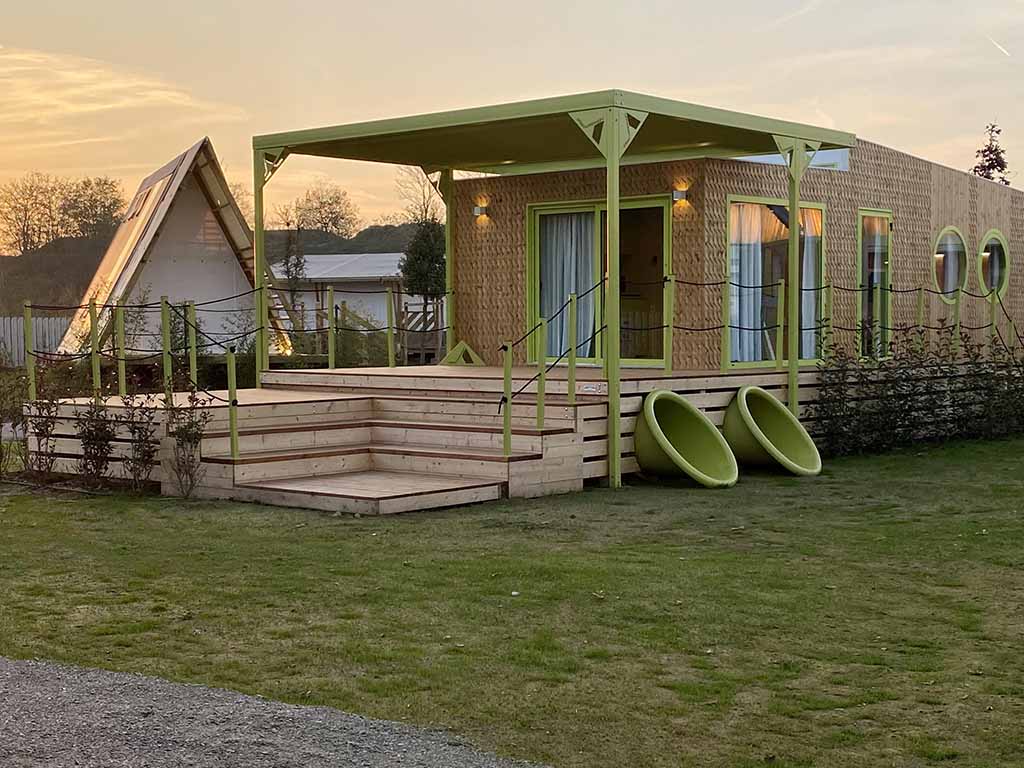 The aim is to rediscover and stimulate open-air tourism so that it becomes increasingly sustainable, combining it with play. Wonderland" is designed for families with children. The shape and colours give free rein to imagination and flexibility. No longer the rigid, rectangular shapes of the classic mobile home, everything has been broken down and recreated with a circular pathway linking the rooms, an architectural continuum without barriers.
This makes the entire surface livable and modular around the centre: the heart of this mobile home is the children's room. The element of play is the main driving force behind the design of "Wonderland". Everything can be fun, amusing and stimulating for the whole family to play, from the portholes that communicate between spaces, to the ladders for climbing into bed or the walls that turn into blackboards.
In addition to this fundamental aspect for the realisation of this new mentality of open-air tourism, colours play an equally important role. The study of colours combined with the study of materials have made it possible to recreate environments characterised by a colour that clearly recalls the recycled product from which it was made, such as the blue ceiling, like the jeans used to create the pattern while maintaining the nature of the product.
Innovative, ecological materials characterise this product designed and made for open-air and sustainable tourism.
Gallery