With spring coming, it's natural to spend most days outdoors. In the backyard, on the terraces or in the garden. To make these areas more comfortable and cosy, we offer a selection of modern design carpets for outdoor use, able to meet all aesthetic and functional requirements.
Illulian
quality for outdoor use
Illulian, an Italian company that produces high-end handmade rugs, transfers to the outdoors the quality and domestic comfort usually destined for indoor furnishings. As of today, the brand's models can be made in an outdoor version. The outdoor carpets provide a warm welcome and create a sophisticated meeting point between indoors and outdoors.
Moreover, with the Custom Made service, it is possible to customise the carpets and adapt them to individual needs. You can choose from sizes, patterns and colours, thus creating a made-to-measure outdoor rug.
Illulian outdoor carp ets are characterised by their high-performance synthetic fibres. As a result, they retain the quality and elegance of the indoor models. This is due to the special processing of the entirely handmade yarn, which lends a sophisticated note to the environment.
Illulian carpets: dialogue between aesthetic and functional dimensions
Illulian outdoor rugs perfectly meet the needs of furnishing outdoor spaces as well as every room in the interior. This is due firstly to the UV and weather resistance. And secondly to the quality of the colours and properties, stain-resistant, water-repellent and fireproof.
Illulian carpets: Platinum and Gold line
There are two versions of the outdoor rugs. The Platinum 120 line is characterised by a particularly complex workmanship that can create spectacular effects. The Gold 100 line, on the other hand, is characterised by a density of 152,000 knots/m2.
Illulian style: a blend of tradition and modernity
Illulian is one of the leaders in handmade designer carpet. A historic international brand, it has never stopped evolving for over 60 years. It has also collaborated with important figures in the world of architecture, design and fashion. Discover the full Illulian offering: Design Collection, Palace Collection, Limited Edition, Essential Collection, Marina Collection, Kids Collection
Ecological models for Unopiù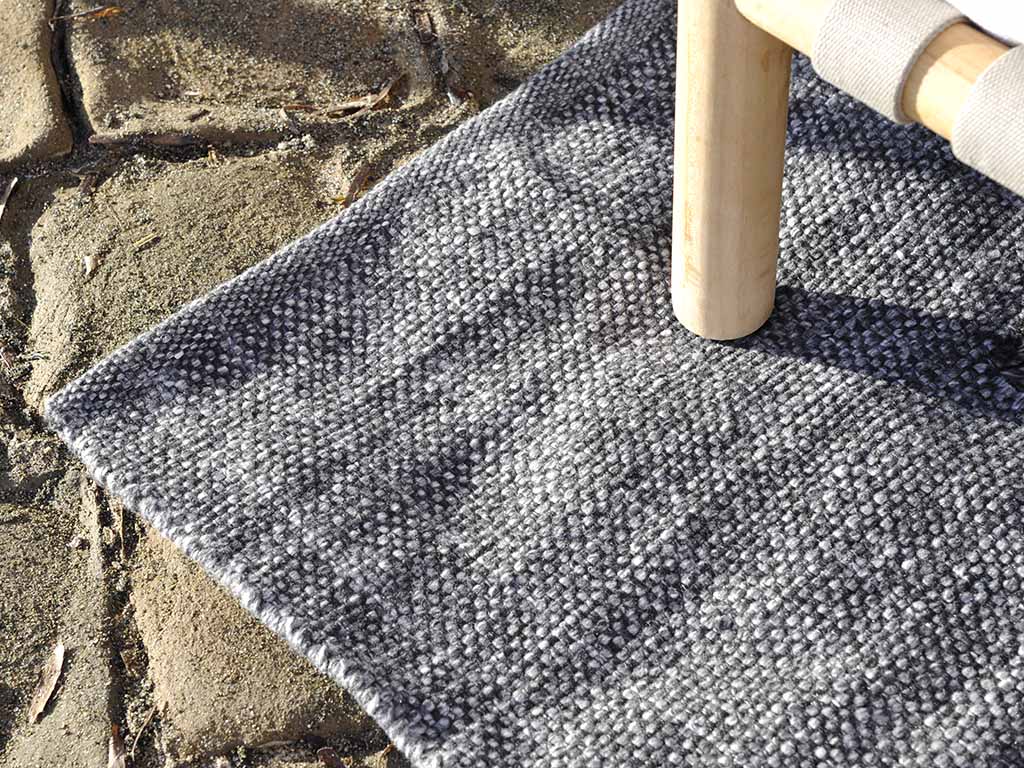 The outdoor carpet range by Unopiù includes three eco-friendly models made of 100% recycled PET yarn. Available in Dark Grey, Blue/White and Tortora melange, they are made with 100% recycled PET hand looms. The continuous polyester yarn is produced from the recycling of common PET bottles, collected and sent for the recycling process to create an innovative sustainable and handmade product The use of 100% recycled PET yarn is a way to reduce pollution and improve the environment.
The line of outdoorcarpets by G.T.DESIGN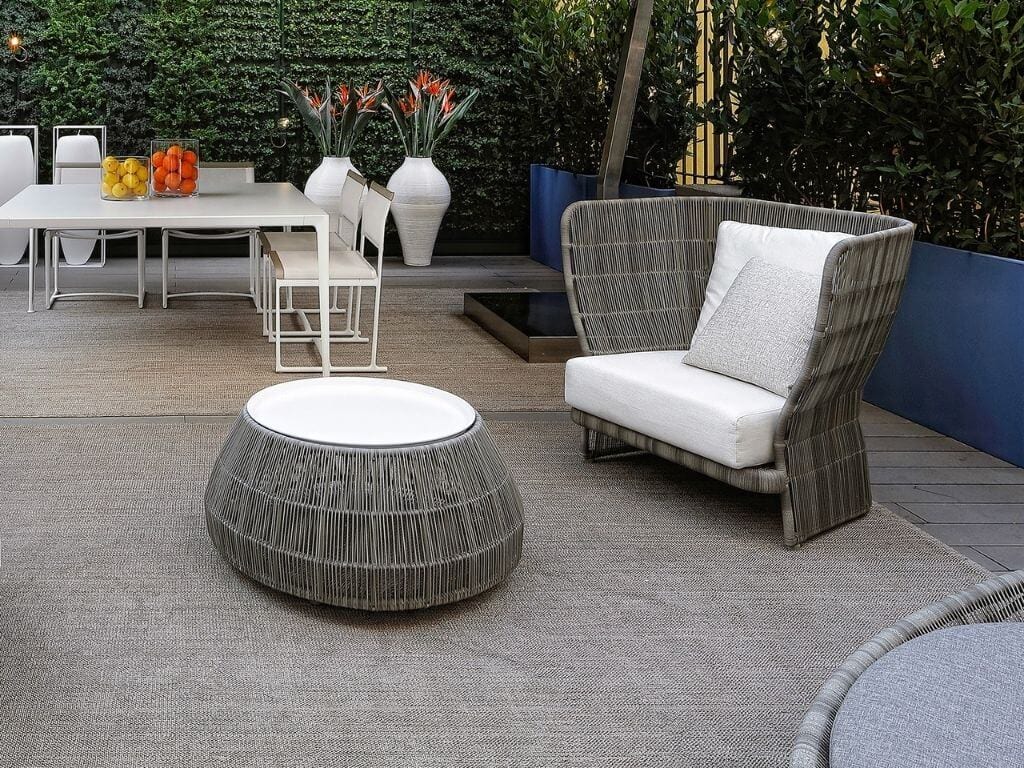 G.T.DESIGN offers a variety of outdoor and indoor carpet solutions. All carpets are made from natural jute or coconut fibres and high-performance yarns. In this way they combine elegance and functionality and paint any outdoor environment with a touch of class.
Double Step
Double Step is a hand-woven carpet made of high-performance yarns. It is available in grey and beige, combined with the bright colours of the felts, such as orange or yellow. Coloured wool felts are inserted between the wefts. You can choose both the position and the quantity of the felts. The carpet is suitable for both indoor and outdoor use.
Strawboard
Paglietta is a carpet that is both sophisticated and practical. It combines jute fibre with an exclusive high-performance G.T.DESIGN yarn. The irregular hand weaving and the technical yarn make it a carpet rich in nuances and pleasant to the touch. The carpet can be made to measure according to the customer's request. Moreover, thanks to its resistance, Paglietta can be used both for indoor and outdoor covered spaces. Paglietta Ocra, with its orange base and hand-woven grey details, is the latest addition to the collection.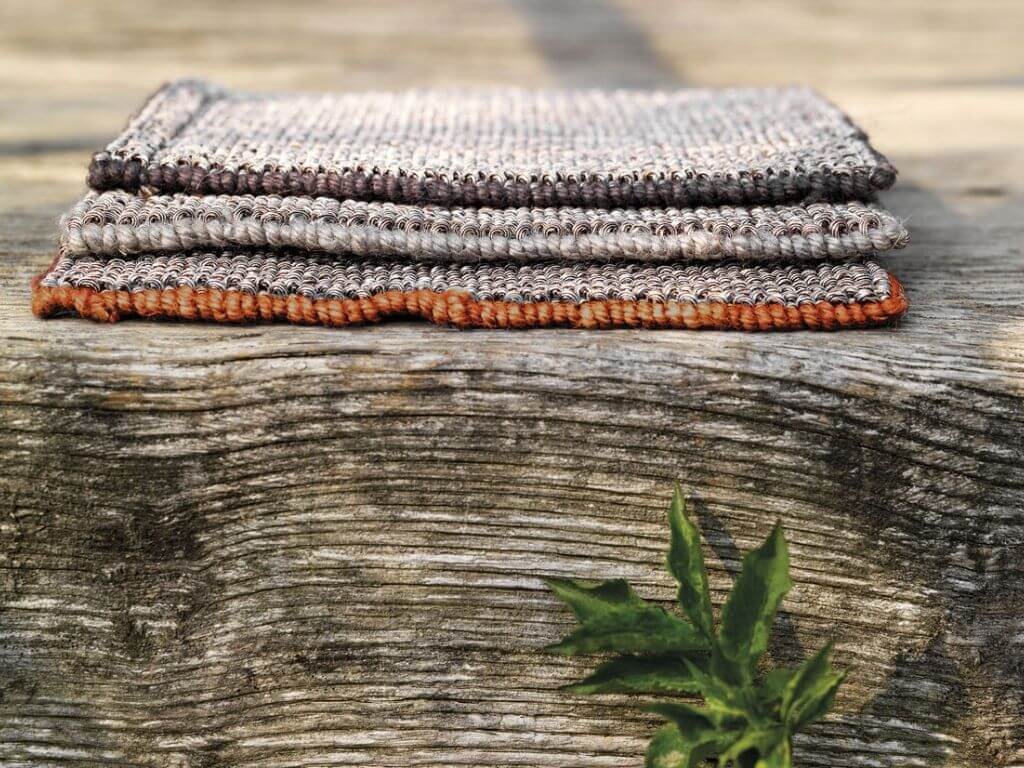 Coconutrug
Coconutrug is a collection of handmade outdoor carpets made of coconut fibre that stands out for its distinct tactile sensitivity and innovative functional approach. It is, in fact, the first coconut fibre rug available in a wide selection of solid colours, made from non-toxic dyes. The new Coconutrug collection, I Glassati, features waterproof resins that enhance the quality of the carpet. The carpet can thus also be transformed into an outdoor carpet. Recently, a modular system of panels has also been added. The panels are joined by an orange Velcro strip on the length side.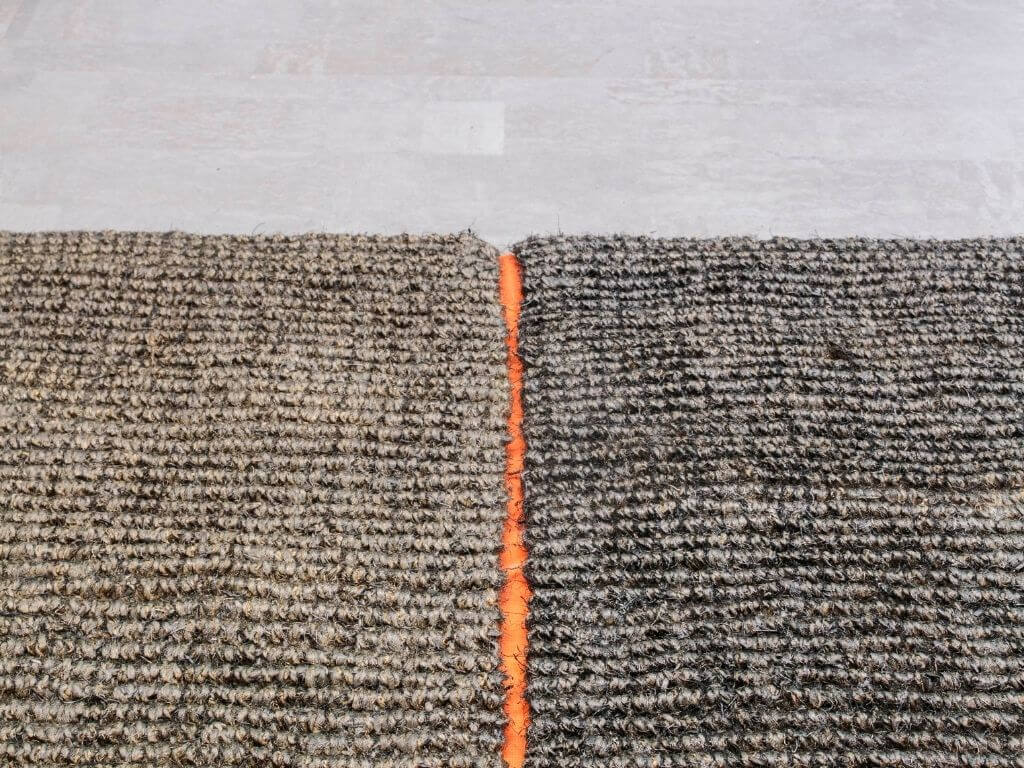 O Sole Mio
O Sole Mio is characterised by a special type of new-generation yarn. The latter has been designed to resist light, wear and tear as well as atmospheric and bacterial agents. This makes it an excellent carpet for outdoors as well as indoors. The yarn is characterised by its compactness, elasticity and flexibility.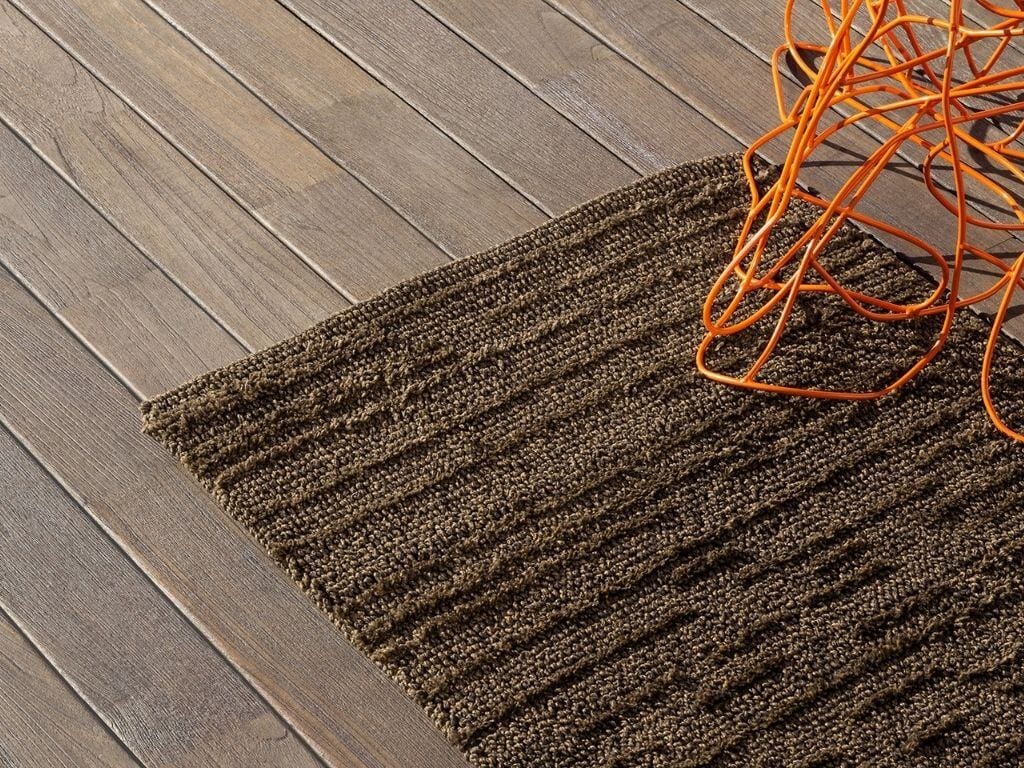 Fabric carpets: a collection by Talenti
Talents, a well-known brand in the high-end outdoor sector, has in recent years expanded its collections with a wide range of accessories.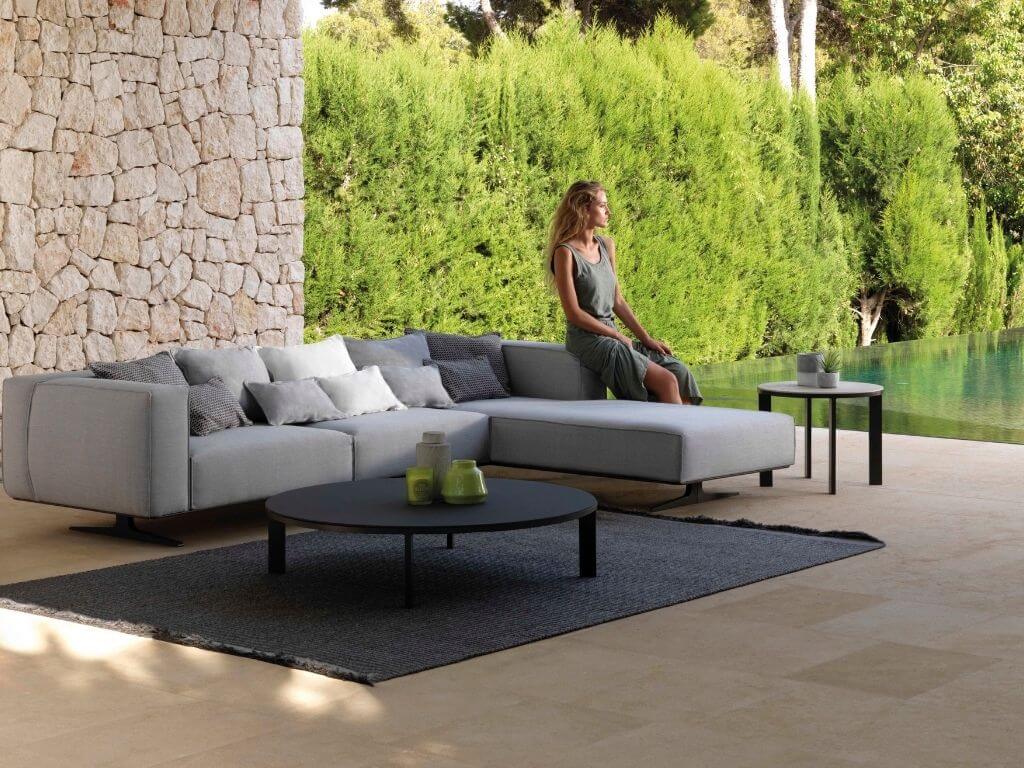 The fabric outdoor rug collection follows this direction and matches the collections that the brand has presented in the 2021 catalogue. In particular, Fabric's outdoor rugs stand out for the versatility of their patterns, which make them suitable for any type of environment.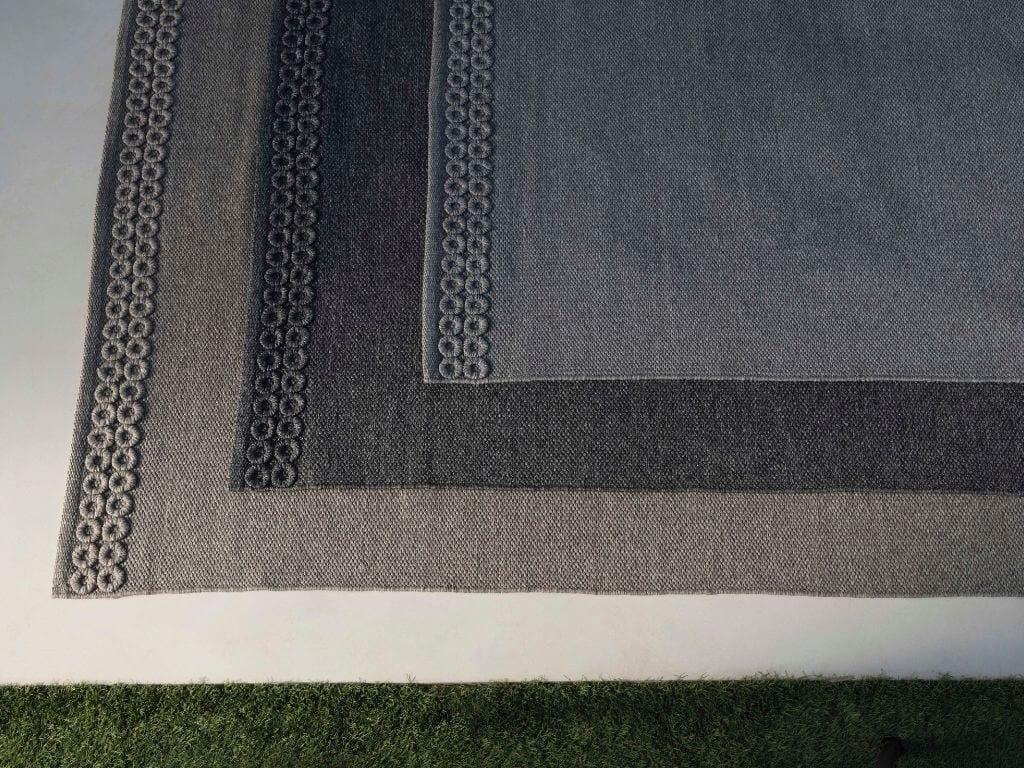 Talenti outdoor carpets are characterised by a synthetic fibre yarn and stain, mildew and water repellent treatments. They are also characterised by their UV stability and resistance to atmospheric agents. For this reason, they are perfectly suited to outdoor spaces.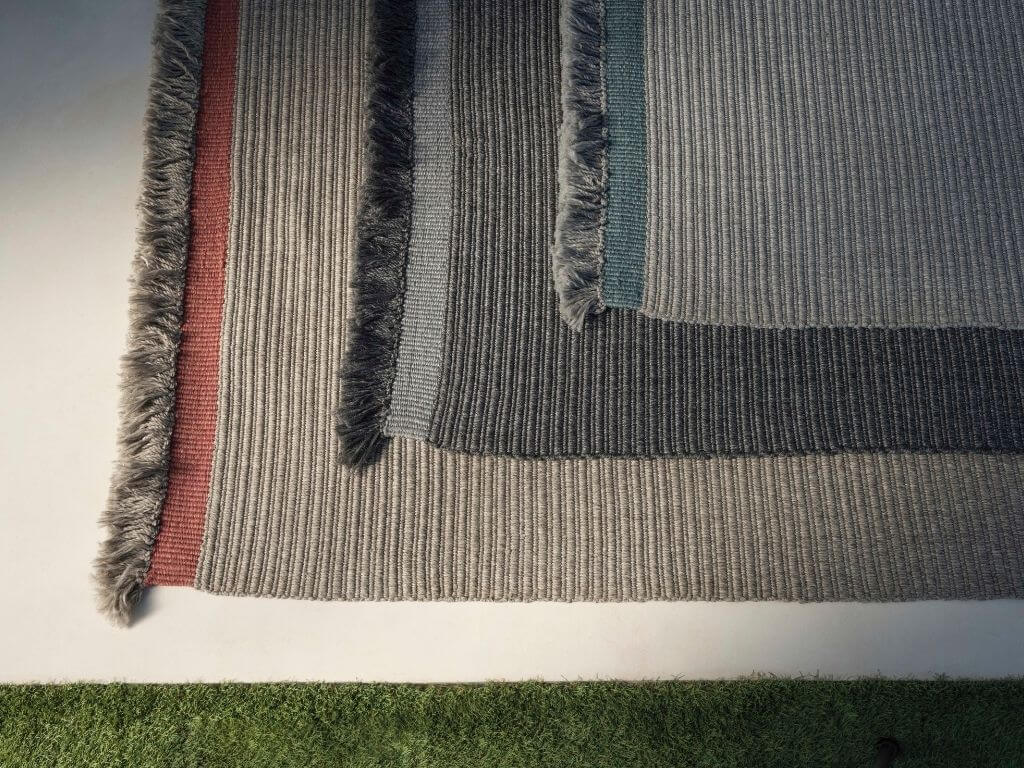 The carpets are available in three sizes: 33cm x 400cm, 200cm x 300cm or 160cm x 240cm. They weigh between 15 and 48 kg. They are available in different colour shades (grey, black, purple, green and brown) depending on the collections they are combined with.
Paola Lenti
's colourful collections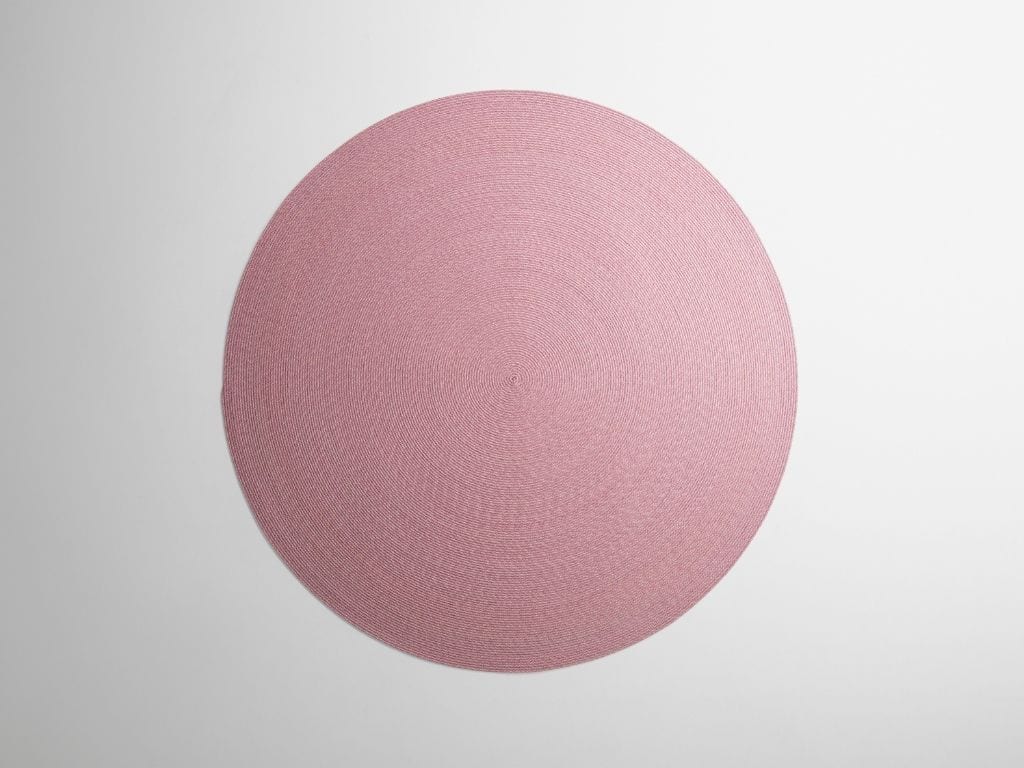 Paola Lenti's outdoor design carpet collections are characterised by specific yarns for outdoor use. The rugs are weather, UV and water resistant. They are long-lasting, easy to maintain and available in a wide range of patterns and colours
.
Parallel
Parallelo is a modular carpet suitable for both indoor and outdoor use. It is made from a combination of mélange cords of different colours and has a longitudinal
Zigzag stitch.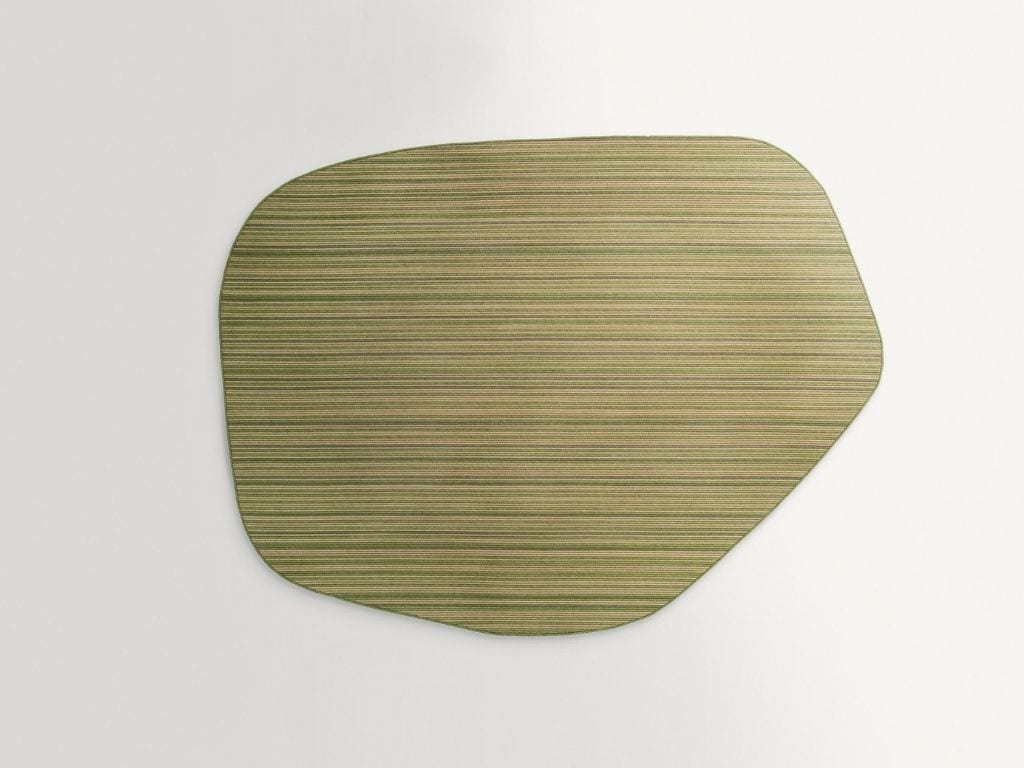 Net
Net is a Maris fabric rug characterised by an essential geometric pattern. The surface of the carpet is characterised by parallel stripes spaced out from each other. The stripes are overlapped orthogonally and joined with a Zigzag stitch and are available in widths
of 10 cm and 20 cm. The carpet is suitable for both indoor and outdoor use.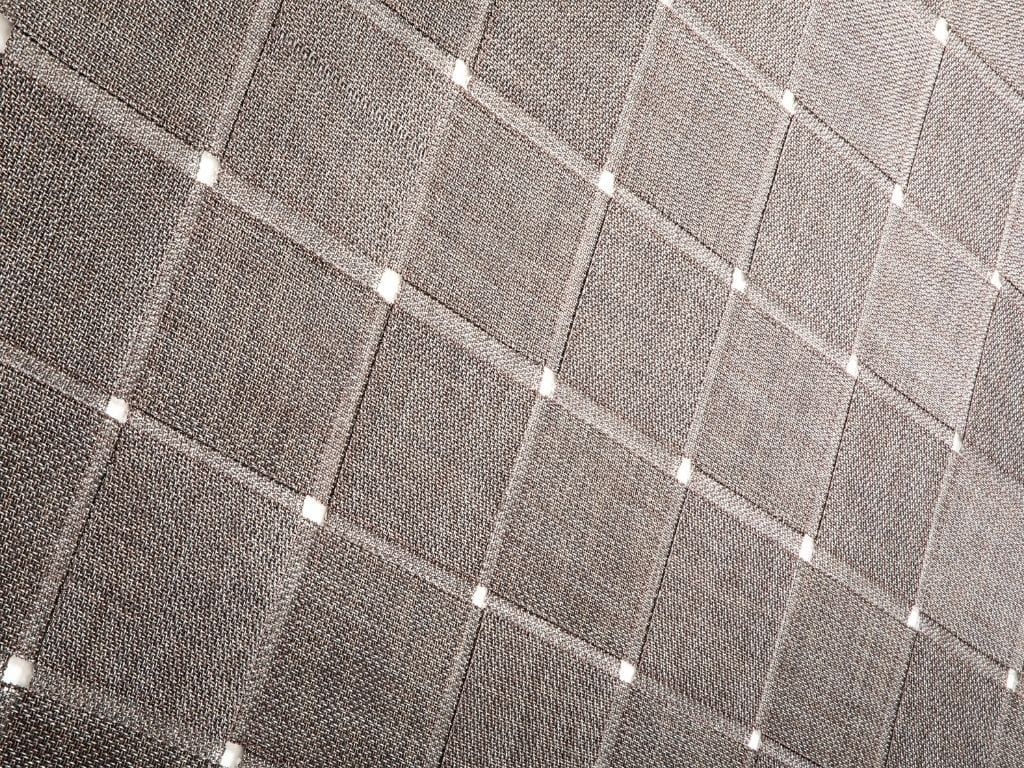 Discover all Paola Lenti's outdoor modern design rugs collections: High Tech, Natural, Area, Felt
Amini
and the collection in recycled ecological yarn for modern design rugs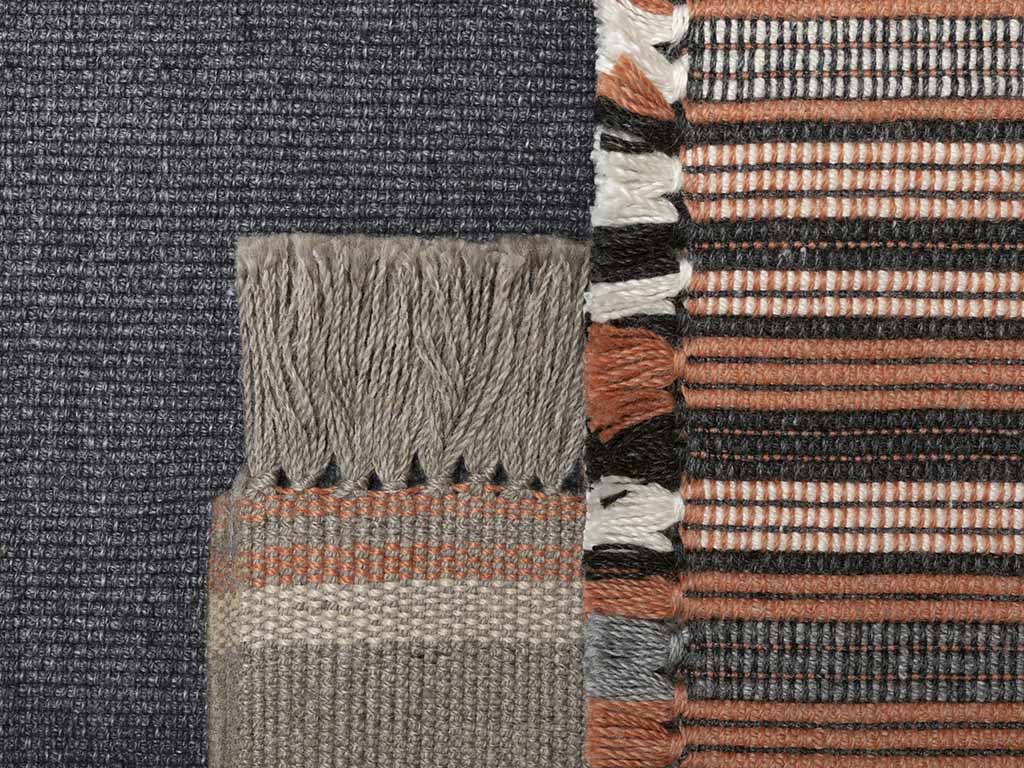 Le Fil Vert is a collection of rugs for indoor and outdoor use conceived by the designer Carlotta Fortuna. Sustainability is an increasingly important word in our day and age. Amini proposes carpets that respect the environment, taking the company an important step towards becoming more and more ecological. The common thread for this line is attention to the planet combined with functionality, tactile and visual softness.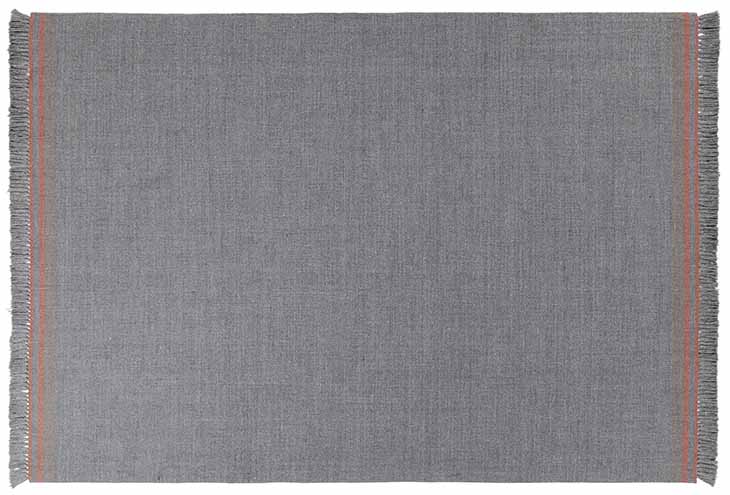 PET was used to make these outdoor carpets. This material is used extensively in the textile industry. It is chosen and designed to be reprocessed in order to make a contribution to the preservation of the planet and its resources. The process of transforming used bottles into PET is done by depolymerisation. The result is an ecological yarn that is completely recycled, ductile and very practical. Decorations are simple, minimalist shapes. A warm shades of the yarns combine sophistication and naturalness, tradition and innovative yarn.
Coco, Prune, Sesame and Pierre are suitable for both indoor and outdoor use. They are water, light and weather resistant.
Besana Moquette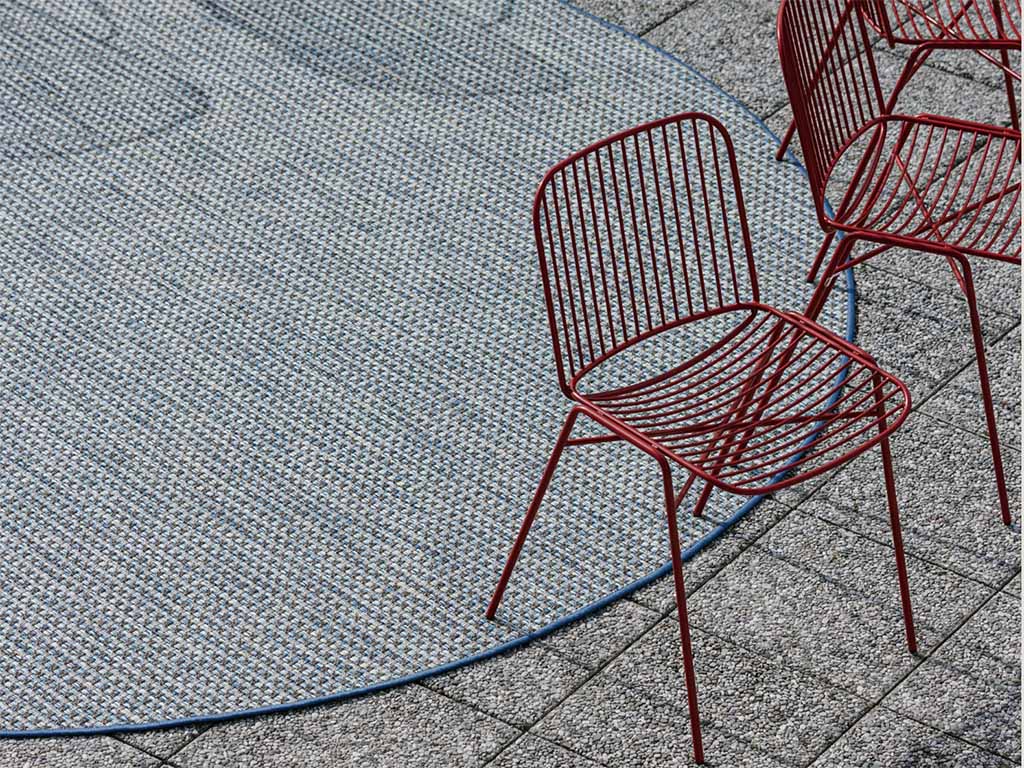 Carpet of the Sunset collection is suitable for indoor and outdoor use. A product is made of woven fabric and is resistant to weathering. A wide colour palette, the pattern of the fabric and the particular resistance of the material make Sunset a product both refined and practical, able to embellish outdoor and indoor