Volume of 499GT provides enormous space below deck

 

Twin masts Panamax

 

Performs well under sail

 

Regeneration capacity for renewable power
Timeless interior from FM architettura
Celebrated French yacht designer Philippe Briand is exciting to unveil a new 60m ketch concept, dubbed KAZE. Comfort under sail and huge volumes below deck are the mainstays of the design, which aims to deliver a fabulous quality of life aboard. Renderings just released show the sleek, balanced lines and low-profile coachroof of a thoroughly modern-looking yacht.
Philippe Briand firmly believes that a designer has to be focused on the lifestyle component especially on a big 60m sailing boat by sharing the sail area between two masts. But also capable of passing beneath the Bridge of the Americas on the Panama Canal.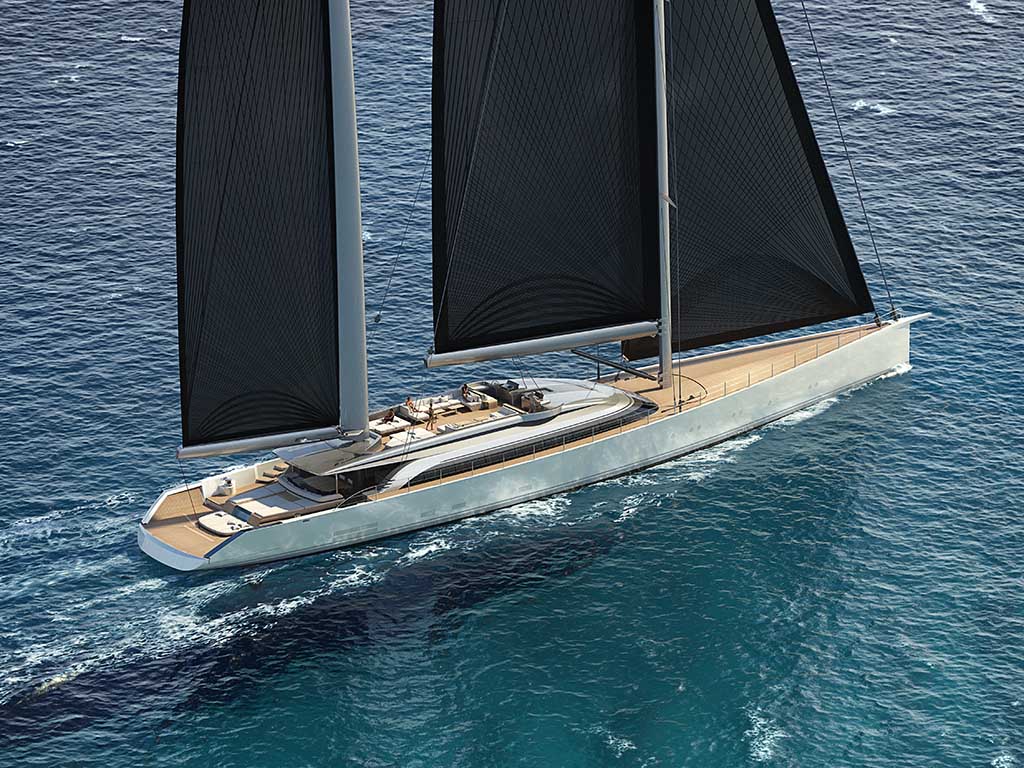 "There are so many good reasons to choose ketch rig over that of a towering sloop," said Briand. "While we can design and engineer large sloops to cope with the massive rig loads, they still make unwieldy and intimidating boats to sail. Where's the pleasure, the joy, the accessibility? If you want a yacht to be comfortable for living and sailing, it makes sense to start from a ketch design, for a 499 GT "
Philippe Briand has observed two main principles in this latest design. The most important is to create the volume for majestically proportioned living spaces, allowing an owner to indulge in all the activities they might desire of a private residence ashore. With its volume of 499 gross tonnage  KAZE will provide amply for an incredible lifestyle.  
"The wider aft beam of the hull not only provides stability, but also allows an exceptional size for the beach club. In fact, it is comparable to many motor yachts, providing a truly luxurious experience on board," adds Philippe Briand . "The bulwarks aft drop-down to form wide terraces, while a huge platform hidden in the transom extends down to the waterline. Steps integrated into the platform's hydraulic mechanism help to transform these extra spaces into a rich playground at the water's edge."
Efficient hull design has been the other key focus. A yacht whose slender hull form enables her to sail well in even light winds will rarely need to motor, greatly reducing the noise and smell of running the engine.
Under sail, KAZE will also be able to generate its own renewable electricity by allowing the water moving past the hull to rotate the propeller. This silently turns an alternator installed in line with the propshaft, and is capable of pumping out dozens of kilowatts day and night. In fact, the boat should be self-sufficient in energy terms under sail. Large battery banks could store excess power during the day to allow the silent operation of hotel systems at anchor.   
Philippe Briand explains: "My yacht design philosophy combines innovative engineering, sleek lines, minimalism, and performance-oriented luxury. KAZE will feature the latest in navigation and automation technologies as well as high-end finishes for optimal comfort onboard. It is this combination of modern tech and timeless principles which make a boat beautiful, practical and easy to handle."
KAZE has already got well beyond the concept stage, with technical input from a range of key experts. Southern Spars has advised on the specifications for the three rig options, which range from classic to high performance. Francesca Muzio of FM architettura has designed a timeless interior that perfectly fits Briand's external lines. And there is interest from some of the world's most prestigious shipyards as build partners.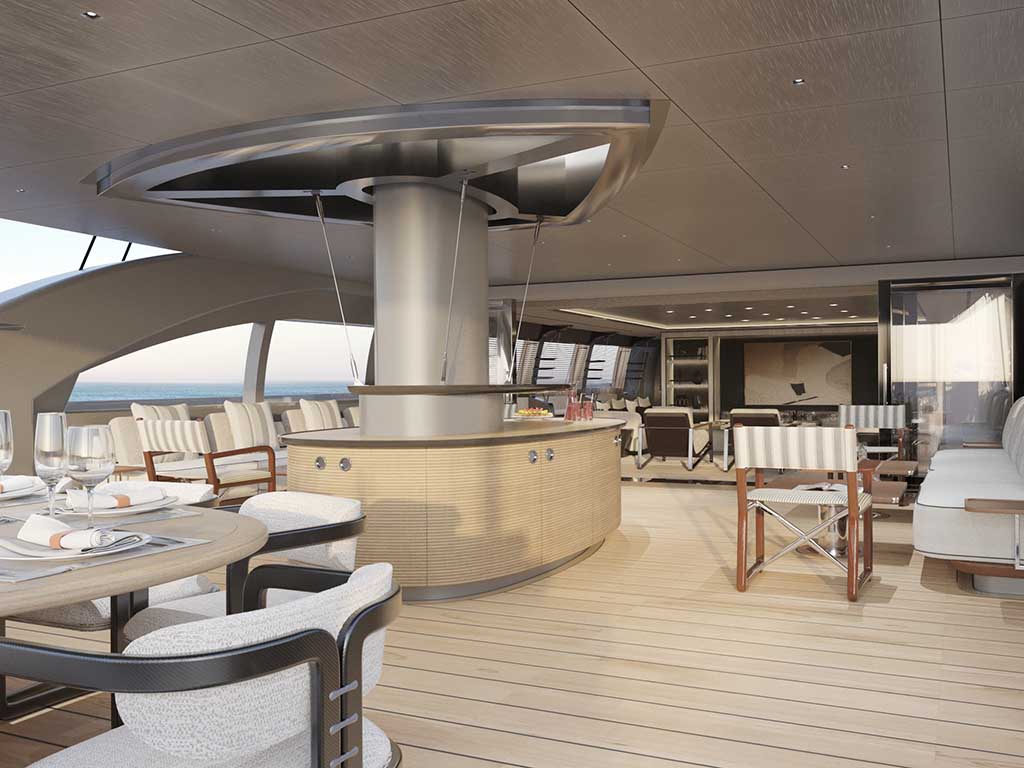 About Philippe Briand
The internationally acclaimed naval architect and yacht designer Philippe Briand is a driving force in his field.  He made his name designing award-winning sailing yachts under his own brand name (www.philippebriand.com) and building on that experience has led him to create a revolutionary range of motor yachts.
Inspired by a childhood sailing in the yachting centre of La Rochelle, France, Philippe Briand has dedicated his life to perfecting the art of conquering the sea. His designs stand out for their technical excellence and precision, combined with his strong artistic flair and ability to drive innovative design trends as he seeks perfection.  As one of the founders of Water Revolution Foundation he contributes to the standards moving towards the neutralization of the ecological footprint of the yachting industry, and Vitruvius Yachts are 30% more efficient than other yachts of comparable size.
With over 12,000 boats built to date Philippe Briand could reasonably be considered the most prolific yacht designer of our time.  His loyal client base of extremely discerning owners appreciate his collaborative approach to design – they are involved at every stage of shaping their own remarkable superyacht.  With offices in both London and La Rochelle, Briand and his team of designers and engineers work with yacht owners around the world who are looking for the very best. The impressive range of Vitruvius Yachts may range in size over 100m in length . Briand's meticulous attention to detail means they are perfected to the nearest millimetre. This dedicated approach to intelligent, sustainable yet stunningly elegant design has been recognized internationally with 34 prestigious yacht awards so far. philippebriand.com