Since the Japanese Marie Kondo published her bestseller 'The Art of Tidying Up', but especially since Italy has a new goddess of the wardrobe, Giulia Torelli aka RocknFiocc, organising one's wardrobe has not only become a necessity, but also a trend. Like the personal trainer in the 90s, the closet organiser. The closet organiser is now an increasingly fashionable and in-demand figure, especially for those who don't have the time or desire to reorganise their wardrobe Because, as we all know, to each his own job: organisation is not for everyone, especially not for those who are untidy, listless or have too much work and not enough time.
But with a few simple rules, we'll show you how to (re) organise your wardrobe in 10 easy steps. Because having an organised wardrobe allows you to take better care of your clothes, make them last longer, know exactly what you have and therefore – yes – buy much more consciously. Here are our 10 golden rules (plus a few small tips (plus a few additional tips for a truly professional finish) for a wardrobe that is not only beautiful, but also functional
Summary
First thing first

Before tidying up: Clear and clean
How do I organise my wardrobe? 10 little tips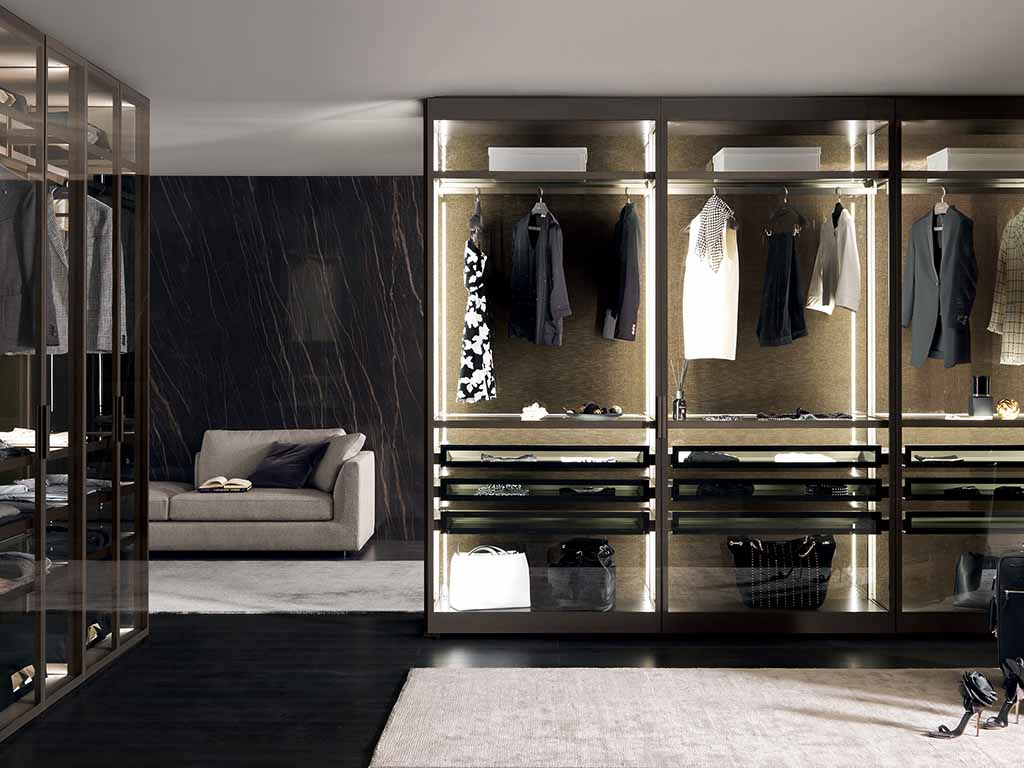 First thing first
First thing first, as the English say: make sure you have time. Plenty of it. The key is not to be a master closet organiser but to have a lot of patience and practical sense. Be prepared to devote several hours to organising your wardrobe. First piece of advice: don't make any plans for the whole afternoon (or rather, the whole day). Second tip: get comfortable. Literally. Make yourself a relaxing herbal tea, with vervain or camomile, and devote yourself body and soul to this mystical moment with yourself and your wardrobe. At the end of the process, you will feel much more serene and at peace… and perhaps with a list of new purchases, given the tidying up you have done.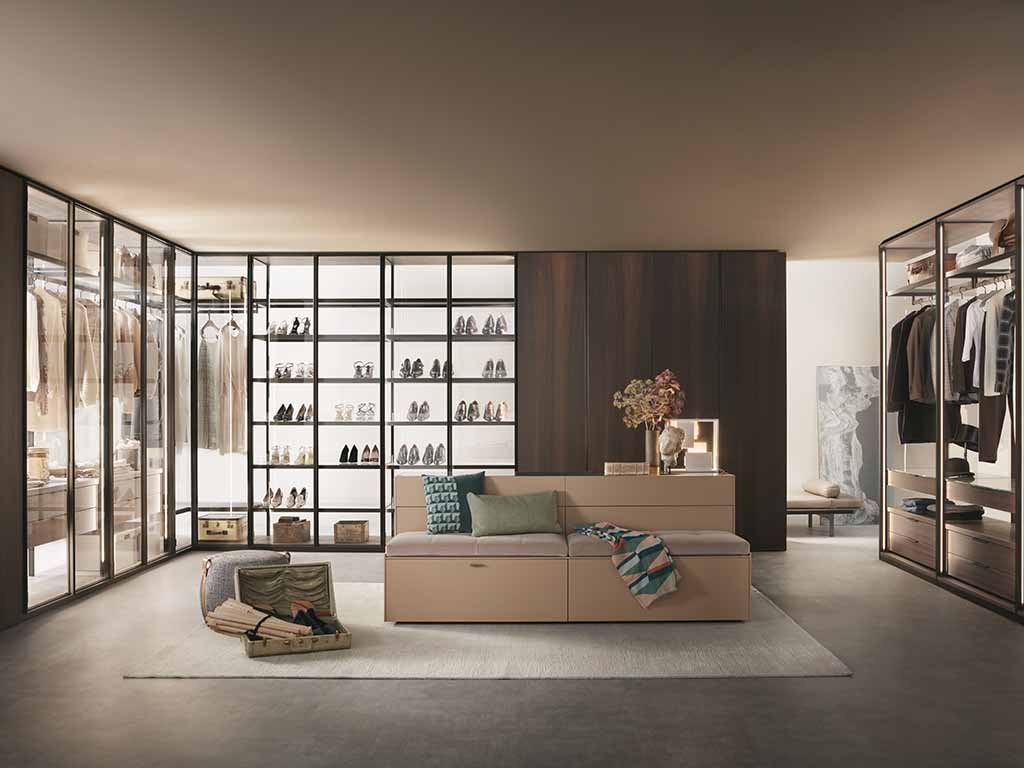 Before tidying: clear and clean
Golden rule for good organisation: remove everything you no longer wear and don't need. Why wrinkle a beautiful silk shirt, thrown into a pile of clothes you never wear? So, if 'tidiness and cleanliness' is the rule, the very first thing to do is to completely empty your wardrobe onto the bed – yes, everything – and thoroughly clean out the doors, shelves and drawers that have been full of clothes until recently. You don't need millions of clothes to have a tidy and chic wardrobe ateliers have you ever been to an atelier or high fashion shop? The clothes racks are never crammed together, but the clothes are always neatly pressed and spaced. Take a leaf out of your book, throw away the unnecessary. Now everything is ready for the rémise en place.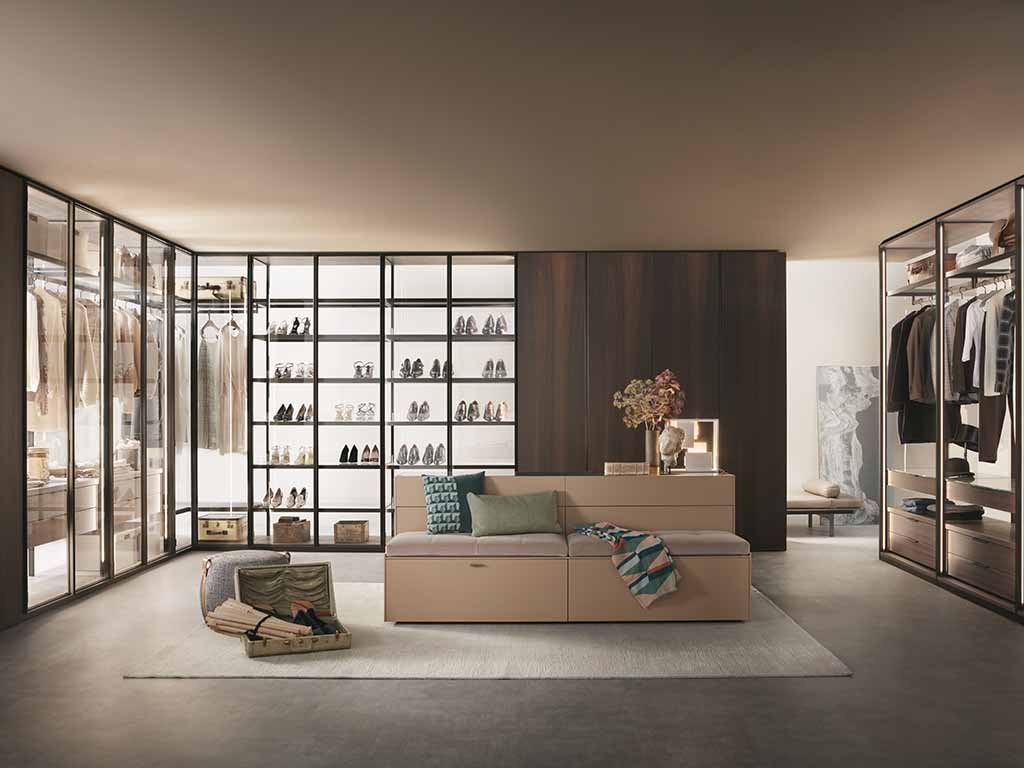 How do I organise my wardrobe? 10 little tips
No, it's not the 10 Little Indians as Agatha Christie said. And no, there will be no crime scene, rest assured. In the following we give you just 10 practical ideas on how to organise your wardrobe to keep it neat and tidy, and to have a clear idea of what the nécéssaire to buy.
Trivial, but perhaps not too trivial: always divide your clothes by season. Whether you have a two-door wardrobe or a whole walk-in wardrobe, make sure you don't have wool jumpers in the summer and fresh cotton clothes in the winter. Why not? For one simple reason: clothes left lying on a shelf for months – or hanging up – will only gather dust unnecessarily.
So take a different approach: at the end of the season, wash them carefully – in the washing machine, by hand if necessary, in the laundry if necessary – and then put them in special bags or containers. This will allow you to have a wardrobe that is always up to date, not to mention that, at each change of season, you will review the clothes you own and realise what you are missing and need or want to buy
Never mix work and private life, they say. Whether it is true or not, it is certainly a good idea for the wardrobe: dividing clothes into macro sections for leisure and work is certainly very convenient, especially if the work environment requires a certain formalism that in everyday life, perhaps, we do not want to have. So let's create a separate section, perhaps with some séparés or special dividers, if we don't have several doors.
If dividing by occasion is highly recommended, dividing by category seems necessary. Have you ever put pasta together with vegetables? Certainly not. Similarly, dividing clothes by category helps with both physical and mental order: if all the trousers are on the right and all the shirts on the left, the shoes at the bottom and the underwear in the drawer in the middle, it will be easier and quicker to put them in the wardrobe and above all to find them. Maybe in the morning, maybe in the dark. 
Never take for granted the power of colour blocks on our brain. Along with the subdivisions already listed, then, why not divide, for example, dark jumpers from light ones or patterned tops from plain ones? This little trick also helps your photographic memory enormously and allows you to locate the garments you are looking for in no time at all, not to mention that it allows you to always remember what you already have and what you need. You don't have a floral shirt among your prints? No problem, buy it now!
Are you feeling cooler or shyer? This categorisation broadly follows the rules of the moment, but is further refined: among your work clothes you have some that are more bold and others more basic? Divide them up, so you know where to fish when you wake up. Do the same for leisurewear: do you have jeans that make you feel better when you're down? A quick and unpretentious way to always feel good, whatever you're wearing.
It's not just a matter of organising and dividing clothes by category, but also by length. Long and short skirts, long and short trousers should not be mixed and matched. Always combine all long items in one space, so that the eye – once again – can move through your wardrobe more quickly, without the need to search unnecessarily for endless hours.
Just as it is more practical to separate items of different lengths, it is much more convenient to group items of the same or similar fabric together. A practical example: in your shirt section, always divide shirts into flannel, cotton and silk. In this way, you will already know for sure what you are taking from your wardrobe and how you can combine it with a pair of trousers or a skirt.
As we have already pointed out, there is little point in keeping garments that you don't use. However, there are exceptions, such as ceremonial dresses, or garments that we are fond of but rarely wear. In this case, we create a separate section using séparés (as we have already seen) or choose a drawer or shelf in your wardrobe and dedicate it to unused items. It will be very convenient and we won't risk accidentally throwing away clothes we love!
The thickness of the clothes is not indifferent! If you have lots of tops made of satin, silk, viscose or other very light and not very bulky materials, don't pile them up in the wardrobe hanging on hangers that can be used in other ways: fold them up and put them in a drawer or on a special shelf. Do the same with jeans, jumpers and all the other items in your wardrobe.
Last but not least, the division by washing goes hand in hand with that by fabric/material. To make it easier to remember when to wash the garment itself, we recommend dividing garments that can be washed normally in the washing machine from those that can be washed by hand, to those that must necessarily be taken to the laundry. This will be a useful step not so much for organising the wardrobe itself, but for mental organisation, which will prevent us from needlessly ruining garments in our wardrobe that we are attached to or simply love.
Elena Cirla