At the Milan Design Week 2023, scheduled from 17 to 23 April, Orografie, a Sicilian brand with roots and showroom in Catania, will present a food-design project conceived by young designer Paolo Stefano Gentile: Pocopiano, an innovative white ceramic dish from Caltagirone. A project in collaboration with Michelin-starred chef Enrico Bartolini, who will specially design a dish with a Mediterranean texture that will interpret the functionality and design of Pocopiano.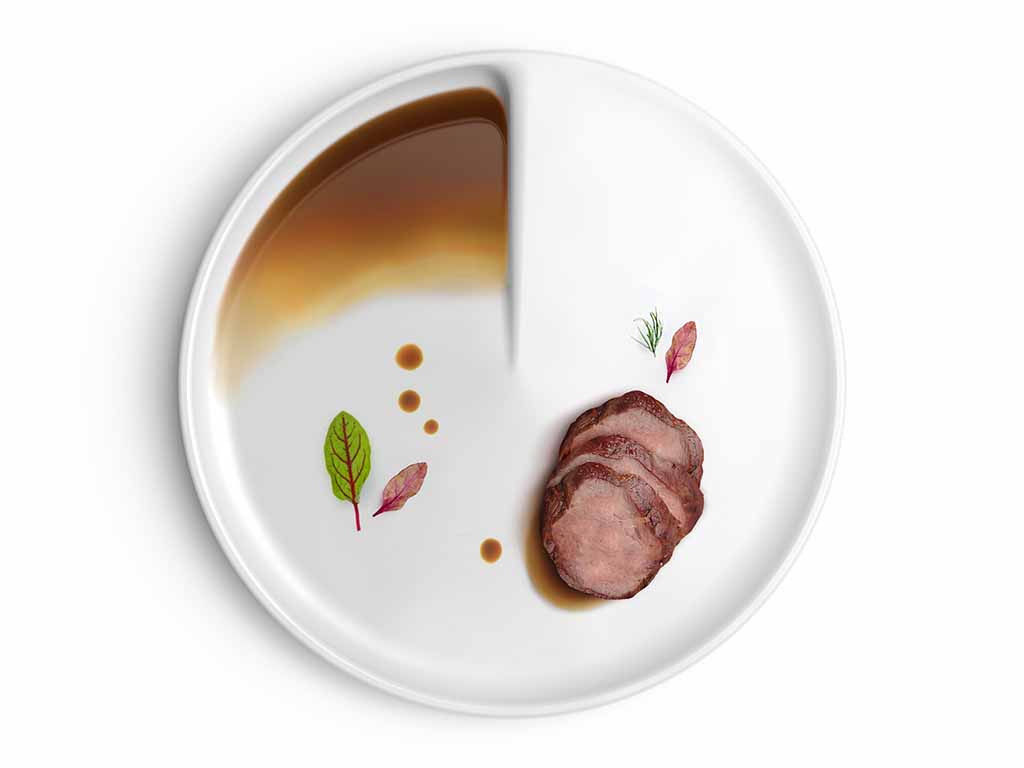 The Pocopiano project was developed during the third edition of the Emersivi workshop – in October 2022 in the setting of EDIT Naples – which was aimed at 'product design'. The 30 young under-30s measured themselves against Orografie 's thinking by declining, in the form of a project, the brief that was focused on two specific areas – Food Rituals and Selfcare. Within FOOD RITUALS, the project of Paolo Stefano Gentile (born in 1996) 'emerged'.
Pocopiano an innovative way of conceiving the plate
Pocopiano is a ceramic plate on a circular base. The course of the shape returns a hollow inside it generated by a progressive slope. This dualism, a specific character of the plate, allows different types of dishes to be stored and to 'create' a play on textures. Between solid and liquid, a new food ritual! Pocopiano, a name that reinforces the hybrid and amphibious aspect of the dish, is an invitation to tell a story, to go on a journey, to live a new experience made of rituals, contrasts and senses.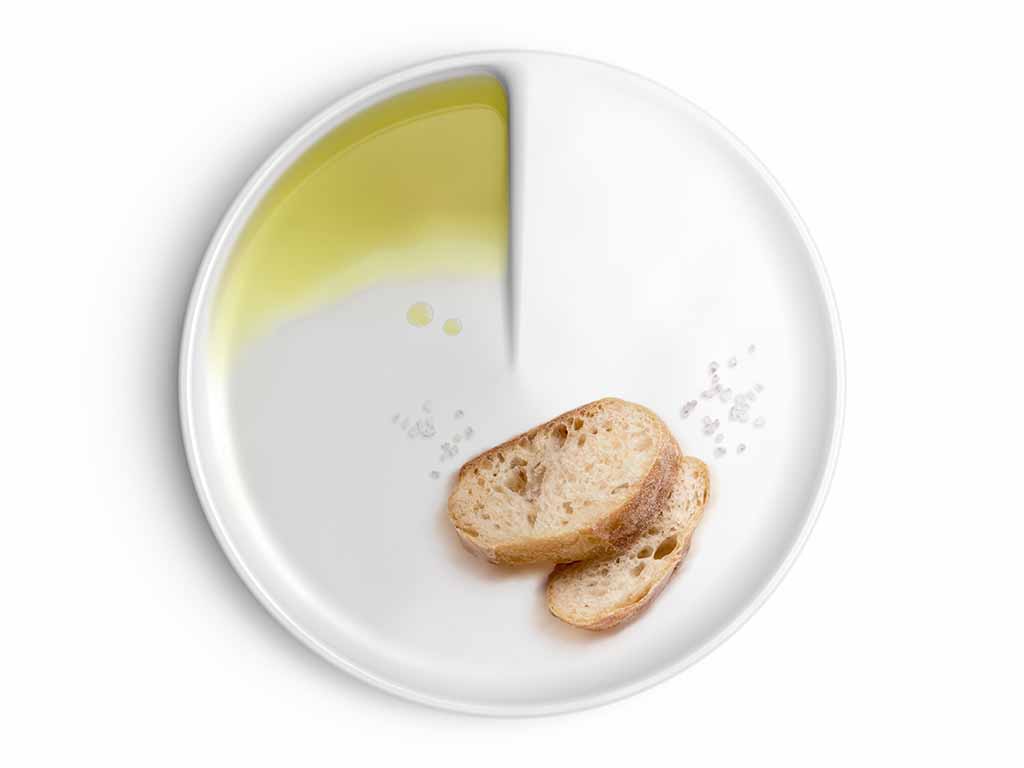 Pocopiano perfectly reflects the philosophy of Orografie and its Emersivi platform, dedicated to young people. Paolo Stefano Gentile himself said: "I had wanted to design a dish for a long time, and when I was confronted with the project during the workshop, I immediately thought of doing it. Starting with the word 'emersivi', I connected with the aspect of nature, the tides, the emerging liquid. I started to design a lap plate, inspired by the idea of the propeller. I then talked about it with Giorgia (Bartolini) and Vincenzo (Castellana) who helped me develop my initial idea, to think of a blank page that could be personalised. A poem on a blank sheet of paper that could be written and interpreted by the mind and skilful hands of a chef. And so we arrived, together, at Pocopiano."
Pocopiano gives free rein to imagination and interpretation in the kitchen. It welcomes solids and liquids (and accompanying sauces), desserts, decomposed foods, proposals between the sea and the mountains, oil tastings, vegetarian dishes such as pinzimonio, and… it invites you to make scarpetta!
Paolo Stefano Gentile, designer Pocopiano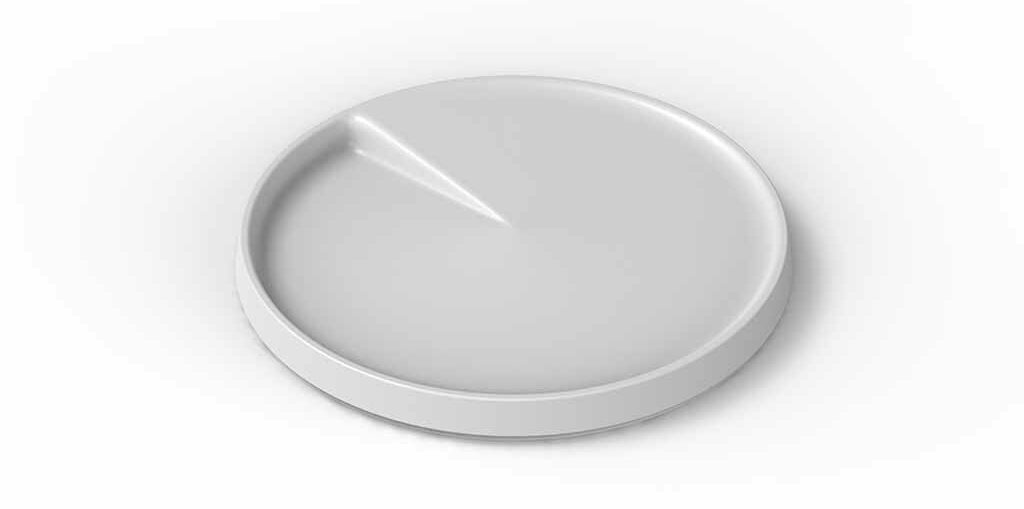 He lives and works in Milan dealing with product design and art direction. He graduated in product design from the New Academy of Fine Arts in Milan in 2019, the year in which he started collaborating with professional studios and developing personal projects. His projects have been published in leading industry magazines and exhibited at events such as Dutch Design Week, EDIT Napoli, Maison&Objet, Milan Design Week and others.
Giorgia Bartolini, Founder Orografie
Entrepreneur and interior stylist, in 2008 Giorgia Bartolini opened her first business in Catania, Spazio Raffineria, a store open to customised furniture and design. In 2012, the business evolved with the opening of a new showroom Spazio Design, now Giba design & project. Here, interior design consultancy and collaboration with local craftsmen began to play an increasingly important role, evolving in 2020 into the creation of the Orografie brand, of which Bartolini is the founder.
Vincenzo Castellana, Art Director Orografie
Architect and designer, he is the Art Director of Orografie, working in the fields of design, product strategy and communication. After a Compasso d'Oro nomination in design research and education, in 2008 he founded the ADI in Sicily with Vanni Pasca. Visiting professor at the Milan Polytechnic, lecturer at IULM and his Director of the Master in Strategic Design at Abadir. In the role of Art Director, he received an honourable mention at the Compasso d'oro in the 'Research for Business' section in 2020. He also oversees the Creative Direction of a number of companies.
Enrico Bartolini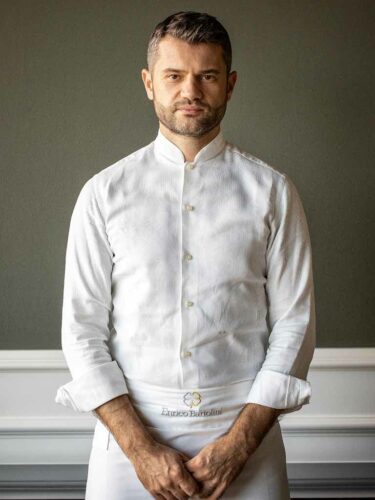 Born in 1979 in Castelmartini (in the province of Pistoia), Enrico Bartolini graduated from the "F. Martini" Professional Hotelier Institute in Montecatini Terme. Bartolini developed a strong passion for food and haute cuisine that led him to perfect his skills abroad in the kitchens of great masters in Paris and London; it was in Italy, however, that he completed his training under the guidance of Massimiliano Alajmo.
In 2005 , he took over management of a restaurant in Oltrepò Pavese, 'Le Robinie', where he attracted the curiosity of leading gastronomic critics who pointed him out as one of the most talented and interesting young chefs on the Italian scene: it was here, in fact, that in 2008, at the age of 29, he won his first Michelin star. The constant desire to grow and improve pushed him to embark on a new professional adventure: in 2010 Enrico left the Oltrepò Pavese to take charge of the ' Devero Ristorante ' – and the 'Dodici24 Quick Restaurant ' – in the eponymous Hotel in Cavenago Brianza (just a few minutes from Milan) where, after only two years, he won his second Michelin star and enriched his palmare res with three hats from l'Espresso and three forks from Gambero Rosso. His desire to express himself in new entrepreneurial and gastronomic challenges finally brought him to Milan, the city of design, fashion and, after EXPO 2015, also food: excellences that make Italy's name great in the world.