A quirk for many, a necessity for others: the bookcase, the queen of the home. Always present in every home, the wall-mounted bookcase has had a unique history, going from being a simple – and obvious – piece of furniture to a real design piece. Whether you prefer to sort your books alphabetically, chromatically, by publishing house or by literature, here is a review of the best designer wall bookcases.
Article summary
Wall-mounted bookcases:what's new
Hemingway by Tonelli Design
TALEA by De Castelli
Libro Verticale by Memedesign
Crescent by Prieto Studio
Albury by Made Design
ROLL by Bonaldo
CTline by Boffi
APELLE by Midj
Totem by Euromobil
Wall-mounted bookcases: the great classics
ELEGIE by MisuraEmme
Random by MDF Italia
606 Universal Shelfing System by De Padova
Wall-mounted bookcases: the novelties
Hemingway by Tonelli Design
Named after one of the greatest writers of the 20th century, the wall-mounted bookcase created by Massimo Castagna for Tonelli Design in 2020 features a solid wood structure, with uprights and crosspieces to allow proper attachment to the wall and ceiling. It is a bookcase of a modular nature, where the main materials are wood and glass, in other words enhancing its simplicity and lightness. Finally, the possibility of adding vertical and horizontal modules in solid wood, as well as the addition of a television compartment and a 100 cm desk, make it a solution that can be used perfectly in any home.
Dimensions:
Standard heights 260 cm and 300 cm
Modules of 60 cm or 100 cm
Writing desk 100 cm
Module for television 160 cm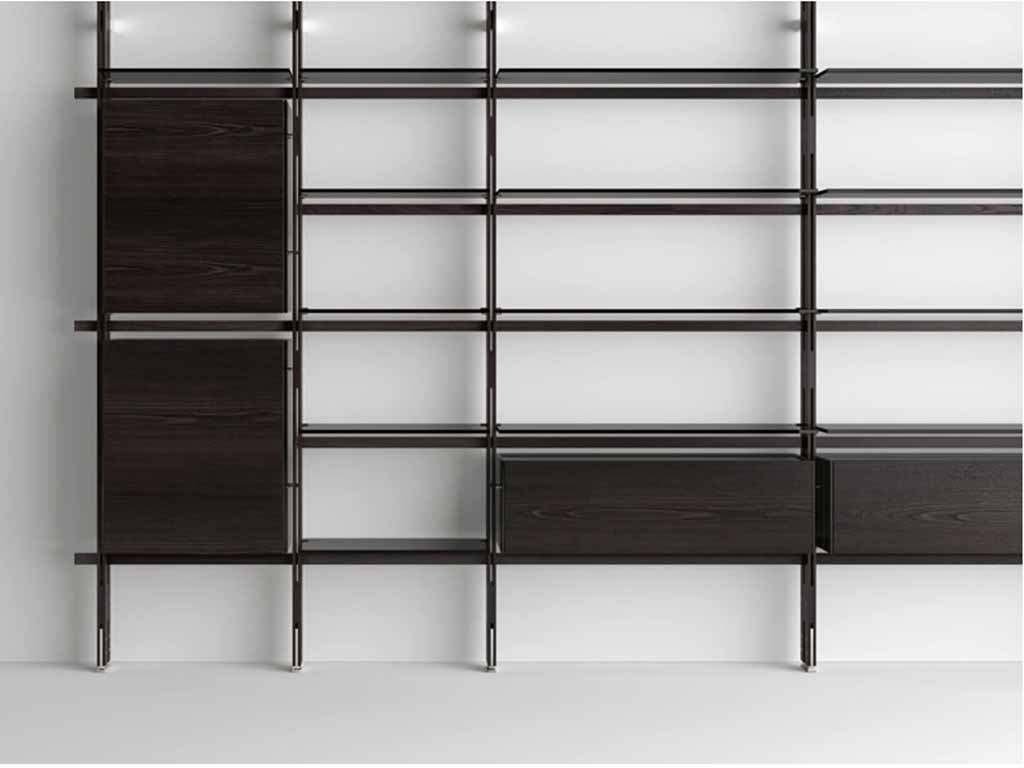 TALEA by De Castelli
It is in brass, copper and iron the bookcase designed in 2018 by LucidiPevere for De Castelli. Luca Pevere and Paolo Lucidi are the designers of this wall-hung bookcase, in which materials and shapes come together to create an object with a unique design: the sharp lines of the shelves contrast well with the perpendicular and slender supports, which drop from the ceiling. A climbing, almost hanging structure that suggests a modulation of botanical appeal.
Dimensions
TALEA 115: W.115 D.32 H.233,5 cm
TALEA 185: W.185 D.32 H.233,5 cm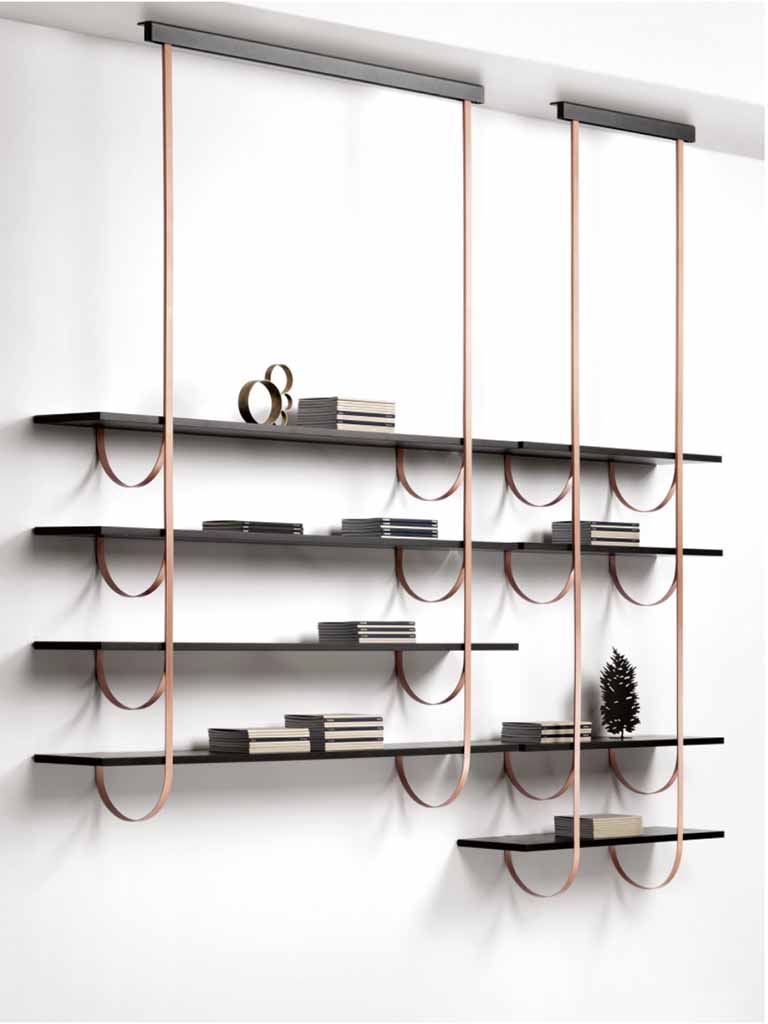 Vertical Book by Memedesign
Metal, 2017, Ernesto Maria Giuffré: these are the significant figures of "Libro Verticale", the wall-mounted bookcase with a modular structure and highly customisable tubular elements. Above all, in terms of the colours, 4 in the recent 2020 sample book, but also in the possible addition of a shelf, which can be positioned in the central compartment. To liven up any environment, with character.
Dimensions
35 x 38 x 56 h cm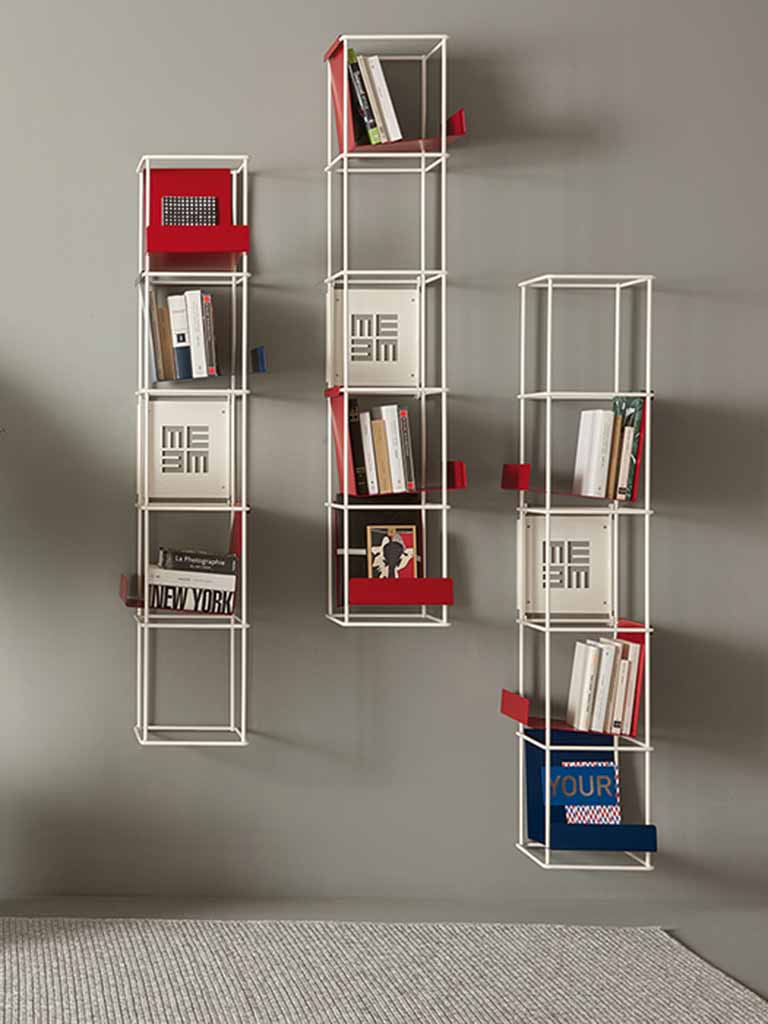 Crescent by Prieto Studio
A wall-mounted bookcase in Mdf lacquered wood: this is the Crescent, a bookcase created in 2020 by the genius of Jorge Prieto, a multi-award-winning designer of international fame. A collection, the Crescent, that recalls the curves of ancient architecture, a hymn to the majesty and beauty of the past, which can be revived in any home.
Dimensions
150 x 30 x H.30 cm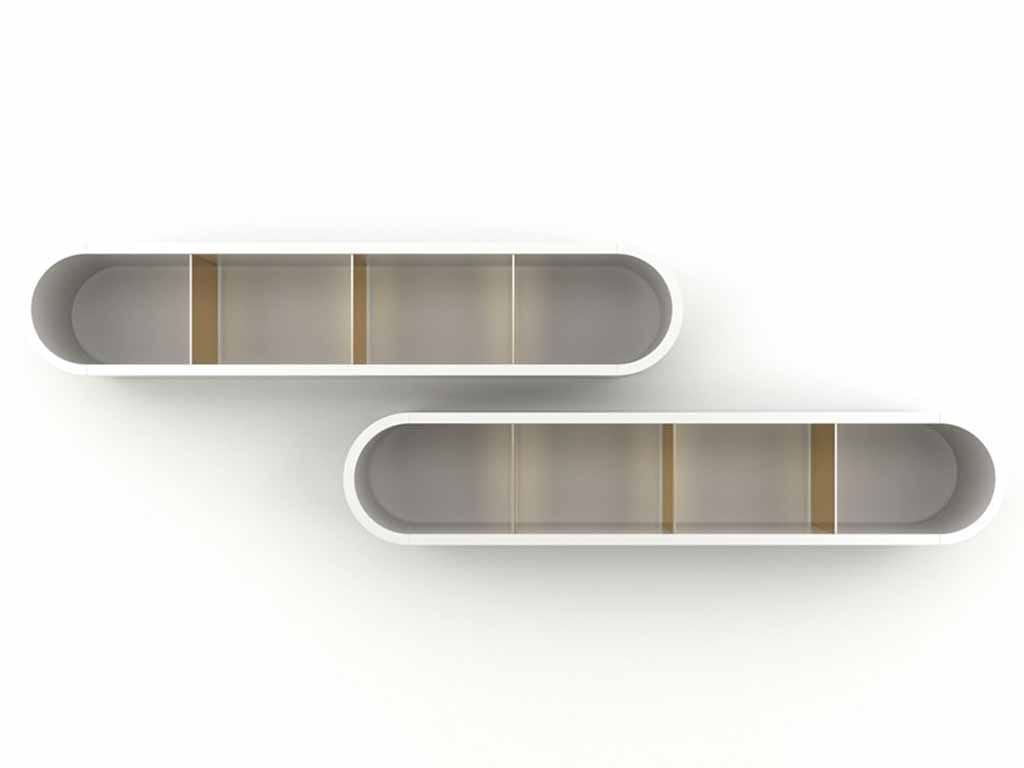 Albury by Made Design
A metal beehive, which nicely breaks up space and redesigns it, with its particularly interesting structure. The structure with square shelves is modular both vertically and horizontally, supported by solid legs resting on the floor and a frame that allows the bookcase to be fixed to the wall. Together with the classic complete structure, it is also possible to choose only the shelves and place them horizontally, for a very interesting minimalist variant. This bookcase by Made Design is available in black and white and has variable dimensions to suit every need.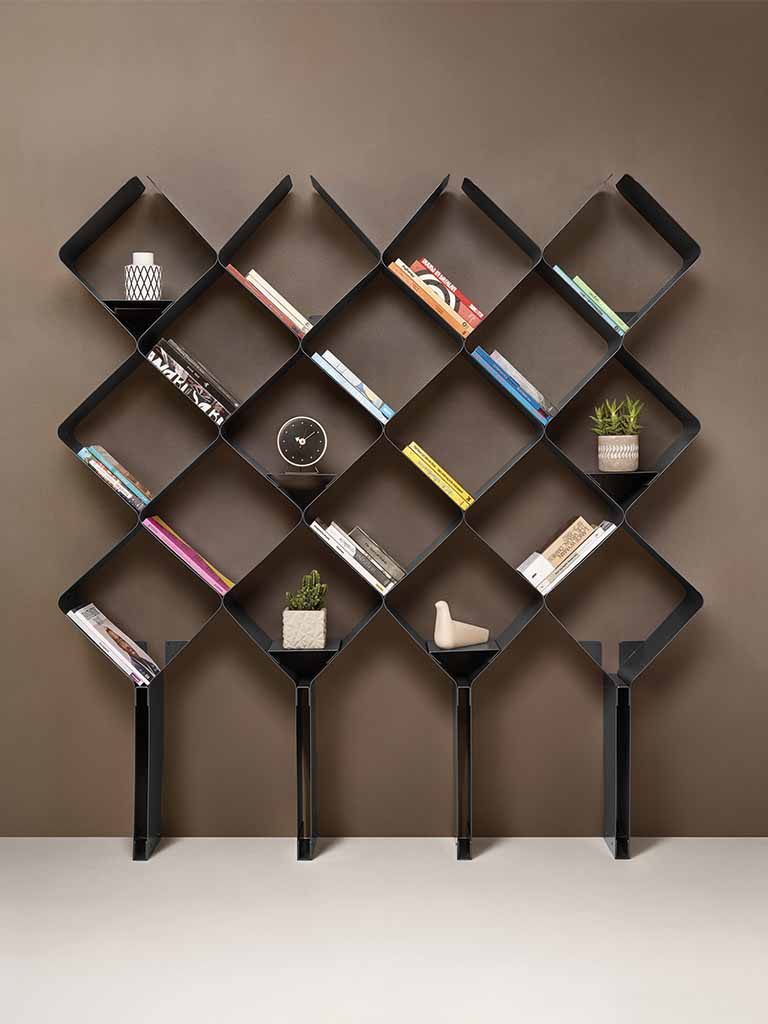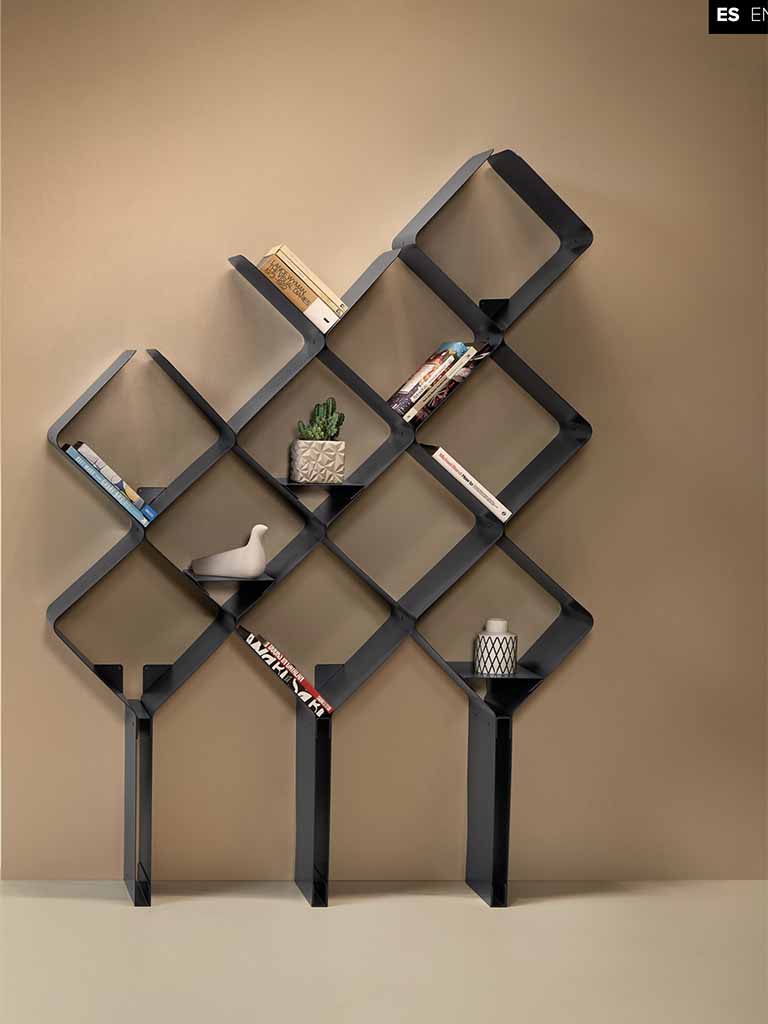 ROLL by Bonaldo
Archirivolto, the duo formed by Dondoli and Pocci, thought of lovers of simplicity when they created the ROLL design bookcase in 2020. Modular, made of wood and fixable to the ceiling, the ROLL bookcase can be used as a wall bookcase, but not only: thanks to its upper supports, it can be fixed to the ceiling and positioned in the middle of a room. It is fixed to the wall by means of uprights made of metal tubes with a plumb finish.
Dimensions for 1 module
96 x 33 x 240 h cm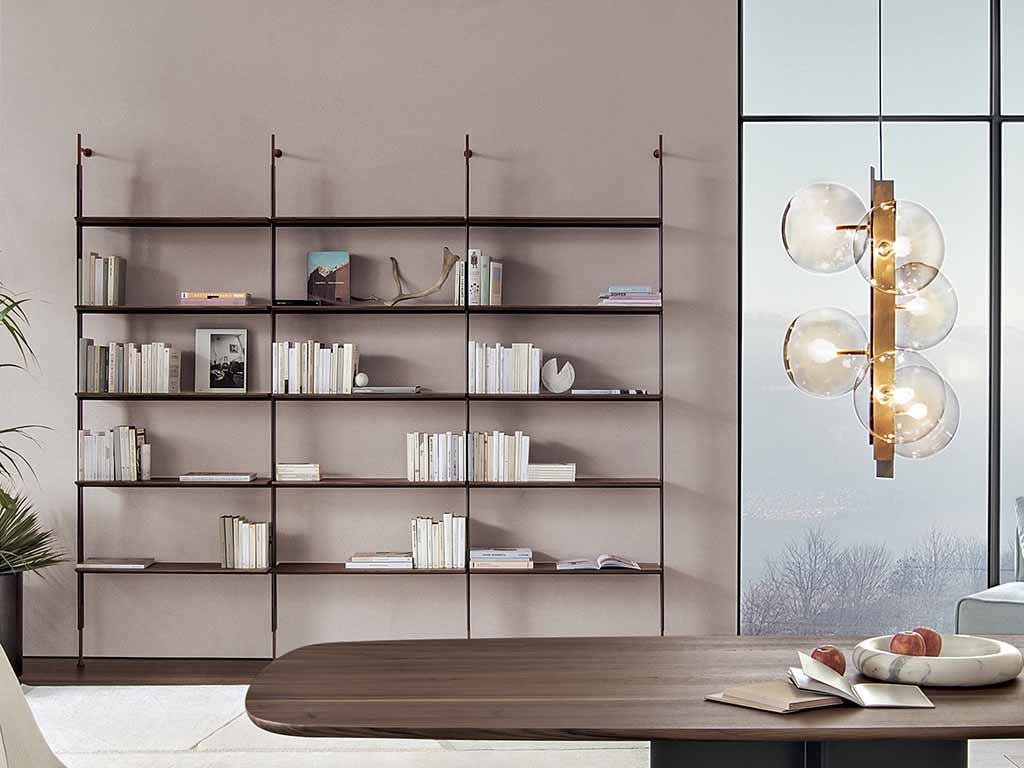 CTline by Boffi
The CTline bookcase for Boffi created by Victor Vasilev was born in 2012. A Solid Surface column cabinet with a shelf system whose modules, of different heights and lengths, can be combined in an infinite number of ways, creating very interesting irregular profiles. The perfect design accessory for every corner of the house, able to hold books, vases, plants or any object.
Dimensions
1260/1680 W. 360/409/459 D. 258/307/356 mm
1680 W. 366/415 D. 264/313 mm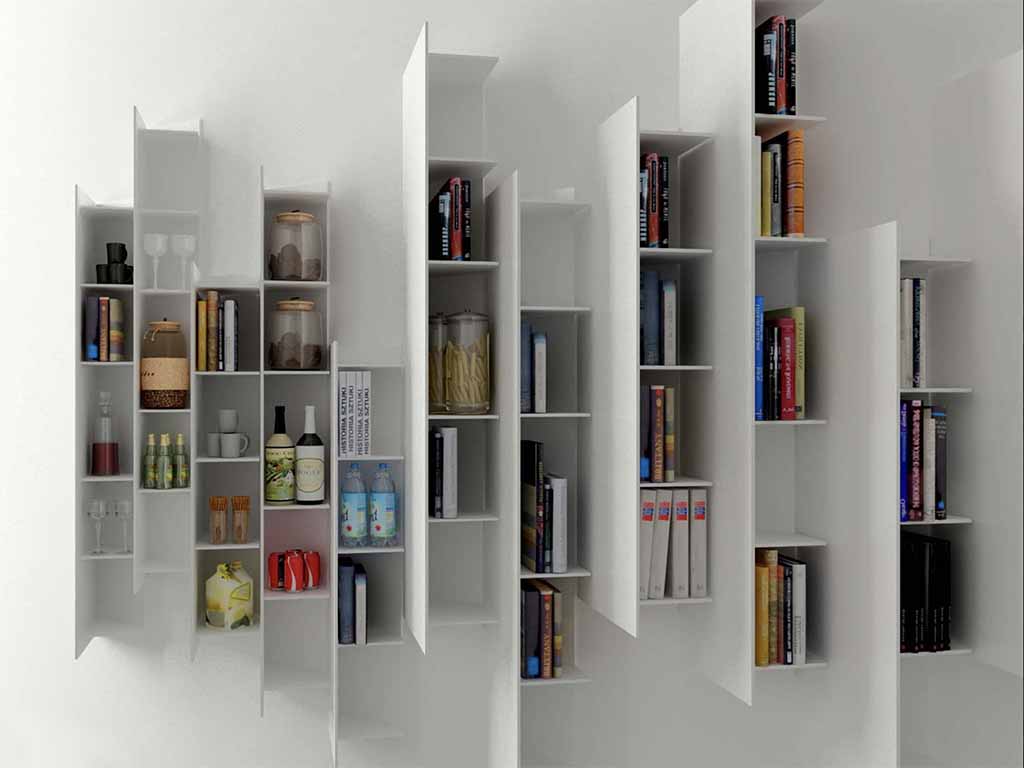 APELLE by Midj
The wall-mounted bookcase with steel structure and details in wood and leather by Spanish designer Beatriz Sempere. Created in 2020, it is composed of 3 stackable modules of different heights with a soft design and particularly rounded shapes. Softness also reflected in the colours of the wood and leather, which recall earthy tones.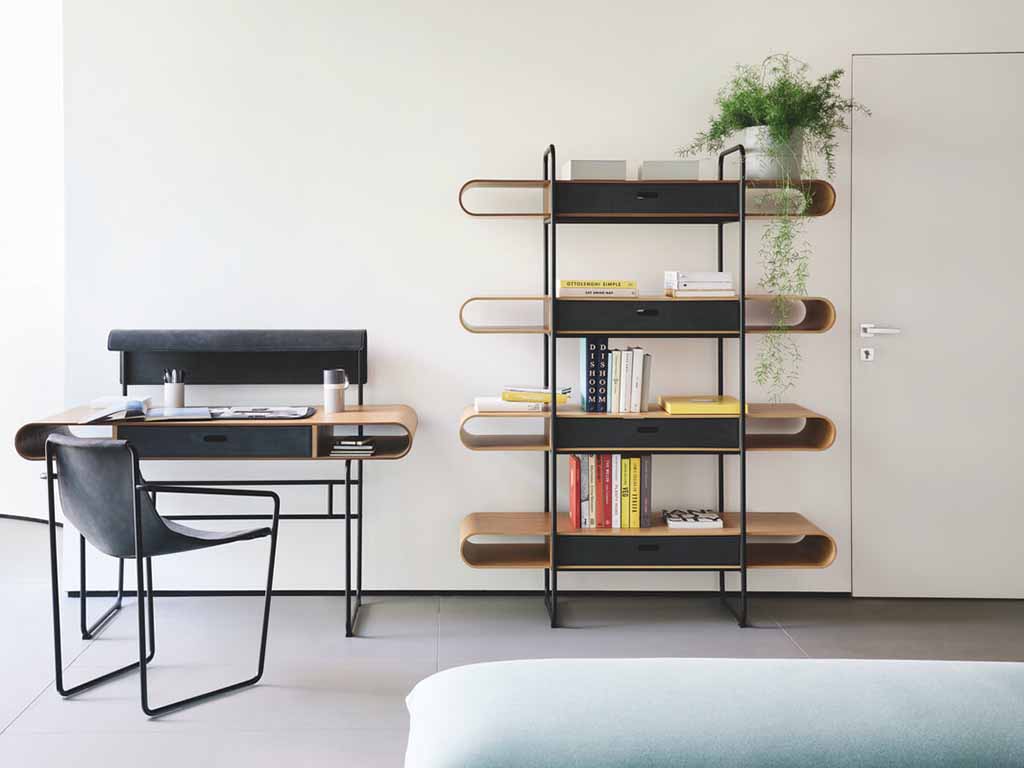 Totem by Euromobil
This is a special wall-mounted bookcase solution: a new versatile and modular multifunctional ceiling system. It becomes a showcase bookcase for books and knick-knacks, a container for objects, a study surface or a diaphragm between several rooms.
The new ceiling and wall bookcase by Euromobil can be adapted to different spaces. The structure is based on thin posts. In this way it can be positioned in the middle of the room or on the wall. Totem is also perfect for placement in the kitchen or other areas of the house. Thanks to its versatility, it is not just a living room bookcase .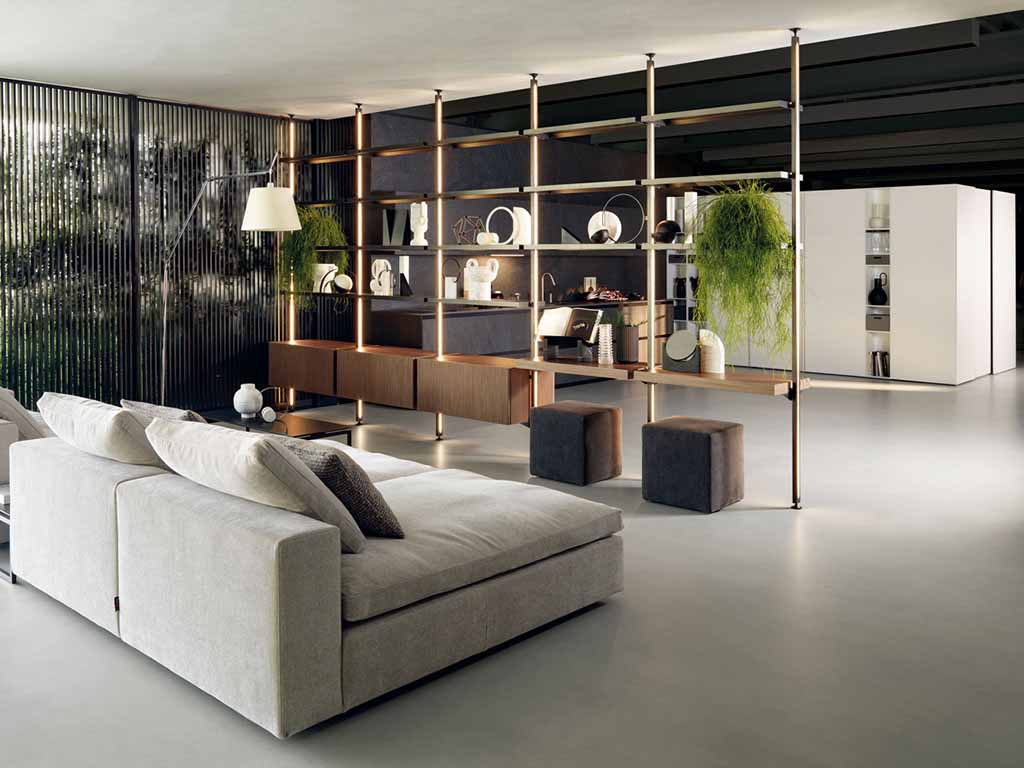 Bookcases and wall units: the great classics
The modular wall-mounted aluminium bookcase from the "Atelier" collection (designer Ignazio Gardella) is a re-edition of the great 1949 classic, and one of the first concepts ever to find a viable – design-wise – way into the concept of modularity. Uprights, bolts and shelves are the result of an almost maniacal search for minimalism, also given by the monochromatic nature of the bookcase itself. As in the case of Castagna's "Hemingway", Gardella's ELEGIE also has a structure with deep shelves that can be used as desks, as well as spaces for TV shelves or audiovisual equipment.
It was 2005 when the wall-mounted bookcase Random, now an icon of the 21st century, saw the light of day thanks to the creativity of designers Eva Paster and Michael Geldmacher. An archetype, an example for a sector that is renewing itself and proposing a wall bookcase that is potentially infinitely modular, ordinary but not too much, chaotic but not enough, minimalist but not 100%. A unique design object, capable of giving light to any space in the home thanks to its unmistakable pattern.
Dimensions
81.6 x 25 x 217 h cm
We conclude with the great classic of wall-mounted bookcases, the 606 or "Universal Shelfing System" by Dieter Rams. Designed in 1960 by the German architect Rams, it was designed in the simplest possible way, in extruded aluminium. This is because, as Dieter argued, a bookcase must be neutral, its life comes from the books it contains; it remains one of the most famous wall-mounted bookcases of all time. It is a bookcase with highly flexible storage equipment, with details in satin-finish anodised aluminium in different colours – silver, matt black or powder-coated – and shelves and storage units in the same material and colours.
Elena Cirla