HOME FRAGRANCE is Horomia's new home fragrance line. Among the eight unique Made in Italy essences to decorate and perfume the home space, there is the spring fragrance FIORI BLU available for: the Stick Diffuser, the Scented Candle with natural soya and the Spray Diffuser.
FIORI BLU is the scent of a sweet floral bouquet of lavender and broom, as relaxing and sweet as spring. Fresh, broken accords sparkle the atmosphere, with notes of grapefruit and black pepper. A base of vetiver and patchouli closes the floral and rustic harmony of Fiori Blu. The olfactory family is floral and spicy. The recommended environment is the living area, while the sensory experience is lightness.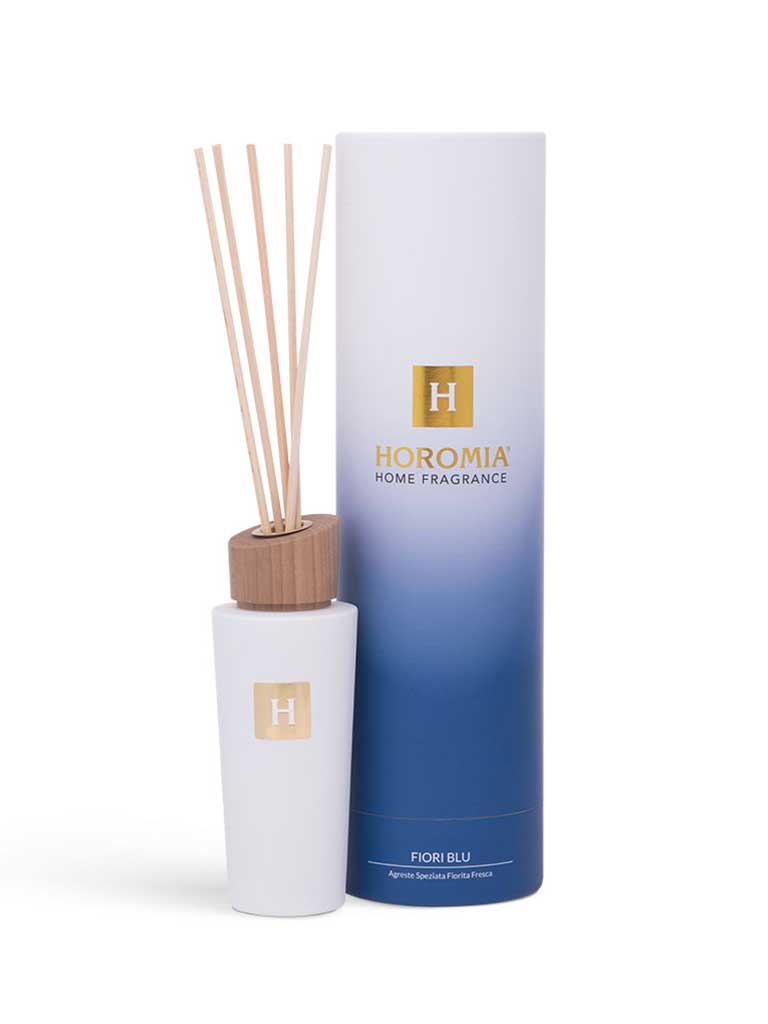 The Stick Diffuser fills the space with its aesthetic and perfumed presence. Raw and refined materials, essential and modern lines. Each pack contains a diffuser, 200ml of precious room fragrance and 5 rattan sticks for optimal aroma delivery. With its discreet elegance, it is perfect to place in any room to ensure a gradual and constant fragrance to the home. The essential lines of the Stick Diffuser, designed and crafted in Italy by the hands of skilled artisans, include a straightforward white glass vase and a handcrafted ferrule moulded from domestic walnut wood.
The Scented Candle with natural soy wax is perfect for adding a warm, cosy and fragrant touch to any home or outdoor environment. It has a unique, enveloping fragrance of 350 grams and up to 75 hours of intense aroma. The glass jar is embellished with a hand-crafted cap made of precious domestic walnut wood and hermetically sealed with a special gasket. When lit, the stopper acts as a base for the candle, providing an extra touch of elegance. Once the Horomia Candle is finished, the jar can be reused as desired. The Spray Diffuser holds 50ml of room fragrance. Convenient and compact, it is perfect for carrying your favourite fragrance with you and spraying it wherever and whenever you want.

HOROMIA
The idea of creating a laundry fragrance was born in 2011 by Antonella Costa and Silvio Anesa, owners of Deolab Srl, with the aim of becoming one of the most prominent companies in the Home Fragrance sector. Until then, this niche market did not exist. Thus, in 2015 Horomia was founded, the first ever brand on the domestic and international market for laundry fragrance. In 2018 Horomia's head office was established in Grassobbio, a few steps away from the beautiful Bergamo, Capital of Culture 2023, under the name of Deolab Srl. horomia.it