Dr. Vranjes Firenze celebrates its 40TH ANNIVERSARY with the LIMITED EDITION ROSSO NOBILE. The renowned Florentine perfume house presents the most iconic of its fragrances in an exclusive version dedicated to its first 40 years of history.
With its unique identity, characterised by an original blend of Florentine heritage, iconic fragrances and timeless elegance, Dr. Vranjes Firenze celebrates its 40th anniversary this year. The renowned perfume house embodies the perfect balance between roots and innovation. Even today, after 40 years, it still emphasises the precious Florentine heritage in everything it does and provides multi-sensory wellbeing, capturing the elegance of Florence, its tradition of craftsmanship and the art of perfumery in every scented complement and Eau De Parfum . Each perfume is the result of continuous scientific and creative research into essences, a sophisticated formulation with unparalleled persistence and duration.
LIMITED EDITION
To celebrate this important milestone, Dr. Vranjes Firenze is launching in June a sophisticated Limited Edition dedicated toRosso Nobile, the most beloved of the perfumer's more than 30 original creations. A timeless, elegant and enveloping icon, Rosso Nobile marked a turning point in the brand's history.
For the occasion, Rosso Nobile dresses up for the occasion and is presented in a precious coffret in the original 1983 green, decorated with an original gold pattern that recalls, amidst geometries and graphics of Florentine inspiration, the number 40 . The iconic diffuser with its octagonal shape also conquers sight and touch thanks to an exclusive pearlescent coated paper. The brand's red seal stands out in a central position, while all around it the hot-foil print of the pattern creates a bas-relief effect. Much more than a perfume, a true collector's masterpiece, a design object that, inspired by the finest Tuscan red wines, becomes the perfect toast to celebrate this important milestone. The Limited Edition of Rosso Nobile, hand-crafted in Tuscany in a limited edition , is available from June, and can be reserved now on drvranjes.com, at Dr. Vranjes Florence boutiques and authorised retailers (retail price 95 euros, single 500 ml size).

FRAGRANCE
Rosso Nobile was born out of a bet made by Dr. Paolo Vranjes with a friend, a wine enthusiast and producer, who was convinced that the countless nuances of red wine could in no way be reproduced in a perfume. "At the end of the 1990s, Francis was convinced that no one could recreate the scent of red wine, so generous in the lands of Chianti and Rosso di Montepulciano," says Master Perfumer Paolo Vranjes. "I love challenges… so I immediately started working on the creation of Rosso Nobile. After three years, finally satisfied with my 'baby', I sent Francis the fragrance in a decanter, inviting him to smell it through vine shoots,' he concludes. Hence, in 1999, the Rosso Nobile fragrance was born, a name that pays homage to the quintessence of Tuscany. The scent of a fine Tuscan red wine is composed of sublime accords of orange blossom and violet in the head, strawberry and wild berries in the heart, and oak and birch wood in the base, recalling the effect of the wine's tannins, giving a unique and relaxing touch of Tuscan magic to any space.
FLORENTINE HERITAGE
Growing up among the fabrics and perfumes of his grandfather's shop, Dr. Paolo Vranjes has always pursued a vision of precious and evocative olfactory experiences , with the aim of creating fragrances that evoke luxury, comfort and an emotional connection to personal memories. A magic made possible thanks to the blend of the highest quality raw materials, carefully and responsibly selected by Master Perfumer Paolo Vranjes who, for 40 years, has been composing his symphonies with an olfactory organ of over 2,200 precious notes.
From the first laboratory, established in Florence in 1983, to the present day, the company has always stood out for theexcellent quality and refinement of its perfumed creations – from furnishing accessories to personal fragrances – made unique by a mix of sophistication, originality and creativity. In 2008, Dr. Paolo Vranjes renewed and sealed the bond between the brand and the city of the lily, giving the iconic octagonal shape, inspired by Brunelleschi's Dome, to all his creations. A unique design characterised by an unmistakable contemporary sensibility . Each Dr. Vranjes Firenze fragrance becomes the scented key to feeling at home and experiencing the fascinating Italian lifestyle wherever and whenever you wish, creating an enchanted atmosphere that allows you to enjoy life to the full.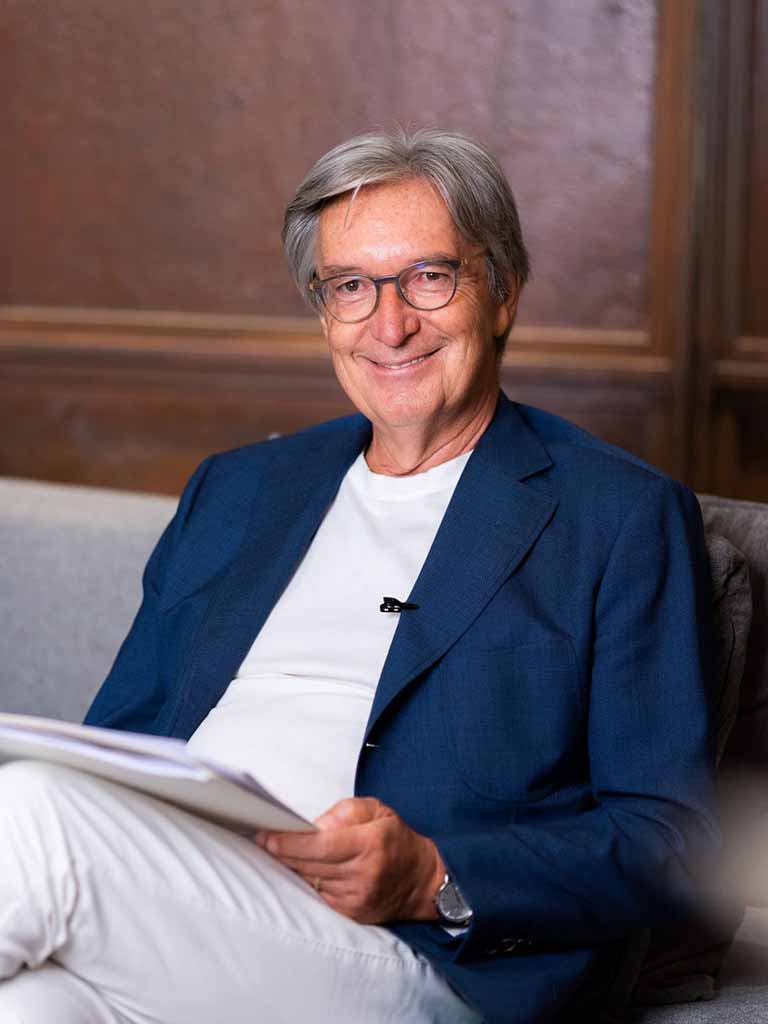 "Dr. Vranjes Florence is pure art and wishes to continue to be so. What makes us unique and contemporary is the perfect balance between roots and innovation: we are tied to our heritage, but projected every day towards the present and the future. We read and anticipate the dreams and desires of consumers and try to satisfy them with fragrances of the highest quality and originality and new product categories, from home to personal," says Dr. Paolo Vranjes, who continues: "The values that have always been recognised by our admirers are the quality of the raw materials used, the originality of the wide range of fragrances offered and the excellence of being entirely Made in Tuscany. The persistence and durability of our fragrances, together with the colours, sizes and unique design of our products, enrich our customers' lives with a fragrant well-being and lifestyle'.
NEW
With this same spirit, and in response to numerous requests from admirers of Dr. Vranjes Firenze fragrances, the new Eau De Parfum collection was created in 2022 , renewing the brand's presence in the world of beauty and niche perfumery. A world that represents for the company the emblem of taking care of oneself, of expressing one's personality and identity with precious notes ready to envelop the wearer in an intense perfumed aura. On the occasion of this important celebration, Dr. Vranjes Firenze launches the new online boutique drvranjes.com: a renewed meeting point between the perfume house and users, where communication and olfactory storytelling meet an even more involving and totally immersive shopping experience. drvranjes.com