From 26 May to 14 July 2023, Antonio Colombo Arte Contemporanea presents the group exhibition 'Through The Grapevine' by Grotesk, Russ Pope and Nathaniel Russell, three artists who share references to street and urban culture and who, for the occasion, present a series of new works celebrating the value and pleasure of music and its sharing.
The inauguration of the exhibition will be held on Thursday 25 May from 6 to 8.30 p.m. in the exhibition spaces of via Solferino 44 in Milan. For the occasion, Russ Pope will customise a limited edition art print created ad hoc. The exhibition presented by Antonio Colombo Arte Contemporanea takes its title from the cover of I Heard It Through The Grapevine by the English punk rock band The Slits and brings together a series of works inspired by music, the act of listening, playing, sharing music with friends and dancing to it, living with and through music. The three artists are coordinated by Russ Pope, who has been collaborating with the Antonio Colombo Arte Contemporanea gallery for several years, both as artist and curator.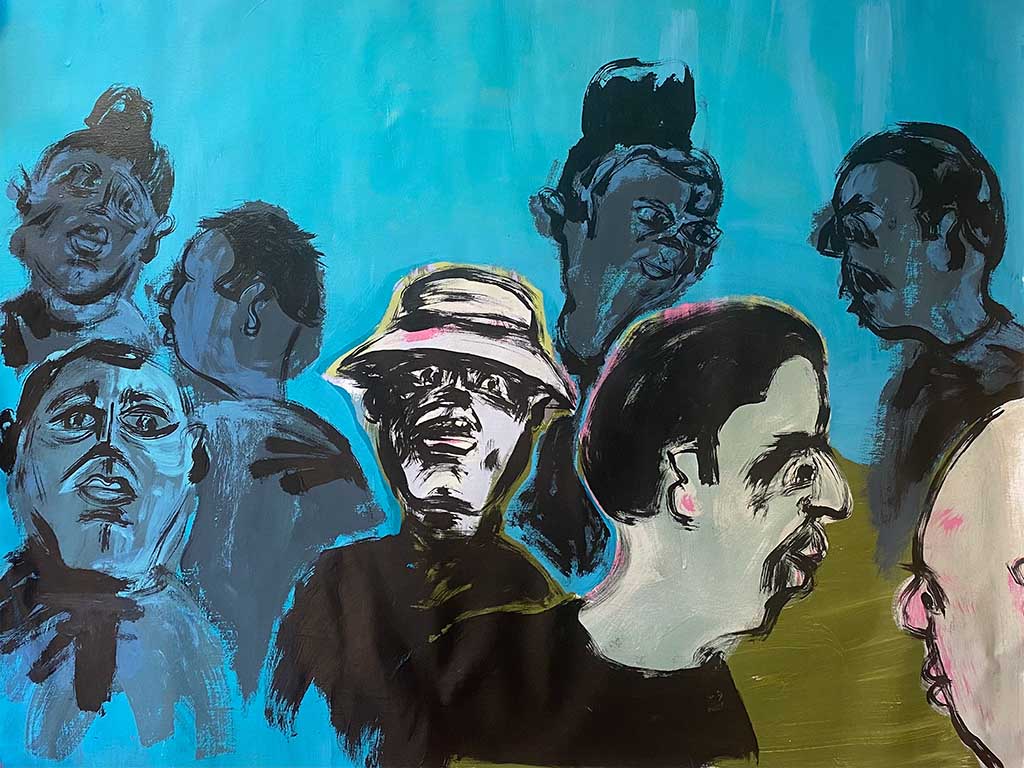 Grotesk, Russ Pope and Nathaniel Russell created a long collaborative playlist on Spotify, which was the main source of inspiration for the realisation of the exhibition. The storytelling of auditory pleasure, the movement of dance and the good mental vibes of songs are at the centre of the drawings and paintings of the three artists, who live geographically far from each other (they come from Oregon, Indiana and New Hampshire) but are united by the common ground of skateboarding, graffiti and music. The three artists also share the same passion for a borderless art, which ranges across different fields, including numerous collaborations with different brands such as Nike, Zoo York, Vans, Element, to name a few. Each of them has an original style, a recognisable mark and stroke.
Grotesk, stage name of Kimou Meyer, is a Swiss-born artist and graphic designer. In 1999, he moved to New York, where he became acquainted with graffiti culture and aesthetics and was strongly influenced by them. His work is reminiscent of Swiss minimalism, with clean drawings and essential forms. His art is intrinsically connected with observation and interaction with the people around him, focusing on behaviour and movement. These observations give rise to ideas and impressions that are generated in his subconscious, and act as a driving force for his creations. When Kimou finishes a sketch, old situations, news stories, jokes, friends or images from the past resurface, guiding him towards the final result.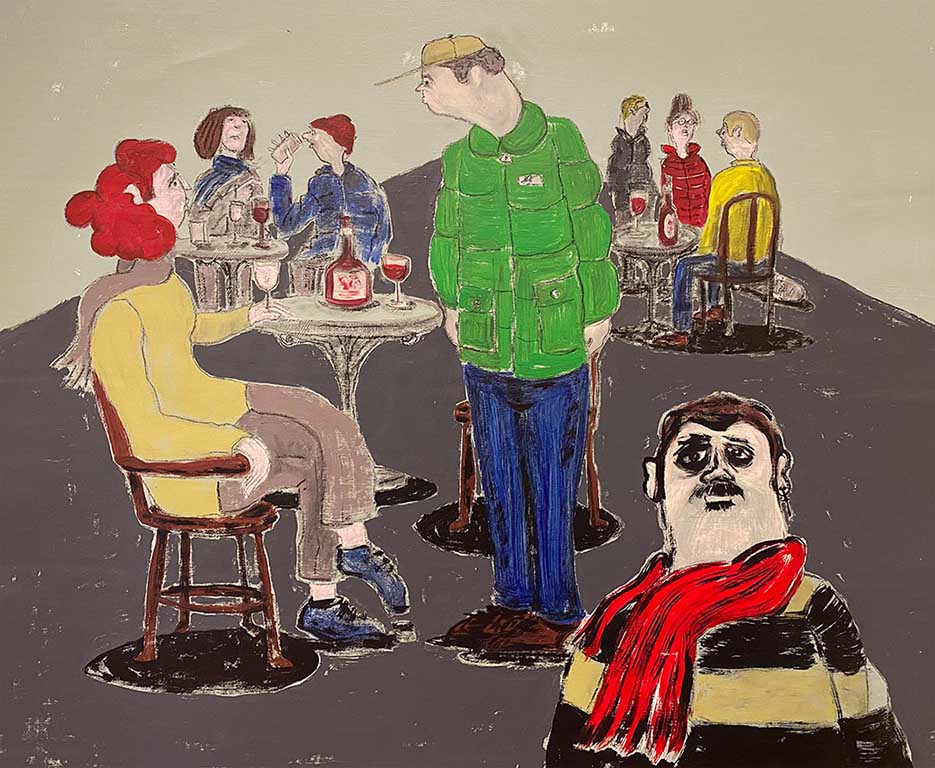 Russ Pope focuses mainly on the unpredictability (and sometimes predictability) of everyday life, telling it with wit and intimacy. He enjoys contextualising people and places and fostering the circulation of ideas and narratives. His impressionistic attitude is balanced by his use of colour and contour lines. He is a constant creator, sharing daily accounts of his life through a prolific production of drawings that often become the subject of his paintings. Nathaniel Russell 's artistic practice is concentrated in the fields of design and illustration. His work ranges from traditional drawing, painting and sculpture to set design and multimedia performance. His art is characterised by essential shapes and colours, using written words or phrases, encouraging others to fill in the spaces he intentionally leaves empty, and choosing the medium that best suits the idea. Nathaniel's work draws inspiration from music and reading and often combines text and writing with drawing. He uses an economy of lines and words to allude to unconscious and universal connections, and his texts often read like imaginary book titles, song excerpts and poems. Humour plays an important role and is used as a balance and remedy to the sometimes dark situations that human beings experience on planet Earth.

Artist biographies
Grotesk (1974), currently lives and works in Oregon, USA.
Kimou Meyer (aka Grotesk) is a Geneva-born artist known for his distinctive and dynamic visual language that explores the mundane moments of human life. From his parents' wooden model workshop in Geneva to the busy streets of New York, Kimou's creative journey has been marked by a constant drive for innovation and experimentation. His work draws inspiration from a variety of sources, including the minimalist architecture of his childhood environment and the chaotic visual language of Hip Hop and skate culture. In 1999, he established himself as a formidable presence in the world of illustration, streetwear and creative direction after moving to New York. With his alter ego Grotesk, Kimou has developed a unique artistic vision that explores themes of sport, urban life, anonymity and everyday struggle. Kimou's expertise in character study is evident in his exploration of body posture and emotion, using simplified language to communicate complex ideas. Kimou's career blossomed with the co-founding of Doubleday & Cartwright, a creative agency focused on sports, and Victory Journal, a cutting-edge publication. He has also led major commercial projects, such as the rebranding of the NBA's Milwaukee Bucks and the development of David Beckham's MLS franchise, Inter Miami CF. Today Kimou resides in Portland, Oregon, with his family and continues to push the boundaries as Nike's creative director. His ability to combine his diverse background with a relentless pursuit of new visual outcomes is what makes Kimou Meyer a happy-go-lucky artist.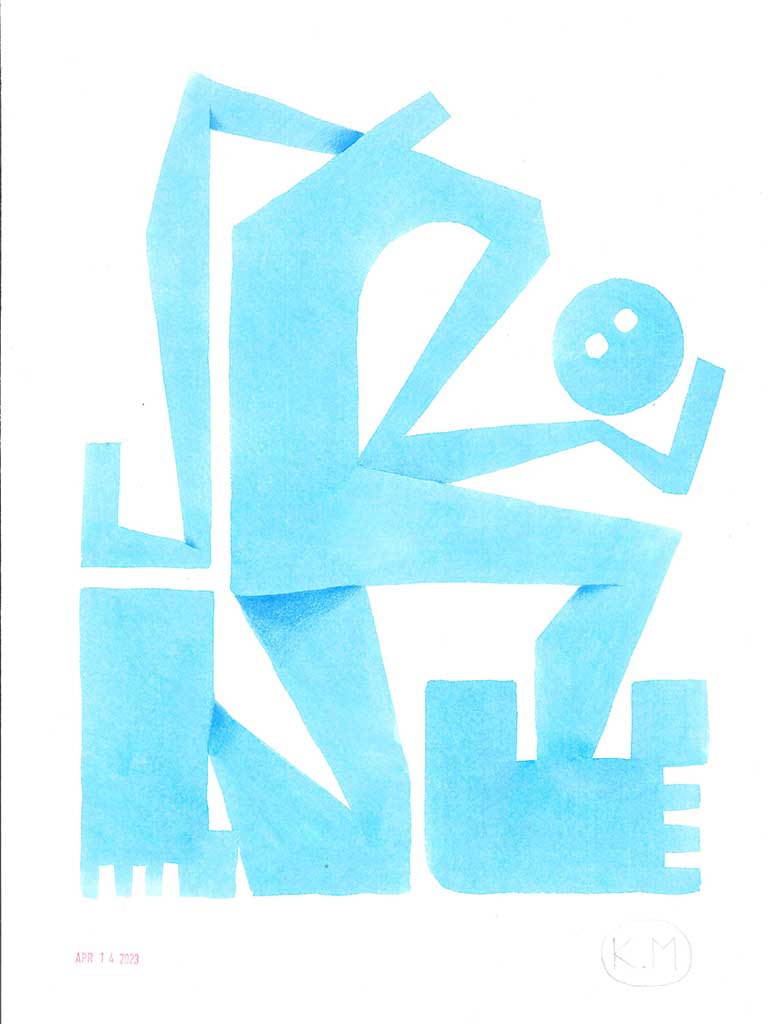 Russ Pope (1970) currently lives and works in New Hampshire, USA.
Russ Pope has been a skateboarder since the age of 5 and has never left this world. He also owns a skateboard brand that celebrates its 10th anniversary this year (Transportation Unit) and founded Creature Skateboards in 1994. Russ has exclusively directed and produced many important skateboard films during his years in the industry. His aesthetic is deeply rooted in the history of the sport. Russ regularly designs and collaborates with numerous commercial partners; most recently he has designed products and produced illustrations for the likes of Disney, Cole Haan, K2 Ski corp, Major League Baseball and Stance. Russ is a columnist for Juxtapoz magazine for which he writes about his travels and shares drawings and photographs of his travels around the world. Russ has also curated several exhibitions, in which he and other artists have participated, at Shepard Fairey's Subliminal Projects gallery in Los Angeles. He also selects artists for commercial opportunities in skate, surf and fashion.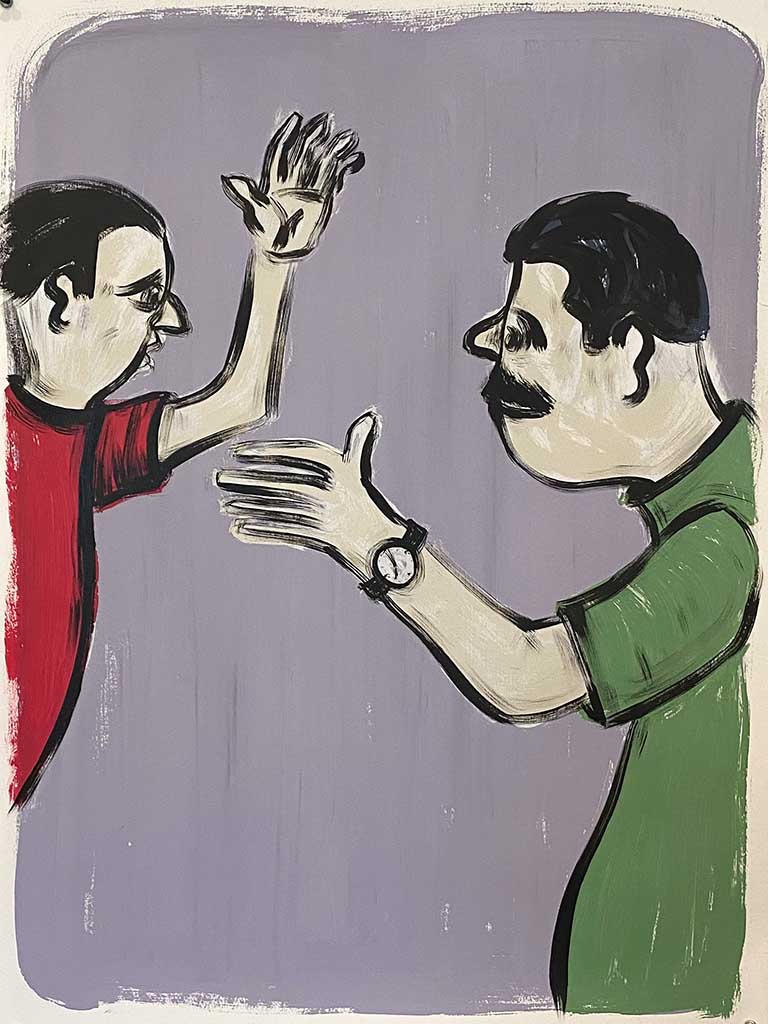 Nathaniel Russel (1976) currently lives and works in Indiana, USA.
After university, he spent several years in the San Francisco Bay Area making posters, record covers and woodcuts. He returned to his hometown of Indianapolis and now spends his time creating drawings, flyers, sculptures and music. Russell's work is regularly exhibited around the world, both in traditional galleries and informal spaces, usually surrounded by an ever-expanding list of friends and collaborators. His drawings and paintings have appeared in the New York Times, on award-winning book and album covers, and on countless pieces of clothing, skateboards and posters. He has released numerous recordings of his songs and music under his own name and that of various bands and collaborations. He continues to travel and show his work internationally, with upcoming solo exhibitions, performances and murals in New England, Tokyo, Marfa and Joshua Tree. colomboarte.com