Dynamic and relaxing: Thonet's iconic S 32 cantilever chair now comes to the market in a lounge version, a light and compact armchair.
The S 32 cantilever chair is one of the best-loved and best-known tubular steel furnishings, a true design icon that adapts perfectly to different design styles and uses. The new S 32 lounge chair combines architectural lines, clarity of form and a comfortable 'rocking' effect. It is an ideal addition to sofas or a highlight in coworking spaces, representative receptions or stylishly furnished private rooms.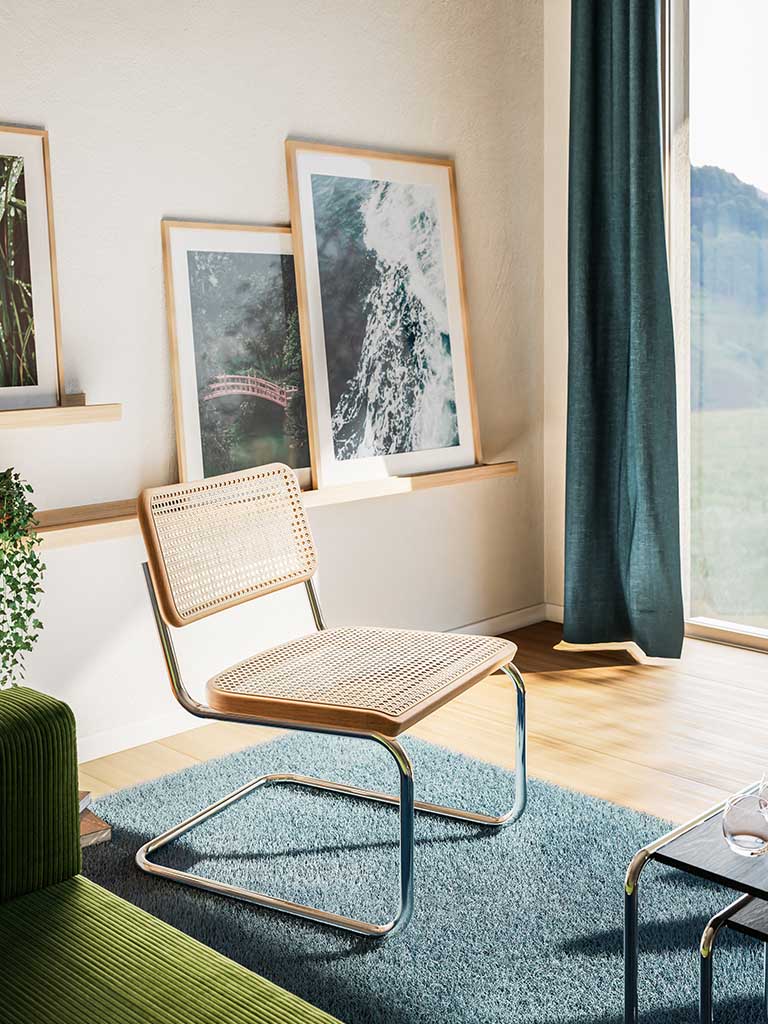 Sitting on a cantilever chair is anexperience that remains indelible: the chair cushions and follows the movement of the person, allowing for dynamic sitting. In the S 32 lounge chair, too, theoscillating tubular steelframe contributes to its extraordinary comfort: the typical features of the cantilever chair are combined here with the stylistic features of the lounge chair to ensure a comfortable rocking effect combined with clear aesthetics and a fascinating lightness of line. For maximum ergonomics, the seat is wider (58 cm) and slightly inclined backwards.
The S 32 Lounge is without armrests to allow you to sit next to each other and communicate with ease while maintaining a relaxed attitude. Thanks to the adapted seat height (40 cm), it can be combined with a sofa. However, in contrast to other upholstered armchairs, the S 32 Lounge convinces with its lightness of form and compact size. This model does not take up much space and, thanks to the harmonious tubular steel frame, is essential, almost transparent and 'impalpable'. The clear, minimalist design of this chair makes it ideal for various scenarios, from collective spaces to private interiors.
The design is based on the renowned S 32 tubular steel cantilever chair designed by Marcel Breuer in the 1920s , whose peculiarity lies above all in the combination of contrasting materials: Vienna straw, on the one hand, characteristic of Thonet's traditional bentwood furniture, and the reduced use of tubular steel, on the other. The S 32 Lounge armchair is available, as is the entire S 32 collection, with a Vienna straw seat (S 32 VL), an upholstered seat (S 32 SPVL) or an upholstered backrest and seat (S 32 PVL). This lounge chair is the ideal complement to the collection consisting of classic cantilever chairs with and without armrests, a swivel chair variant (Atelier) and bar stools in two different heights. The complete range of products now available makes it possible to create coordinated, certainly more dynamic environments, enlivened by seats of different heights.

Thonet – synonymous with innovative furniture design from a long tradition
Studded with successes, the extraordinary history of the Thonet company begins with its progenitor. Ever since 1819, when the cabinetmaker Michael Thonet founded his first joinery in Boppard on the Rhine, the name Thonet has been synonymous with innovative furniture of high quality and elegance. Chair No. 14, known as the iconic 'Vienna Straw Chair', marks the start of industrial production using the unprecedented technique of bending solid beech wood. The tubular steel furniture of the 1930s, conceived by famous Bauhaus exponents such as Mart Stam, Mies van der Rohe and Marcel Breuer, represents the second milestone in the history of design. Thonet then became the world's largest manufacturer of tubular steel models, which are now counted among the timeless classics. True to its tradition and craftsmanship, the company now focuses on the development of new models, the result of collaboration with nationally and internationally renowned designers and the creativity of the Thonet design team. All furniture is manufactured in the Frankenberg factory. The company with its headquarters and production plant in Frankenberg/Eder (Germany) is currently headed by Brian Boyd, Chief Executive Officer, assisted by Creative Director Norbert Ruf. Michael Thonet's fifth and sixth generation descendants are actively involved in the company as partners and sales managers. thonet.de