The most elemental of furniture pieces, Artek Stool 60 designed by Alvar Aalto, celebrates its 90th anniversary in 2023. Born of modernist ideals and Finnish innovation, its great legacy and continued relevance owe much to Alvar Aalto's original vision for a universal object made entirely from native birch wood. Remaining in continuous production since 1933, Stool 60 has barely changed in either material or form, yet it continues to transcend both time and fashion. Deliberately informal, it is not tied to specific functions or settings, but travels easily between all spheres of private homes and public spaces. Its simplicity and honesty have ensured its timelessness; its ingenious construction and durability allow each stool to age with grace.
Every Stool 60 is manufactured in Finland in a unique process honed over decades, combining modern production methods and skilful craftmanship. In 48 production steps, solid birch wood from Finnish forests is bent into the stool's characteristic L-shaped legs and the offcuts from the leg production are used to make the stool's circular seat. With this minimum of components Stool 60 is flat-packed, making transport both economical and ecological. Through the timber's individual features and natural beauty, each stool gains its own unique character, developing a rich patina and ageing with grace over the years.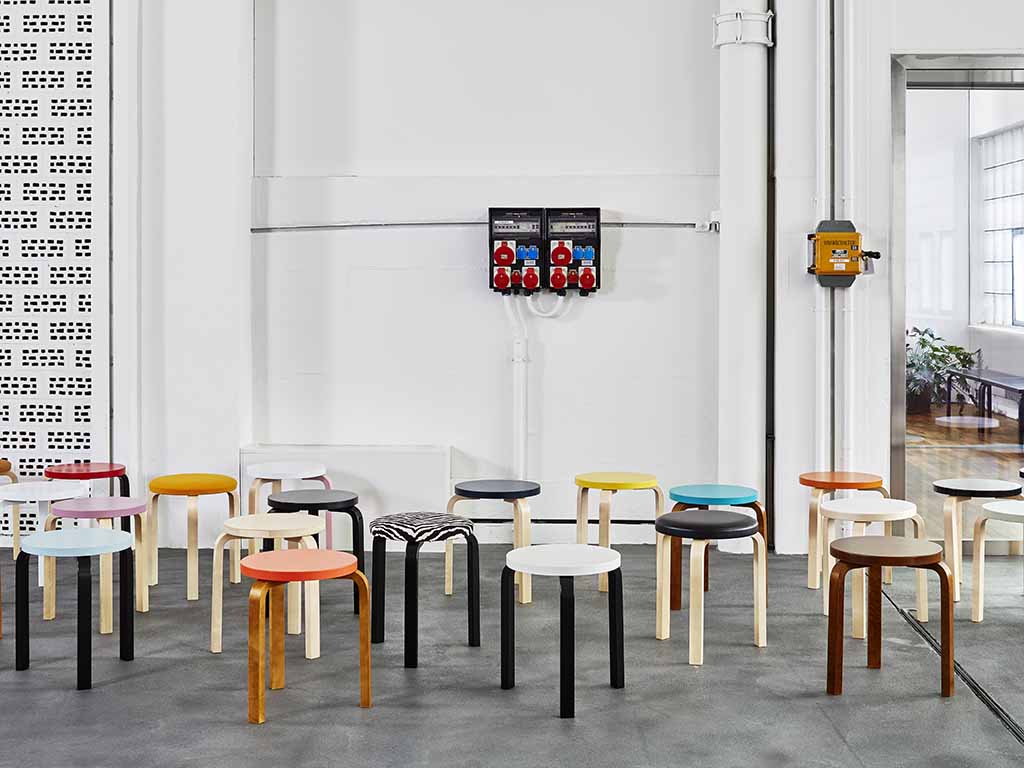 Stool 60 Anniversary Editions
To mark the 90th anniversary, special editions of the stool have been developed by Artek's own design team (Kontrasti and Loimu) and design studio Formafantasma (Villi). Each edition commemorates Stool 60's great virtues – its unique construction and responsible production values, the beauty and variety to be found in Finnish wood, Stool 60's ageless longevity as well as its low ecological impact.
Stool 60 Kontrasti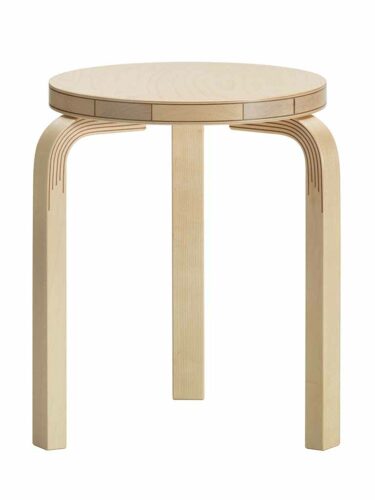 This edition of Artek Stool 60 celebrates the ingenious construction of the stool. By inserting veneer sheets into incisions in each leg, birch wood is given the necessary flexibility to be bent into the desired L-shape. For Stool 60 Kontrasti thermo-treated birch veneer in a contrasting tone is used for the wood bending process to highlight the beauty of this great innovation. The same darker veneer strips reappear in the seat top, emphasising the economic use of wood offcuts from the legs in the construction of the seat. Now, as in 1933, Stool 60 is made entirely from one raw material, and without complicated joinery. Stool 60 Kontrasti brings these virtues of responsible timber usage and holistic design thinking into focus. Available from 13th March 2023.
Stool 60 Loimu
Revealing the natural beauty of Finnish birch and its diversity, Stool 60 Loimu ("flame" in English) is produced from an exceptionally rare birch variant distinguished by a wavy, flame-like graining pattern. To bring the wooden surface to life, customers will complete the oiling process of the untreated stool themselves.
Available from September 2023 in an edition limited by nature.
Stool 60 Villi in collaboration
with studio Formafantasma
The Artek Stool 60 Villi by design studio Formafantasma encourages a wider, wilder and more responsible use of Finnish birch. Reassessing the current strict selection criteria for birch wood, the edition highlights the impact of climate change on the forest, and the evolving consequences of this for wood products. Defining features such as dark stains, wood knots and the trails left by colonising insects are becoming increasingly prevalent in the timbers. Instead of side-stepping these material shifts, Stool 60 Villi ("wild" in Finnish) features a new wood selection referred to as "wild birch", which systematically embraces the honest beauty and critical narrative of the forest within the product. Unlimited in its scope and edition size, it will launch for the 90th anniversary and become a permanent product within Artek's range as of 2024.
Available from September 2023.
About Artek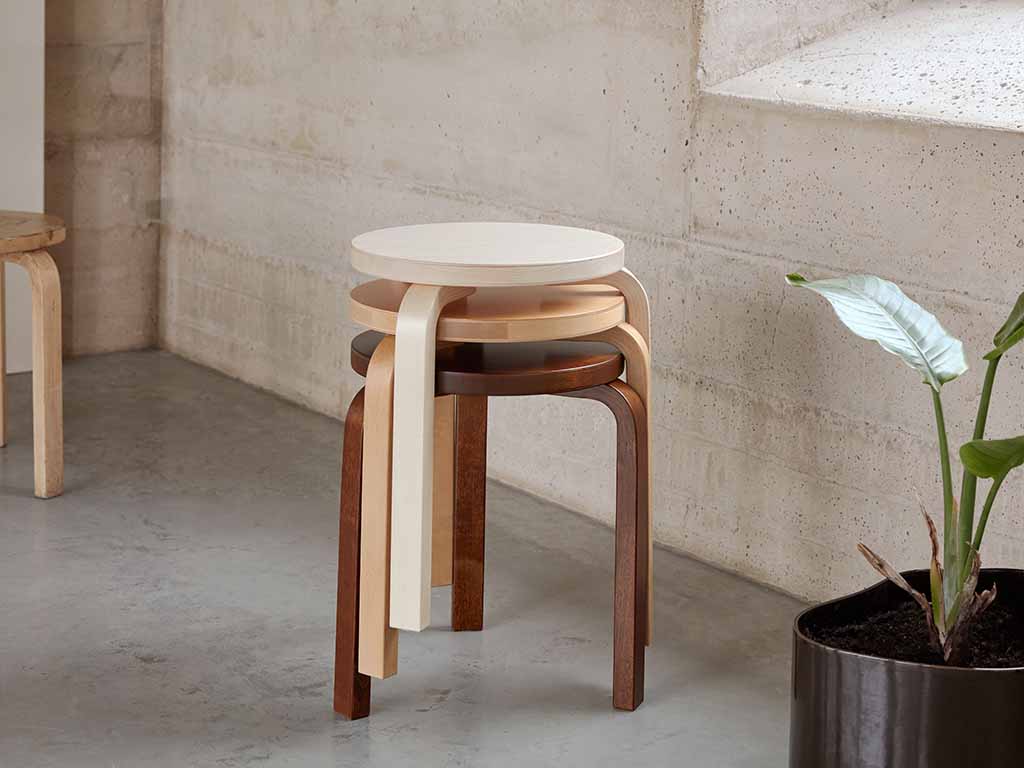 Artek was founded in Helsinki in 1935 by four young idealists: Alvar and Aino Aalto, Maire Gullichsen, and Nils-Gustav Hahl. Their goal was "to sell furniture and to promote a modern culture of living by exhibitions and other educational means."
In keeping with the radical spirit of its founders, Artek today remains an innovative player in the world of modern design, developing new products at the intersection of design, architecture, and art. The Artek collection consists of furniture, lighting, and accessories designed by Finnish masters and leading international designers. It stands for clarity, functionality, and poetic simplicity. artek.fi