Aquili Alberg Architects have designed the interior of a private flat in the exclusive setting of Milan's Quadrilatero della Moda (Fashion District). A project tailor-made for the client that completely renews the spaces, combining innovation and tradition. An environment with refined aesthetics and a contemporary mood, enhanced by unique furnishing elements such as the ENDLESS carpet made by Illulian. An unusual design which, through the lines that chase each other in an endless flow, recreates an illusion of movement that enraptures the observer
Article summary
Introduction

Captivating aesthetics and contemporary mood

The Endless carpet inspired by Optical art

Innovative design and traditional craftsmanship
Introduction
A dynamic and visionary spirit, a multicultural and innovative approach that favours the latest technologies and solutions and the highest quality. Characteristics immediately recognisable in the work of the international studio AquiliAlberg Architects which is responsible for the interior design project for a 250 sq m private flat in Milan's exclusive Fashion District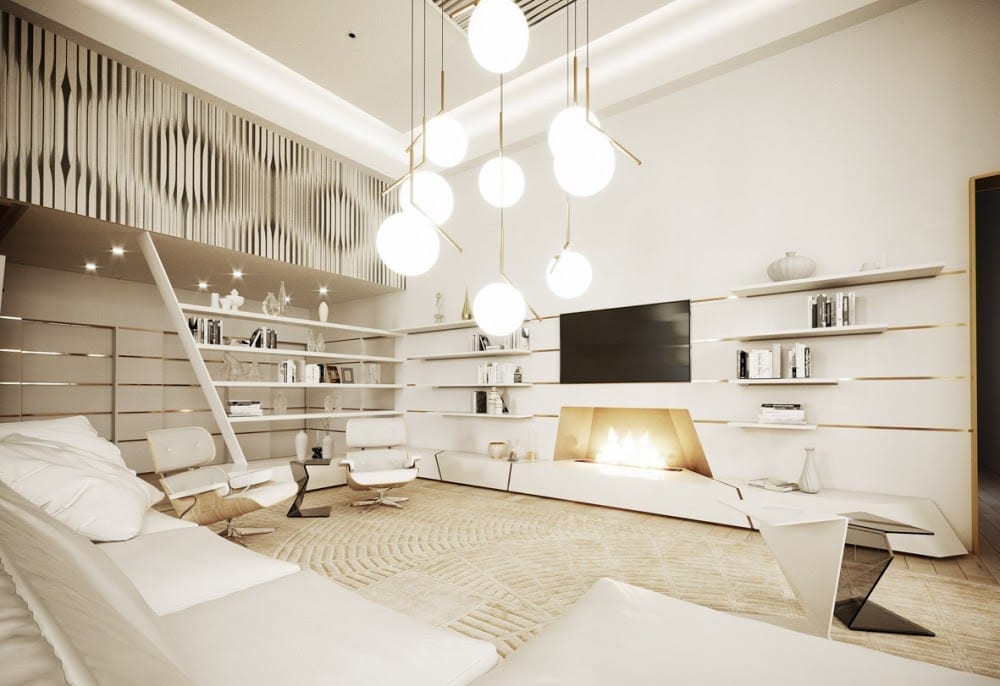 A culturally lively location, exceptional for its elegance and refined taste, where you can breathe in design and continuous research into avant-garde aesthetics. This refined exuberance inspired architects Laura Aquili and Ergian Alberg, at the helm of AquiliAlberg Architects, having gained international experience with prestigious names such as Zaha Hadid, OMA – Rem Koolhaas, UNStudio and Massimiliano Fuksas
The contamination between graphics, art and architecture guides the interior design project involving the Milanese flat located on the main floor of a historic building. The project starts with an in-depth analysis of the client's tastes and aesthetics, as well as their history and passions, using a method that makes it possible to achieve tailor-made, absolutely unique and flexible results
Engaging aesthetics and contemporary mood for carpet
The project involved a total reorganisation of the spaces in order to reconcile the needs and dynamics of domestic life with a clear aesthetic. Careful study has made it possible to calibrate the spaces in the home, ensuring that family members have both areas of privacy and a common area for daily sharing. This work, using innovative technologies, restores the flat's attention to detail and necessary comfort, without compromising either
The furnishings follow a contemporary aesthetic that delicately juxtaposes past and present, enhancing the personality and history of the family. Design objects are accompanied by private mementos, defining a unique atmosphere, intimate and cosy, but at the same time exclusive and refined

The contrasts are hinted at and the elements are combined in a balanced way, a choice that favours a soft aesthetic that gives uniformity and harmony to the environment
This result is achieved through the careful choice and combination of materials and proportions, soft neutral colours and bright colours in different shades, giving a feeling of movement that makes the home space dynamic and engaging
The Endless carpet inspired by Optical art
Overall, the idea is to focus on extraordinary details and important, precious furnishing elements such as the ENDLESS carpet the true protagonist of a living area of over 100 square metres.
Designed by AquiliAlberg Architects and custom-made by Illulian, The ENDLESS rug, belongs to the Limited Editions by Illulian Limited Editions by Illulian, the most exclusive collection of the company, which for over sixty years has dedicated itself to creating handmade luxury carpets, establishing itself as a trusted partner for architects and interior designers
The design of the Endless carpet is inspired by the movement optical art movement, which explores the two-dimensional illusion and the study of visual perception, stimulating the viewer's involvement through lines and colours.

The abstract graphic pattern enraptures the eye through a continuous rotation of lines and backgrounds. They start from a central square, recreate an engaging and hypnotic illusion of movement. This effect is accentuated by a play of different colours and thicknesses, workmanship and combinations. Therefore also appropriate repetitions that contribute to emphasising the movement, recreating an unprecedented visual perception
The illusion created by the lines of the carpet gives rise to a dynamic dialogue involving the entire space, a flow that sends us from one piece of furniture to another and gently draws the viewer in.
Carpet with innovative design and traditional craftsmanship
The refinement of design is accompanied by the value of the handmade and the very high quality of the raw materials. Like all Illulian's creations, the Endless carpet is made by experienced craftsmen in Nepal. Only natural materials that are carded, hand-knotted and dyed with vegetable dyes.
The final product combines the durability of Himalayan wool with the quality and elegance of natural silk. In this way provide a precious piece of furniture with an extraordinary decorative effect.
A piece destined to last over time, in a continuous flow, like that of lines chasing each other in an enchanting spiral. A true work of art, one of a kind that defines the style of the home and transcends trends, keeping its charm intact over time