New model: Honda's first electric scooter for the European market is designed for a younger audience. L'EM1 e: is equipped with the removable battery system Honda Mobile Power Pack e: which allows you to get around in urban traffic in a fun and convenient way, without emissions. It is driven by an electric motor in the wheel hub; the range is 41.3 km and the maximum speed is the legal one for 50cc, 45 km/h. Standard features include a dashboard with digital display, under-seat storage compartment, USB socket, passenger footrests and rear luggage rack.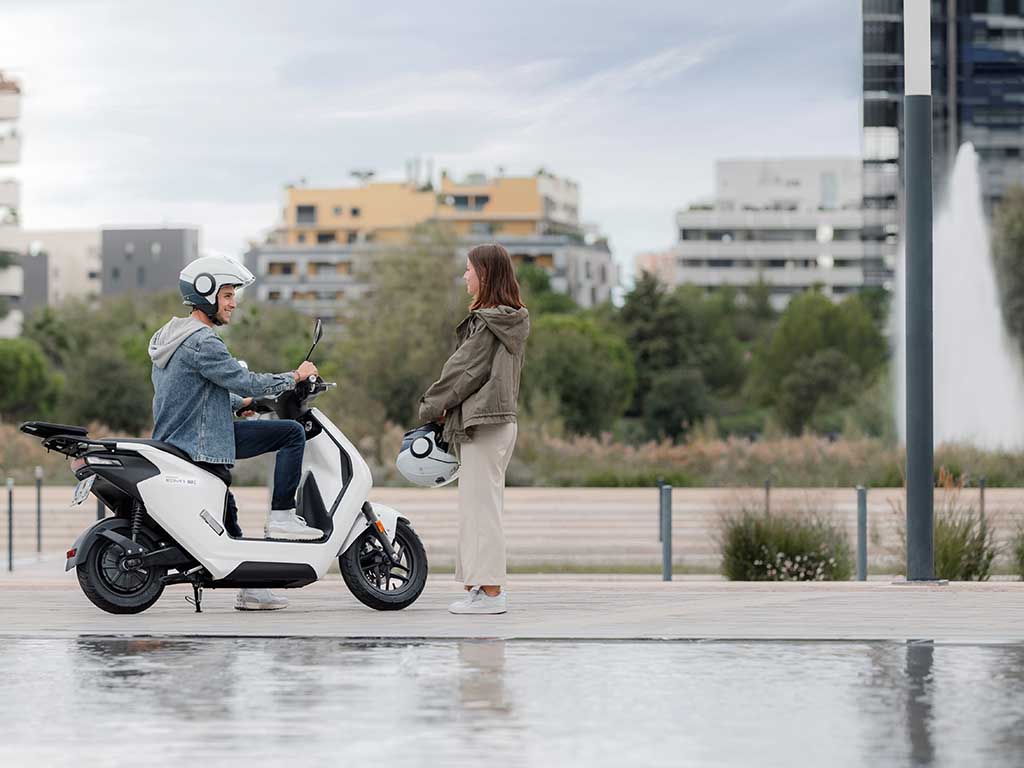 Introduction
TheEM1e is Honda's first two-wheeled electric vehicle for the European market, in line with the company's plan announced in September 2022 to introduce at least 10 electric models globally by 2025. It is also Honda's first major step towards achieving 'carbon neutrality' for its entire range of motorbikes and scooters by the decade 2040-2050. The acronym 'EM' stands for Electric Moped and the model is aimed at a young audience looking for an easy and fun way to move around the urban environment without emissions. Compact and with a flat platform, it has soft, rounded lines that distinguish it from the competition and show the uniqueness of its identity even within the rest of the Honda range. Perfect for the city and for making home-to-work or home-to-school journeys efficient, theEM1 e: is a silent, zero-emission vehicle that uncompromisingly meets modern customer expectations in terms of urban mobility. The tightening of parking regulations in European cities that increasingly restrict the use of traditional internal combustion engines has resulted in a growing market for electric vehicles. Honda now enters this segment with a new, high-quality choice for both young people and those who have to travel shorter distances on a daily basis. For a typical student, who might travel an average of around 30 km in the city every day, theEM1 e: is the ideal solution: easy to drive and handle, quiet and environmentally friendly. And thanks to its high-level technical features, the choice is even richer!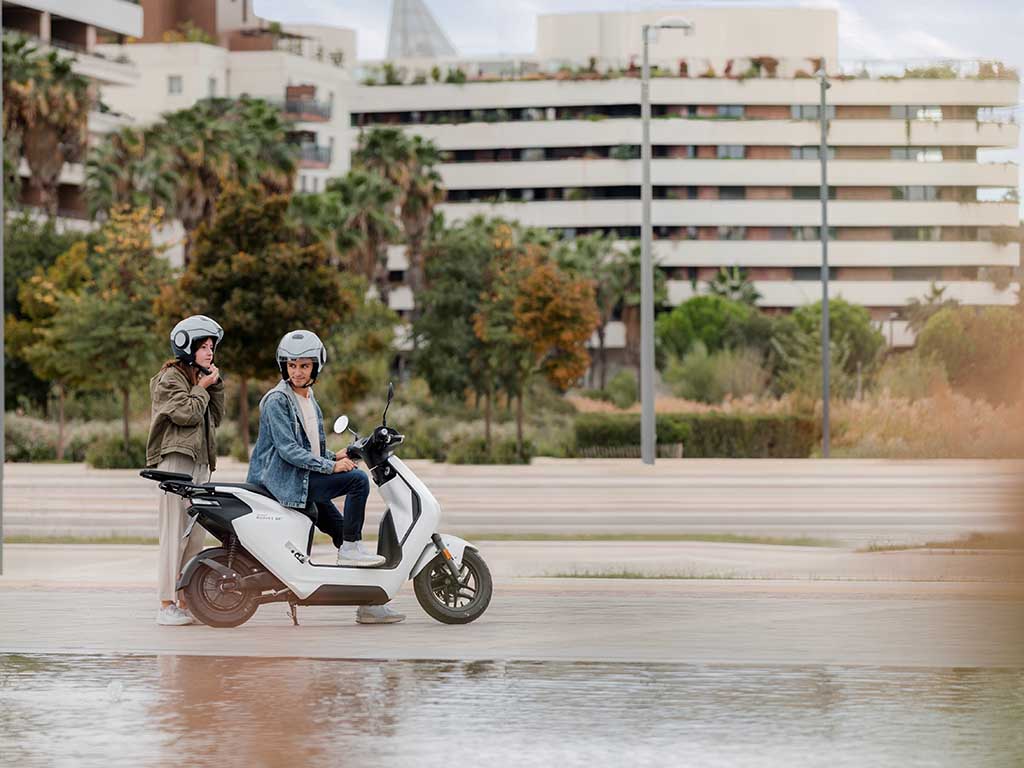 Model overview
Compact, easy to use and offering environmentally friendly mobility with a new style, theEM1e: it is a partly conventional scooter: tubular single-beam steel frame, telescopic fork, dual shock absorbers and front disc brake/rear brake are classic features of this category. The real novelty is the electric motor in the wheel hub and the unique Honda Mobile Power Pack e:, which can be easily removed to allow charging at home with the appropriate charger. TheEM1 e: is fully equipped with a digital instrument panel, high-quality controls, large flat footrest, under-seat storage compartment and USB charging socket. It also features passenger footrests, rear rack and side stand. The range is 41.3 km and the top speed is 45 km/h, like the 50cc. Also new is the sales method. To ensure that customers do not have to take responsibility for disposal or recycling of theHonda Mobile Power Pack e:, together with it and the charger, theEM1 e: will be available under a leasing, rental or subscription scheme, depending on the country. In this way, throughout the life cycle of theEM1 e: customers will not have to worry about the continued performance of theHonda Mobile Power Pack e: or its final disposal. A 100% ecological choice! Three colours are planned for the EM1 e: 2023:
Pearl Sunbeam White
Digital Silver Metallic
Matte Ballistic Black Metallic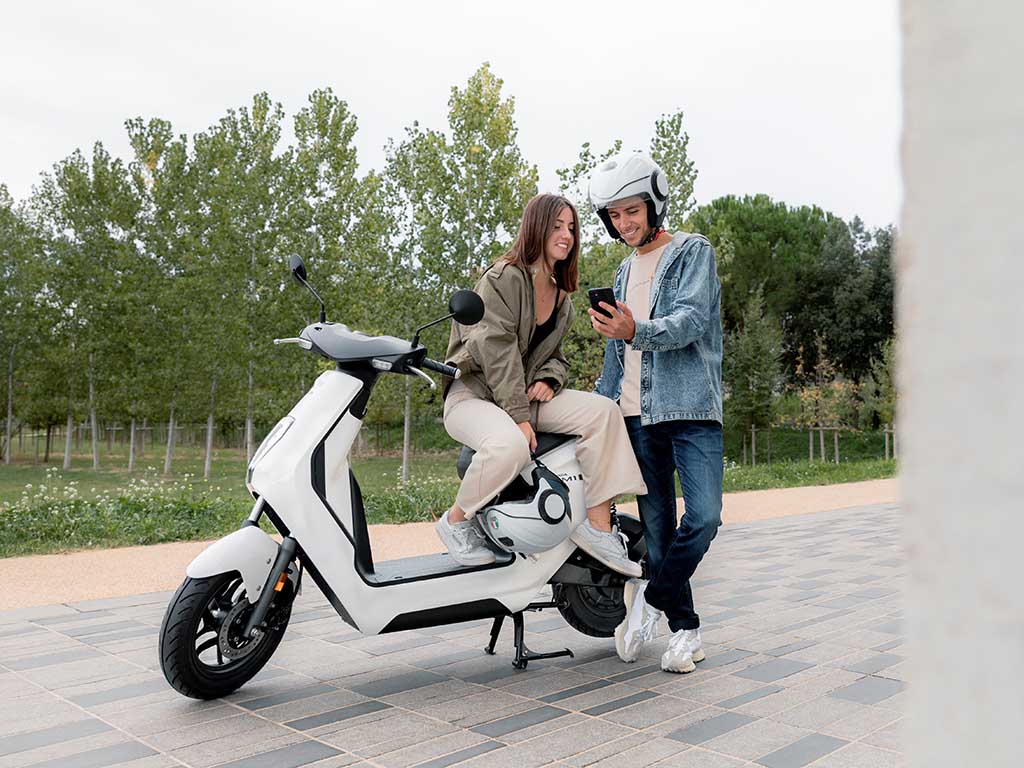 Main features
Battery and charging unit
– Honda durability guarantees more than 2,500 recharges
160 minutes to go from 25% to 75% charge
Removable 50V lithium-ion battery Honda Mobile Power Pack e:
– 270 W air-cooled battery charger for home use
TheEM1 e: is powered by the 50 V HondaMobile Power Pack e: , developed by Honda with the same constant focus on durability, reliability and quality for which its internal combustion engines have always been renowned. A single charge offers, under Honda's internal test conditions, a range of 41.3 km or, approximately, 48 km in ECON mode (30 km under WMTC Class 1 test conditions), and theHonda Mobile Power Pack e: is designed to withstand different temperatures, humidity levels, shocks and vibrations. As the name suggests, theHonda Mobile Power Pack e: is a removable battery that can be easily removed from theEM1 e: and recharged at home. Operation is simple: the charger, complete with air-cooling fan, uses a single-phase 100-240 V AC household socket, produces a maximum of 270 W, weighs 5.3 kg and the charging status is indicated by a 4-segment LED indicator. TheHonda Mobile Power Pack e: weighs approximately 10 kg and can be easily transported and replaced thanks to a convenient handle.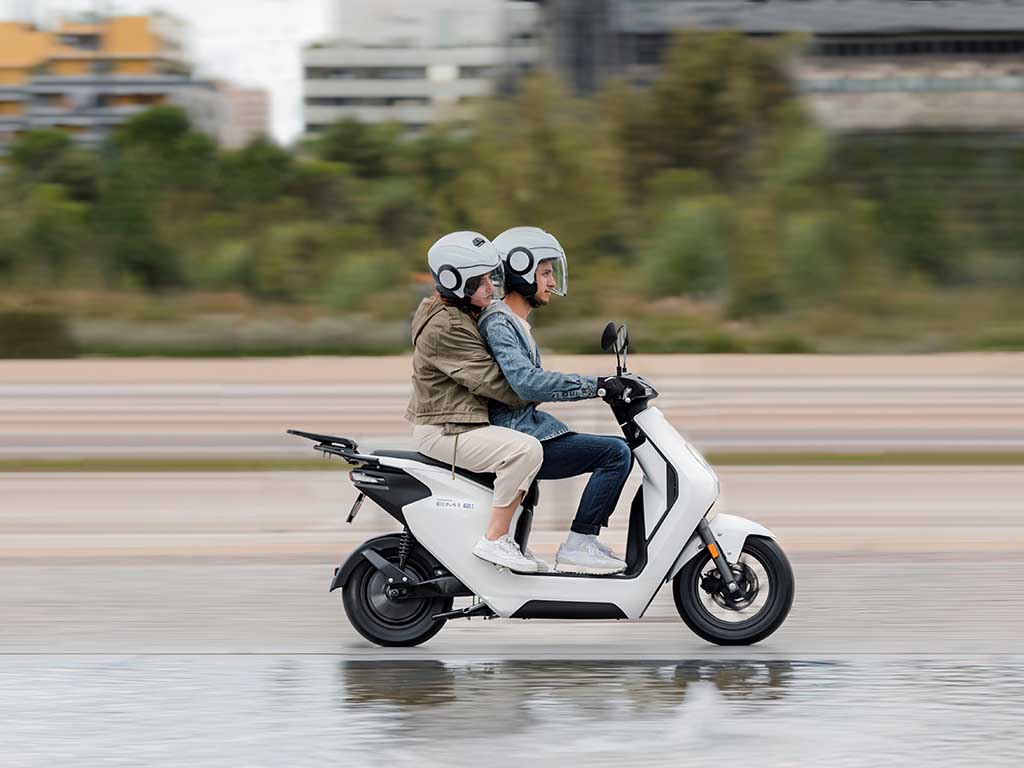 The full recharge time, from zero, is approximately 6 hours; while going from 25% to 75% takes only 2.7 hours (160 minutes). Thanks to the durability that characterises Honda components, theHonda Mobile Power Pack e: can be recharged more than 2,500 times (internal test conditions**). The motor in the wheel hub has a rated power of 0.58 kW with a peak power of 1.7 kW. In ECON mode, the power is set to 0.86 kW. TheEM1 e:, which reaches a maximum speed of 45 km/h (like the 50 cc), can cope with a gradient of 10° with a weight of 75 kg on board. ECON mode softens the throttle response and reduces the top speed, extending the range to approximately 48.0 km.
Style and equipment
Dashboard with digital display
– USB Type A charging socket
3.3 L under-seat compartment
– Rear rack
Designed to stand out from internal combustion models, theEM1 e: is slim and compact, with a mix of soft curves at the front and a more angular rear section. A standard 12 V battery powers the scooter's electrical system and all lighting is LED. A clear digital dashboard displays all the important information concisely, including the percentage of battery charge remaining. There is room for 3.3 litres in the underseat, and on the left side of the fairing is an internal compartment large enough to hold a half-litre water bottle; on the right, the USB socket for charging a smartphone is particularly useful. There is also a convenient hook for hanging a bag and passenger grips. The rear luggage rack is also standard, while the passenger footrests fold into the fairing when not in use. A useful 35 litre top case and an oversized rear rack will be available as accessories.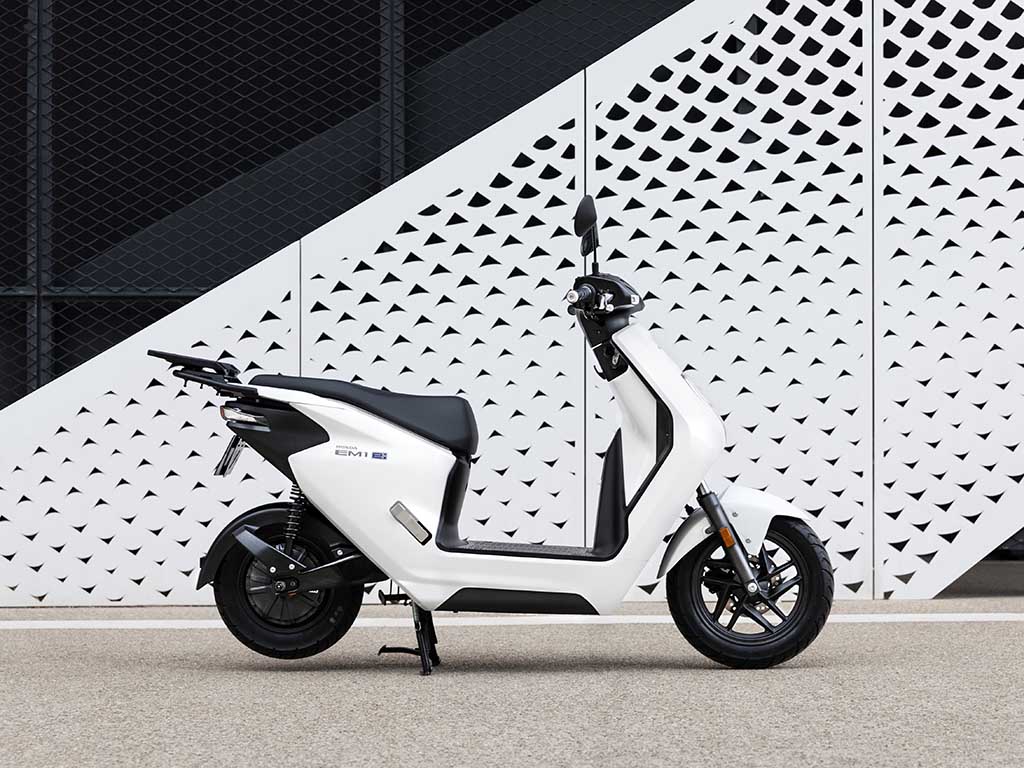 Chassis
Tubular single girder steel frame, telescopic fork and two shock absorbers
– Seat height 740 mm, weight 95 kg with battery
Hydraulic disc front brake and drum rear brake, with CBS (Combined Braking System)
Although theEM1 e: is a completely new scooter, its chassis is conventional and at the same time effective, reassuring, light and strong, with the aim of ensuring an easy and safe ride. Extremely compact, theEM1 e: has a length of only 1,860 mm and a very comfortable seat height of 740 mm. The ground clearance is 135 mm and the weight is only 95 kg, including battery. The frame is a sturdy tubular single girder structure; the telescopic fork with 31 mm stanchions is combined with twin shock absorbers at the rear. Steering head angle is 27° and trail is 77 mm, with a wheelbase of 1,300 mm. Tyres measure 90/90-12″ at the front and 100/90-10″ at the rear. The front wheel is cast aluminium, the rear wheel aluminium/steel composite. The brakes – 190 mm single-piston disc at the front and 110 mm drum at the rear – are linked by the Combined Braking System (CBS) for easy stopping power. When the rear brake is activated, the CBS distributes braking power to the front caliper. honda.com