Audi continues the evolution of the Audi Q4 e-tron and Audi Q4 Sportback e-tron. The four-ring manufacturer is updating all vehicles from the start of production up to and including MY22 with the latest software version 3.2. The latter, which is standard for the MY23 currently in production, includes among its new features the ability to perform future updates over-the-air. The software update for the Audi Q4 e-tron and Q4 Sportback e-tron allows an increase of up to 135 kW in the maximum direct current (DC) charging power of the 82 kWh battery variants. Customers can also opt for the battery protection function that sets the refuelling threshold at 80 per cent of the battery capacity.
No less important is the enabling of the Plug & Charge function: the cars obtain authorisation automatically at the filling station and start the operation without the need for any card or app. Authentication takes place via encrypted communication when the charging cable is connected and the process begins without any further action. Billing is similarly automated, without any physical payment instruments.
The new update brings advantages for both public and home charging. The 'Preferred Charging Time' function helps customers to schedule refuelling at home at the most convenient times, e.g. at night. In addition, charging scheduling via the car or the myAudi app makes alternating current (AC) operation even more efficient: if pre-conditioning of the car is chosen in winter, the necessary energy is supplied from an external source such as the home wallbox or public charging station. At the same time, the updated thermal management system software optimises consumption by adapting battery conditioning according to the outside temperature and state of charge.
Expanded Audi Connect services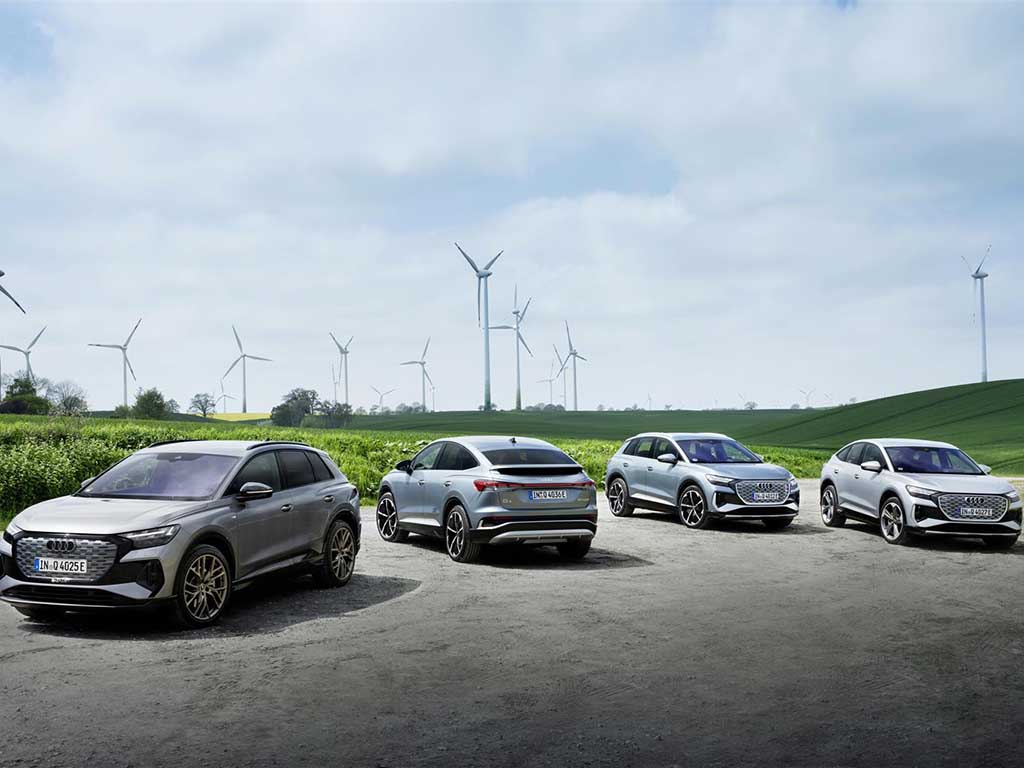 The software update for the Audi Q4 e-tron and Q4 Sportback e-tron expands the Audi connect service portfolio. It allows users to create personalised profiles, saving both navigation data and recent destinations, and opens up the possibility of using the e-tron trip planner remotely, via the myAudi app, so that a route can be defined, including recharges, and sent directly to the car. The myAudi app can also be used to locate the parking position. In the event of a breakdown or accident, the Audi connect Emergency call & Service service improves travel comfort and safety through automatic emergency call and assistance in the driver's language, making it easier for emergency services to locate the vehicle.
Thanks to the integration of Amazon Alexa, Audi connect allows customers to manage multiple functions and services vocally from home or through enabled devices. It is possible, for example, to plan weekly shopping and update the to-do list, or control 'smart' home devices and smart home functions directly from the vehicle.
All Audi Q4 e-tron and Q4 Sportback e-tron vehicles produced from the beginning of 2023 already make use of the Plug & Charge function and perform future software updates via a wireless over-the-air interface. Owners of cars in the Audi Q4 e-tron range that are not equipped with the new software will be contacted individually by their Audi service partner. After the free 3.2 update, future updates will be over-the-air. audi.it
Fuel consumption and emissions of the models mentioned*
Q4 e-tron – 16.6/20.2 kWh/100 km – 0 g/kmCO2
Q4 Sportback e-tron – 16.2/19.7 kWh/100 km – 0 g/kmCO2